Hello! We bought our first house!!
It was a crazy whirlwind and we are so happy to be where we are.
It all started when our landlord sent us a letter saying that he was upping our rent by $200/month. We were thinking, "Okay, this is ridiculous for a 3 bedroom house. We could be paying a mortgage on our own home instead of rent with that money!" So I messaged my buddy Pat who is a realtor and told him we were on the hunt for a home. He set up the MLS for us and I checked it like a crazy person on the daily for new listings.
We looked at a handful of houses, but nothing felt right. We looked at one house that was clean and beautiful but as we pulled up, Pat said the selling realtor just texted him saying that they had an accepted offer. On a house that had been put on the market THAT MORNING! Needless to say, the housing market was/is crazy here. While walking out of the house, Pat saw that I had bird poop on my shoulder! I totally got pooped on when I was walking into the house. I said, "Hey! It's good luck! It means we'll find a house!" as Matt wiped it out of my hair with a baby wipe :)
Our landlord was not sympathetic at all to our search. We were upfront with him and let him know we were looking, but he wouldn't let us go on a month-to-month lease. Even though we'd lived there for 2 years and were great tenants. He wanted us to sign a year lease, then if we found a house, he would charge us a fee to break the lease. $$$ We went back and forth and he wouldn't budge.
In the end, it turned out that if he had waited ONE DAY, we wouldn't have had to pay a fee. But, we felt like we did the right thing by signing a year lease like he wanted. If we had a crystal ball, we wouldn't have, but I believe in doing the right thing, putting good in, and getting good out of life.
Keeping the faith
It was so stressful not knowing if we'd have a place to live the next month or have to move out without an accepted offer on a house! Usually, I am the confident and calm one. This was not one of those times! I felt so frustrated by everything happening, it felt like we would never be able to buy our own house and like we'd forever be paying money to greedy landlords. Matt was so sure and just kept saying, "It's all going to work out. I just have this feeling that we don't have to worry and we will be okay." It was one of those times in our marriage where I had to lean on his faith to carry me through!
My grandpa called me one morning and said that his friend down the street had put his house on the market. I got so excited and told Pat right away that we wanted to go see it! We went on the day it was listed and already 4 people had looked at it. The minute we walked in, we knew it was the one. Matt didn't even go upstairs! He knew, and I knew. So, we put an offer in the next day.
Writing a personal letter with your offer
My cousin in San Diego told me about how she wrote a letter with a picture of their family to give the sellers with their offer. It got them the house! So, I did the same. I wrote a letter talking about how I lived on this street for a year as a child and have such fond memories here, how perfect this house would be for us, and put our family picture (above, by LK Photoshoots) on it. I sent it to my sister who worked her magic and worded everything perfectly.
Long story short, our offer was accepted!! There was some back and forth with termite damage, repairs etc. but Pat was awesome and handled all of it. If you are local and in the market, he is your guy! He answered all of our questions and walked us through every part of the very new process of buying a house.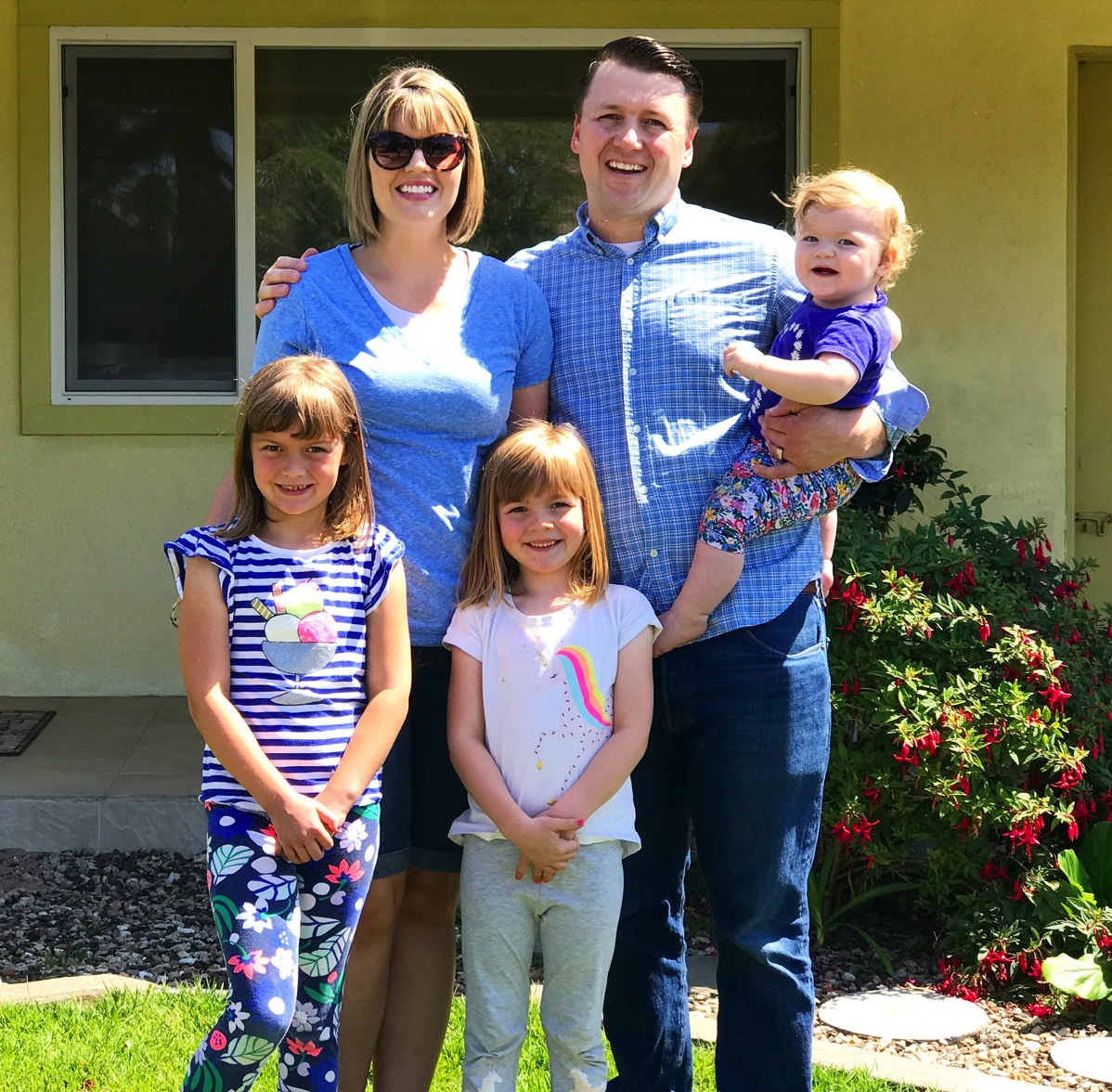 We've spent our summer scraping popcorn off ceilings, retexturing, painting, ripping up carpet, laying self-leveling cement & laminate, and having carpet installed. We are at the point where we are moved in, living day to day life, but still have boxes to unpack. And a long list of things that still need to be done on the house :) We are chipping away little by little as we can on those projects and it's coming together beautifully! It's a 5 bedroom which means that Matt has his own home office, and we have room to rearrange bedroom situations down the road if we want to.
We are so grateful. Grateful to be in a house that our daughters will grow up in; a home of our own. Grateful for all of the support and love given to us by family and friends. I called this summer "Nonnie Day Camp" because my girls spent so many days with my mom so that I could work on the house! We had so much help with the renovations, moving in, and getting settled. We're a three minute drive to the girls' school and less than a mile from my mom's house. We love that our girls can ride their bikes up the street to go see their great-grandparents. Such a blessing!