What can you do in Paris with children?
The short answer: everything! Keep reading for the long version :) Travel to Paris with children can be wonderful!
We are big believers in taking our kids with us on trips. Children can, for the most part, go along to every site and museum with you. Of course, there are certain activities that aren't appropriate for them.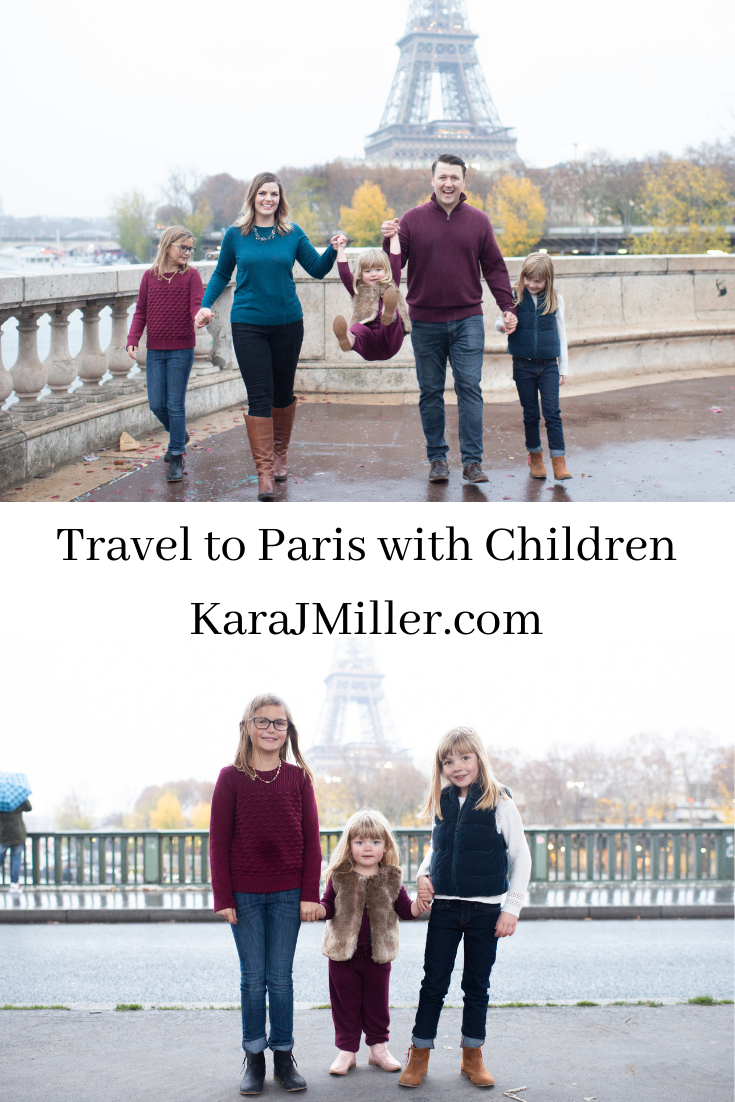 What can you do in Paris with toddlers?
All of the things! The key is preparation and patience. If you can plan for it, pad some extra time into your schedule. Sometimes you have to rush because of closing hours and reservations, but if it's possible, your children (and you) will be much happier! We inadvertently left our stroller in California, and it actually helped us get around faster without it. I'm thankful for a strong husband who gave many shoulder and piggy back rides! My advice for traveling with children:
Make sure you take breaks.  Stop at the crêperie for a warm crêpe. If you pass a playground, let them play and explore.   
Go at their pace. Let them show you around the museum. Walk at their speed as you shop and see which stores they want to go in.
Don't over-schedule. Aim for one or two things planned in the day. Pay attention to what must-sees are in the same neighborhoods and try to get to those in the same day. 
Bring an extra set of hands. I love traveling with my mom! I've been doing it my whole life. Having her on a trip with us means that there is one adult to each child. Multigenerational travel makes things so much easier and the memories are irreplaceable. 
Where to stay in Paris with kids
I think the best way to go with a large group, including children, is an AirBNB. I found one for our party of six with two bedrooms, two full baths (that's a big deal in Europe), a living room, and a kitchen for $209/night linked here. We were so comfortable there! It was on the floor level and had two separate doors with codes to get through from the street so we felt completely safe. Having a kitchen is so nice. We kept our cheese and Orangina in the fridge and baguettes and chocolate on the counter :)
As far as which area of Paris to stay, I really love the Latin Quarter/Saint-Germain (5th/6th arrondissements). It's safe, I have always had the best food in the Latin Quarter, and it's quintessential Paris! My other recommendation would be the 1st arrondissement, the heart of the city near the Eiffel Tower and Louvre. This is more expensive, of course.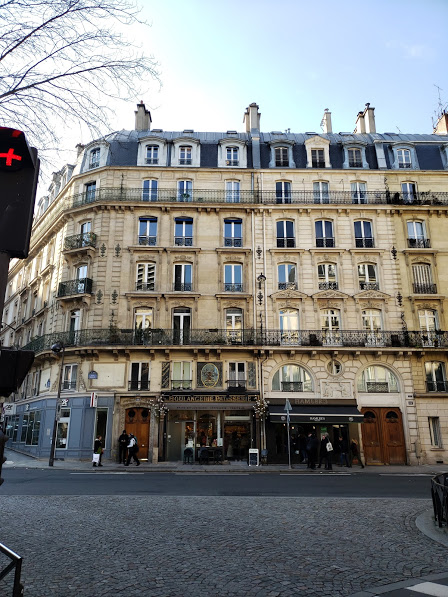 Our Paris Itinerary
At a glance:
Paris Temple of the Church of Jesus Christ of Latter-day Saints
Le BHV Marais Department Store
Ménagerie du Jardin des Plantes
Montmartre – Sacre Coeur, Moulin Rouge
Detailed version:
We had quite the trip, complete with a migraine on my part and lice for one of my girls. Oof! We didn't let those things get us down, though, because we were in PARIS!
We flew in on a red eye flight and caught an Uber to our apartment. We took these homeopathic (affiliate link) No Jet Lag tablets on our flight over and they worked! My friend Melissa told me about them. I researched them and figured that since they are made with harmless ingredients, it was worth a shot. We took them on the way there and back and felt better than we ever have jetlag-wise. Our girls also did amazing with them. We dropped off our luggage, freshened up a bit, and went out walking our neighborhood to get a bite to eat. We came upon the cutest cafe, Le Cardinal. We enjoyed French onion soup, fresh baguettes, hot chocolate, and Orangina.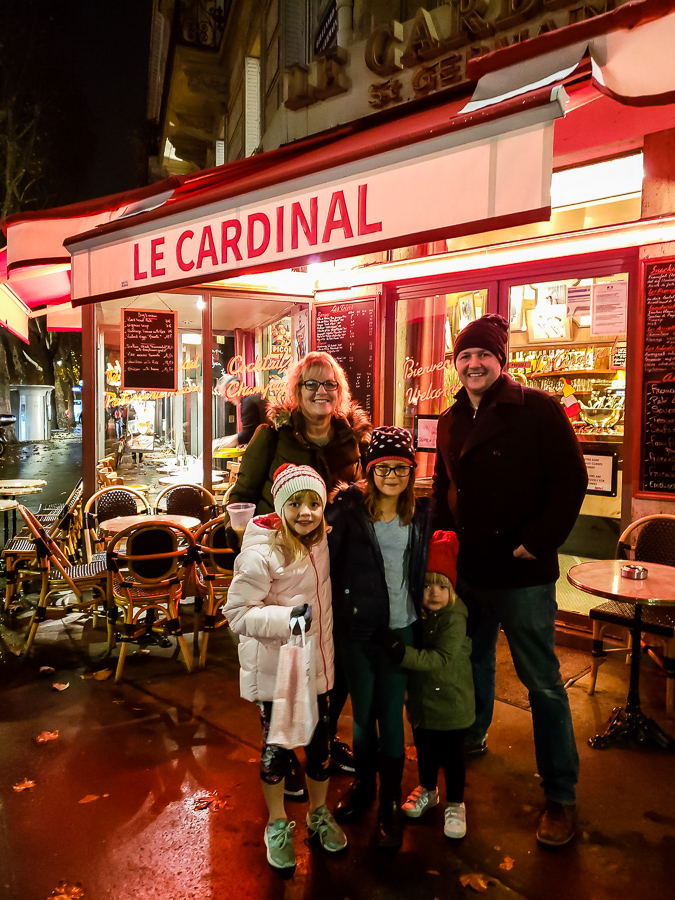 The next morning, we all slept in until about 10 AM local time. Once we were showered and ready, we walked to Eric Kayser. When I saw that our AirBNB was a two minute walk from Ina Garten's favorite patisserie, I booked it right away! We got breakfast there just about every day. The quiche is what my dreams are made of! Buttery, flaky, crust and eggy ham and cheese baked to perfection.
After that, we explored our neighborhood a bit and then made our way over to Notre Dame. There was a playground behind it, and we let the girls play for a while. We made friends with a family visiting from Italy! We went inside of Notre Dame and marveled at the beautiful stained glass and architecture.
Then, we made our way down to Sainte Chapelle. There was a bit of a wait to get in, as it's a smaller space, but it is SO worth it! The stained glass is the most beautiful of any I've ever seen.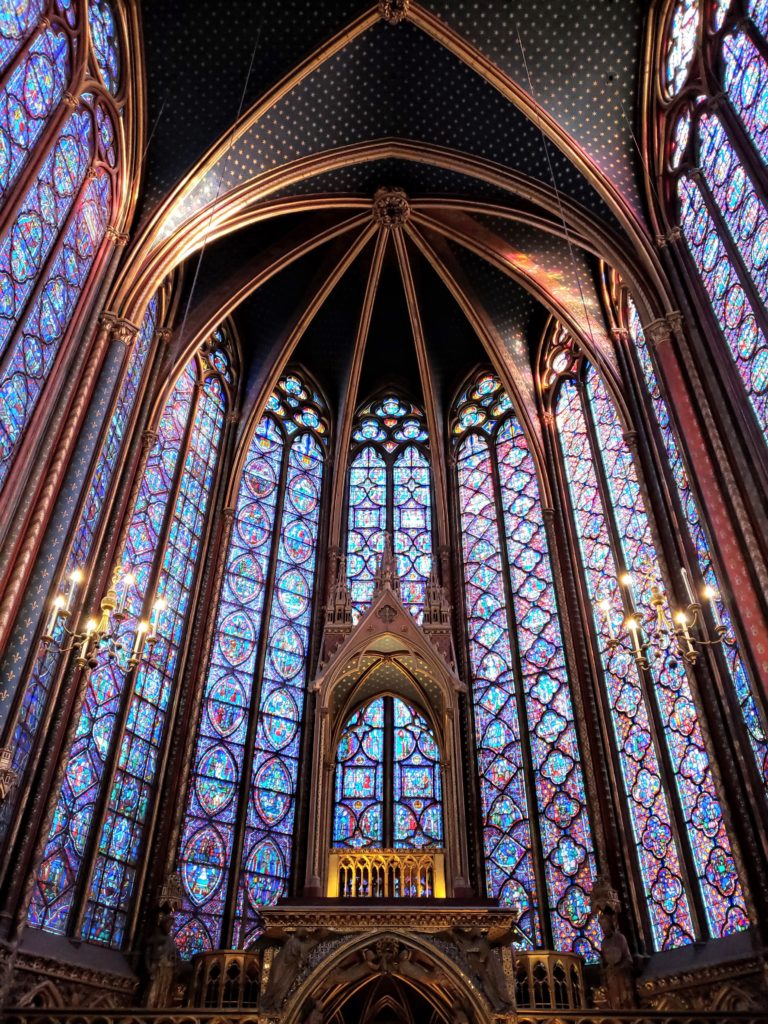 After that, we found a crêperie on the corner and stopped for some sustenance. It was delicious :) After that, we walked across Pont Neuf and made our way to Place Dauphine. We had a fun game of tag and had the whole place to ourselves!
Then we grabbed some chocolate chaud on our walk back to the Airbnb for some down time before dinner. We decided on Le Relais de l'Entrecote, a recommendation from my sister. They have the best steak frites in Paris and the recipe is a family secret!
That night, I couldn't sleep because of a horrible migraine. The entire morning was spent at an urgentcare, with Matt trying to translate medical terms into French and the sweet doctor trying to ask questions in broken English while my mom watched the three girls in the waiting room. Then it was off to the pharmacie to get the prescriptions filled. Within 15 minutes of taking the medicine, I was feeling relief. Hallelujah! Off to the Louvre. We arrived with only 1 hour left, not nearly enough time to see everything. In Paris, they start closing very early, so be aware of that. It will say closes at 7 PM and they will have parts of the museum already closed off at 6:30 PM. We saw Mona Lisa (Mamma Mia according to June), Winged Victory, and lots of beautiful artifacts and treasures.
Next, it was off to the Musee d'Orsay. This is my favorite museum in Paris; it's in an old train station. There was a special Picasso exhibition while we were there. Lots of impressionist art: Van Gogh, Monet, and statues that are all beautiful. We ate dinner at the restaurant with the famous giant clock and rode the train home.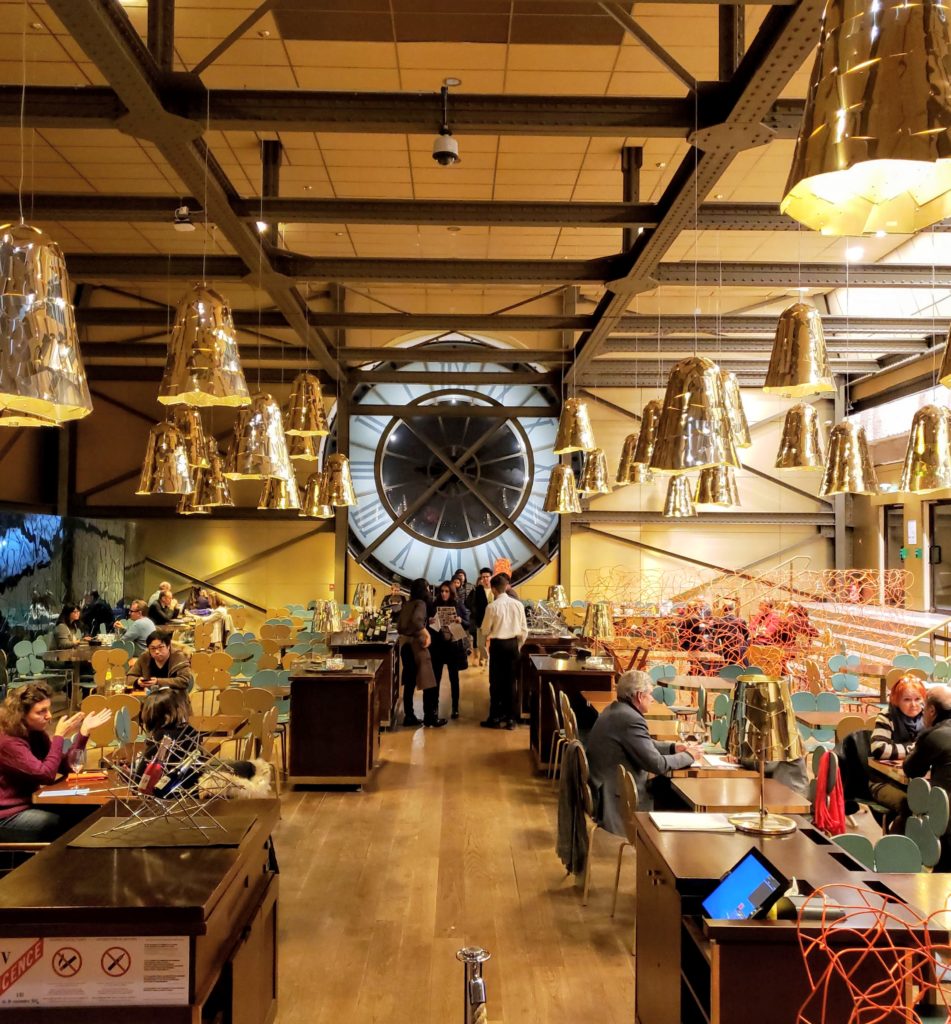 The next day, we were supposed to have our family pictures taken. We got all gussied up, everyone in their perfectly coordinating outfits, and caught an Uber to our location. As we were about to arrive, the photographer called me and said that she had rolled her ankle. She couldn't put any weight on it and we had to reschedule with a different photographer for a different day. We spent the day shampooing Lola's hair and laundering all of the bedding. Then we went to Galeries Lafayette to see the giant Christmas tree and eat dinner. We were disappointed in our lobster rolls but were starving and ate them anyway. The Christmas window displays outside were magical! The girls had fun looking at all of them. They have little steps and platforms for children to stand on for better viewing.
The next day, we went to Versailles. We got off at the wrong train stop and had to walk farther than we should have, but ran into some other Americans and funny signs along the way. The palace is unreal. It feels like a movie set and just crazy that people actually lived like that! Make sure to leave time for the gardens, they are beautiful.
After Versailles, we walked to the Paris Temple of the Church of Jesus Christ of Latter-day Saints. It is a long walk, but our kids were troopers and did it! The Visitors Center is open to the public and we had a lovely tour from some senior missionaries serving there. The stained glass of Jesus Christ has been the background on my phone since the Temple was built. It was incredible to see in person! We shared that Matt served his mission in France 14 years ago, and the brother went and got a printed copy of the stained glass out of the cupboard. He said that they had only been given a limited number of these prints. He and his wife decided that they would give them to missionaries returning to their missions in France. He told us to read the dedicatory prayer given by Elder Henry B. Eyring, that he said the Temple would not have been built without the missionaries who served in that country. We were so touched by that!
We Ubered to dinner at Le Bouche a Oreille afterward. Highly recommend! We all thoroughly enjoyed our meals and desserts.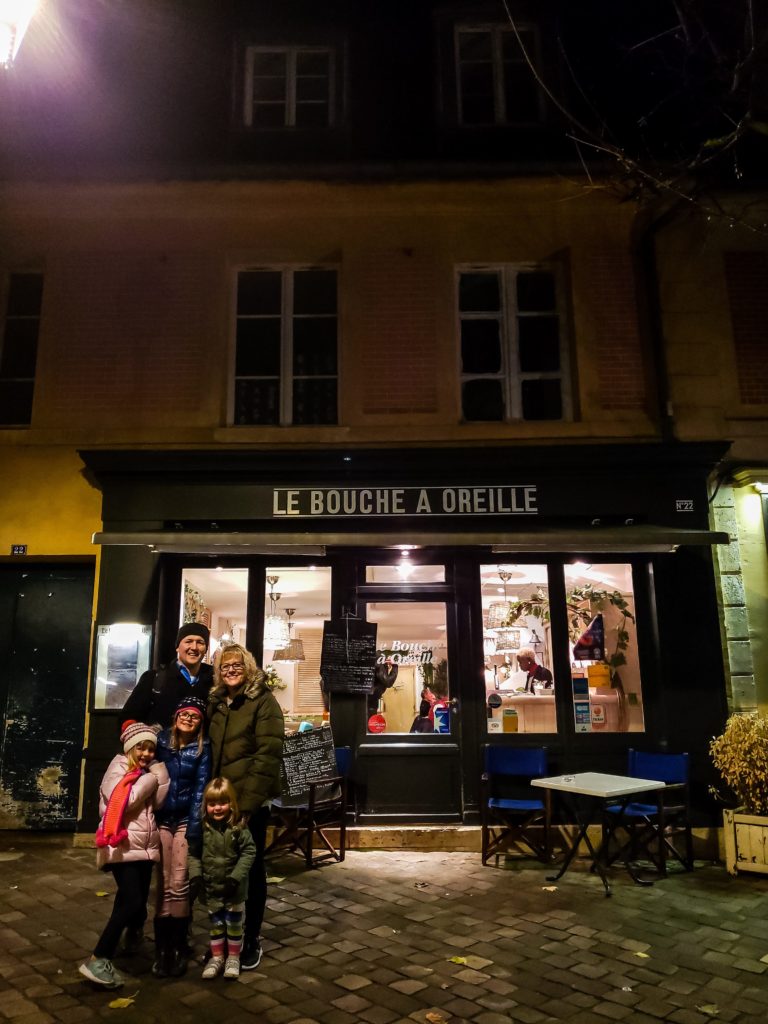 We went to Church in Paris, and I am SO glad we did! There is only one ward of the Church of Jesus Christ of Latter-day Saints, and they have an English speaking section with a TV and translator so you can understand everything. We were all tired but I said a prayer for the desire to go, and it worked. We made the effort to get up and get to church in the rain. It ended up being the Primary Program, one of my favorite Sundays of the entire year! Sweet little children got up to the pulpit and bore their testimonies in French and English and sang familiar songs in French. It was such a special experience! After church, we were referred to this beautiful department store by a sweet senior missionary that introduced herself to us. Le BHV Marais Department Store -click on the link to see the Mary Poppins displays we were there for!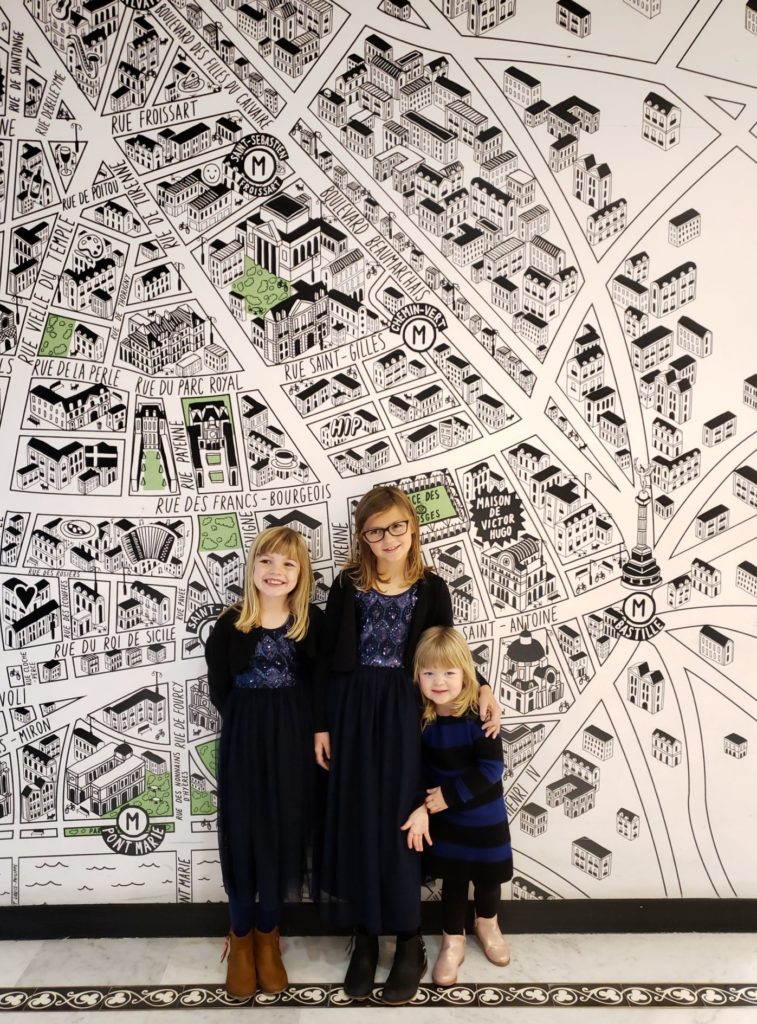 One restaurant that Matt and I loved when we were in Paris in 2013 was Astier. We tried to go on this trip, but they didn't have room for us. :( I highly recommend it! We looked on Yelp and ended up at a restaurant that wasn't very good. The escargot was yummy, but everything else was not.
There are always different exhibits and installations going on in Paris, so if you are in town during one, try to catch it! There was a special light exhibition in the Ménagerie du Jardin des Plantes, Paris' oldest zoo that we went to. It was so pretty! The girls were in awe.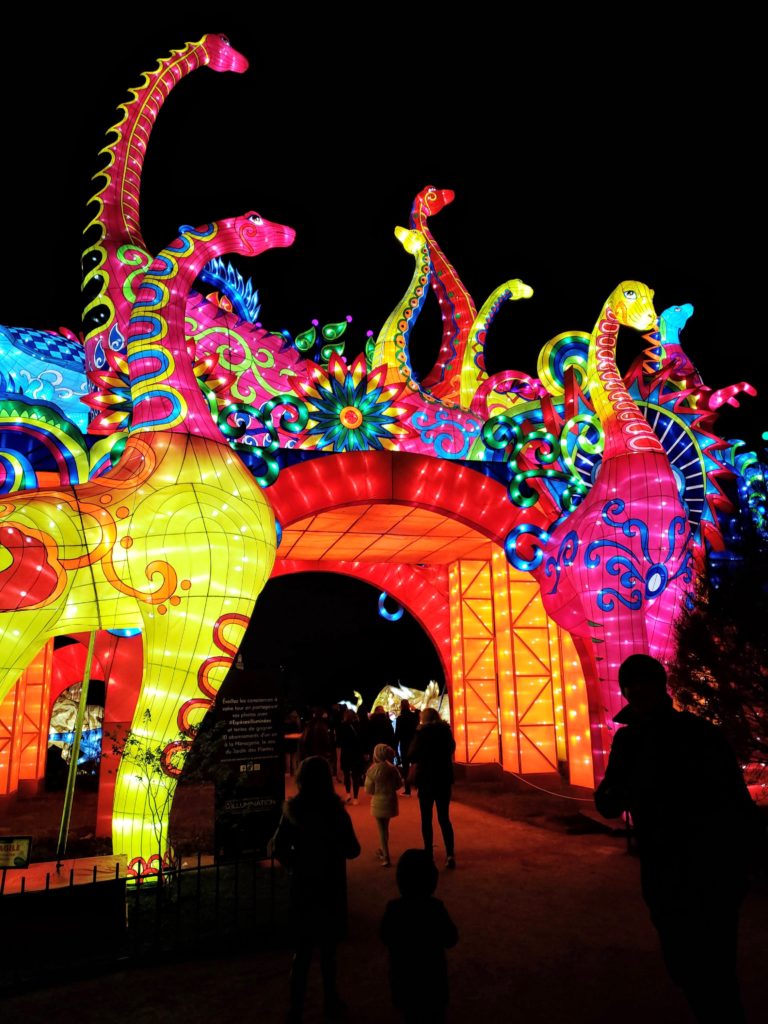 The next day, we went on a Double decker bus tour. This is how I saw all of Paris the first time I went with my dad. We only had less than 48 hours, so it's a great way to cover a lot of ground and see the highlights! It's perfect to hop on and off as you please throughout the day. My crazy kids wanted to sit on top in the open with the rain! Take note of the last ride of the day though, they will be stingy and not want to let you ride back to your original stop after a certain time. I worked my magic and they let us though ;)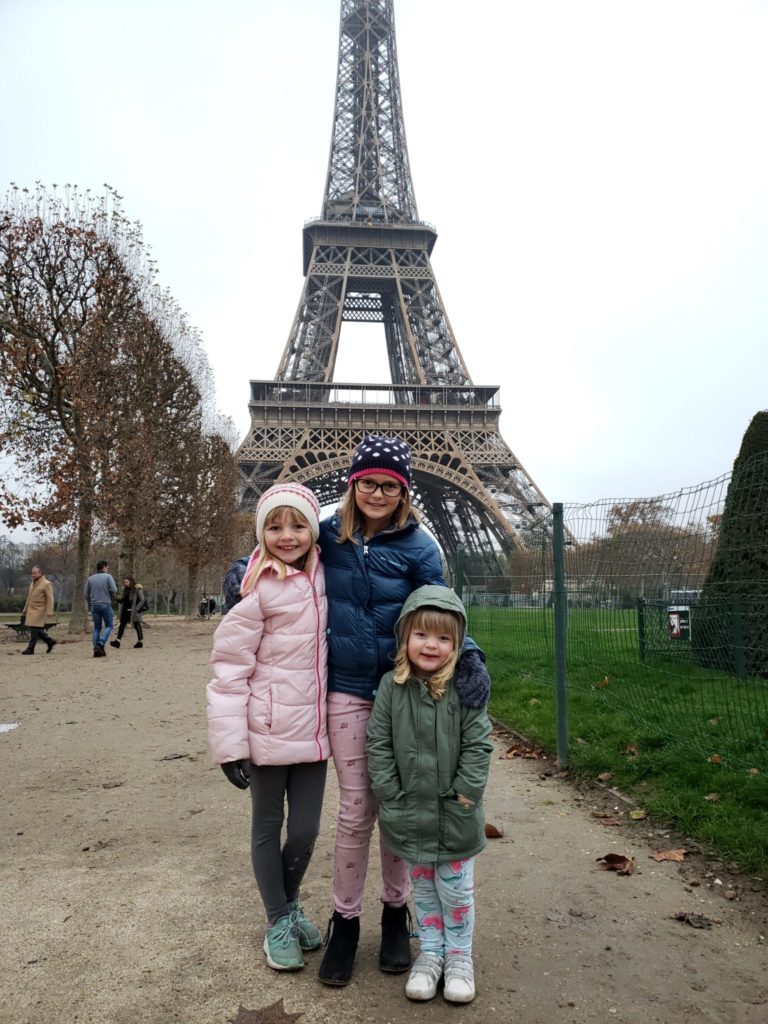 We rode all over Paris, stopping for breaks and photo ops. We went to Laduree on the Champs d'Elysees for dinner. They have the thickest hot chocolate you could imagine. It's like pudding! I kept adding whipped cream to mine but it just kept growing! The salmon was okay, I wouldn't eat a meal there again but just go for hot chocolate and macarons.
We walked up and down the Champs d'Elysees. You could see broken windows from the protests, but we felt safe the whole time we were there.
Tuileries Garden had a Christmas market and beautiful carousel that the attendant let the girls ride way more than we paid for.
We headed to have our family pictures taken a second time. We missed our train because of the language barrier and then the trains stopped working. So we went back up to the street and got an Uber. We got to the Bir Hakeim Bridge a little late and our photographer wasn't there. Called him and he had totally forgotten! Matt handed me the phone and I explained that getting three children ready for photos twice was quite the feat, and that the pictures had to happen today. To his credit, he dropped everything and was there in twenty minutes. We got crêpes and tried to stay warm in the meantime. We ended up getting rained on, but the photos turned out beautifully. Even though it was quite the feat to finally get them, I'm so happy that we have them!
photo courtesy James of Flytographer in Paris. Use code KARAMILLER for $25 off your Flytographer shoot!
That night, we went to the top of the Eiffel Tower! While waiting in line, I went and bought some hot chocolate and donuts to keep us warm and happy. It was freezing! Make sure when you buy tickets, you go on the correct day (I mixed up our dates and we had to buy additional tickets). Also, be sure that you buy tickets to the very top, not just the summit. The views at the top are incredible! I loved seeing the entire city lit up at night and the rain clouds passing by.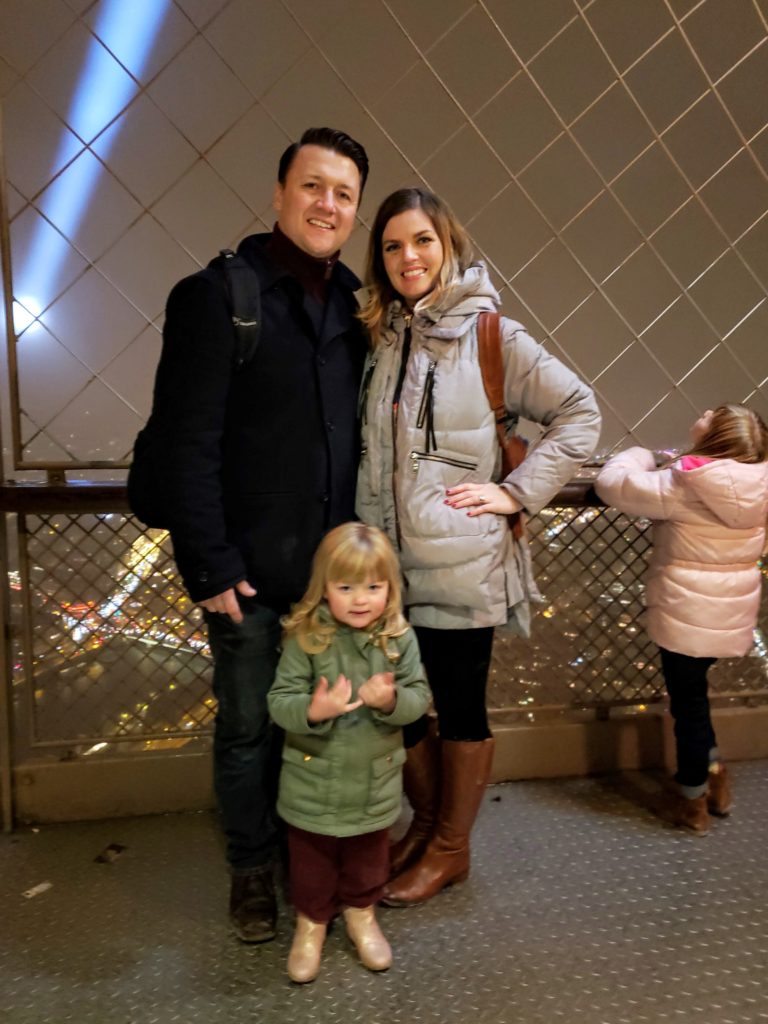 My jacket is the famous Amazon one, it kept me so warm! Find it here: (affiliate link) Orolay Down Jacket
Afterward, we asked one of the security guards where to go for dinner. He recommended Cafe Beaujolais, a short walk away. This was another favorite meal of everyone's! My chicken and mashed potatoes were perfection along with the chocolate cake! Matt ordered a cheese plate that we all helped him with.
The next day, we walked up and down Rue Saint Germain to do some shopping. Chocolate shops galore, high-end stores, and the Target of Paris: Printemps. Parisians love children, and our girls were given lots of free gifts. Marshmallows, chocolates, and a journal!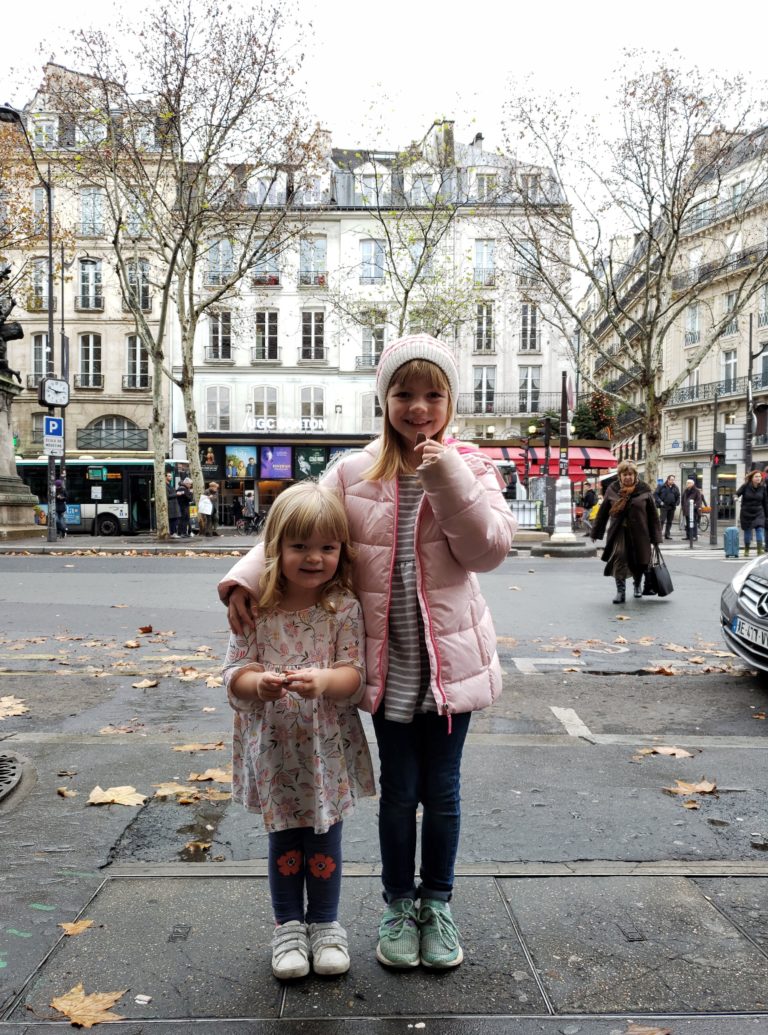 Later we went to the neighborhood of Montmartre to see Sacre Coeur, have the girls' pictures drawn by a local artist, and have an okay dinner.
We saw the Moulin Rouge from across the street so the girls didn't see anything inappropriate. Walking to the bus stop was an interesting exercise in distraction! Lots of unsavory shops and so we walked down the median of the street and kept calling the girls' attention to us when something gross would show up on a screen or sign.
Then it was off to the airport to fly home! Ada (almost 9) had one moment on the last day there where she cried because she missed home and her friends. It was a great learning moment to talk about homesickness and experiencing different cultures, food, and the importance of travel to appreciate what we have. We had such an amazing time, even with the roadblocks that came our way. If you are prepared and have a positive outlook, it just makes for a great story when you get home. I hope this helps anyone planning their trip to Paris! If you have any questions at all, let me know and I'll do my best to answer them.
Check out how I got our cheap flights to Paris here: