Happy Valentine's Day! I am here to share another one of my favorite cookie recipes with you! I got this recipe from one of my friends, Sue of Munchkin Munchies. She is a master cookie decorator! You have to check out her adorable creations, like these vintage inspired Valentine Cookies. I am in awe of her talent! She shared this no-fail sugar cookie recipe years ago and I have been using it ever since. Here is why I love it:
The dough does not have to be refrigerated. You can if you want to, but it's not necessary.
There's isn't baking soda in the recipe, which makes them taste much better in my opinion.
These cookies turn out perfect every time. I can't count how many times I've made them and they always turn out perfectly!
For these Valentine's Day hearts, I do a simple piping of royal icing around the edge and let that set. Then I fill (flood) the inside with more watered-down royal icing. Next, top with sprinkles. Easy peasy! I used to make these for the girls' classes at school every Valentine's Day. Now it's against the rules, so I made them for a church activity tonight. There is something special about a homemade decorated sugar cookie, don't you think?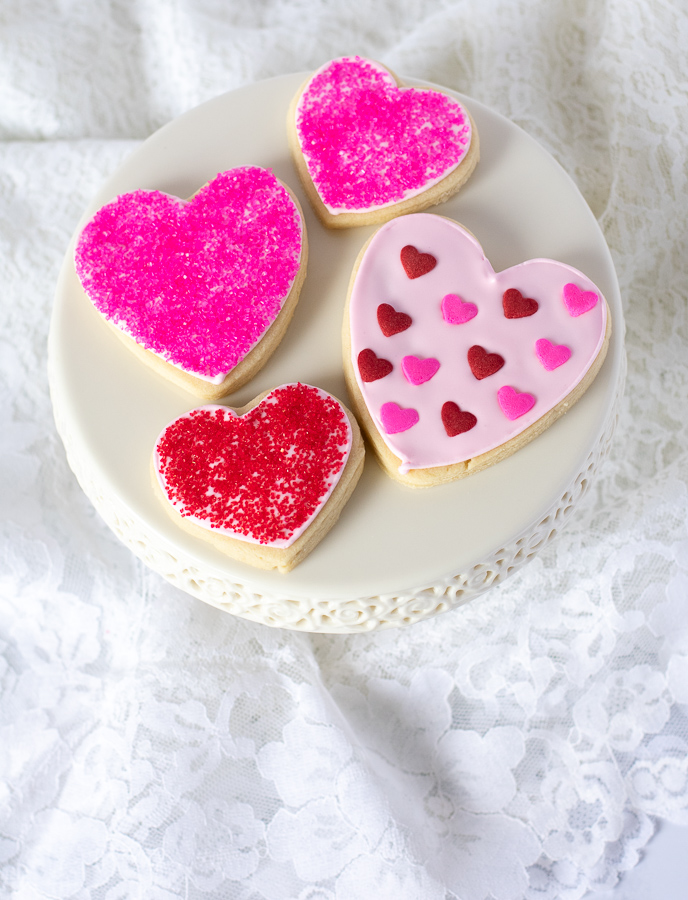 You can find meringue powder for the royal icing at Michael's or Walmart. I used Wilton's brand sprinkles for these cookies. Enjoy!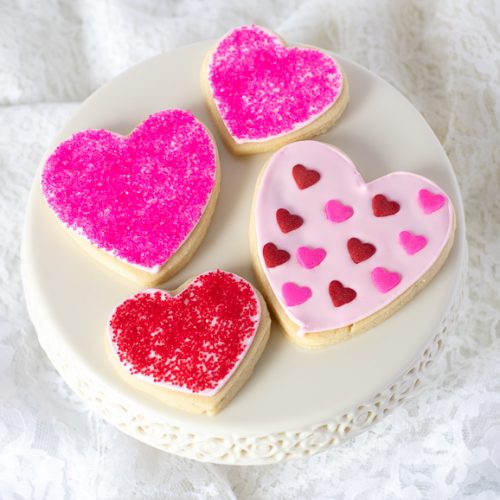 Sugar Cookie Recipe
Ingredients
6

cups

flour

2

cups

butter

2

cups

sugar

2

eggs

2

tsp.

vanilla extract

1

tsp.

salt
Instructions
Preheat oven to 350 degrees.

Cream butter and sugar. Add eggs and vanilla. Mix dry ingredients and add to butter mixture. Mix well.

I usually chill my dough in the refrigerator before rolling out, but it's not mandatory.

Roll to desired thickness and cut into desired shapes. Bake on ungreased cookie sheet at 350 degrees for 10-15 minutes or just until beginning to turn brown around the edges.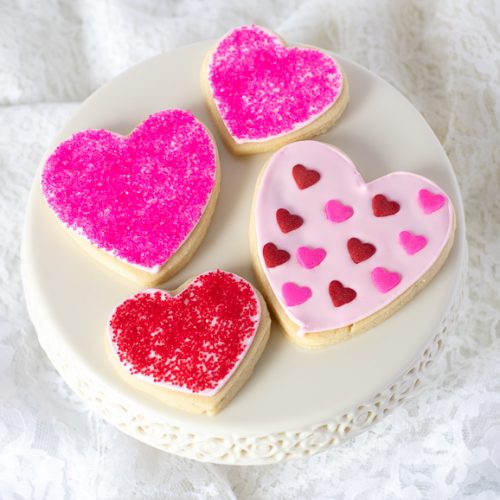 Royal Icing Recipe
Ingredients
3 3/4

cups

confectioners (powdered) sugar

3

Tbsp

meringue powder

6

T

warm water
Instructions
Beat 4-5 minutes, until smooth. If you want it thicker (to outline) add a little more sugar. If you need it thinner (flow consistency) to "fill in," add a little bit more water.