The day is finally here…I am sharing my famous chocolate chip cookie recipe with you! I have been making chocolate chip cookies ever since I could read a recipe. I broke multiple hand mixers of my mom's (sorry, Mommy) and used her Kitchen Aid mixer religiously until I moved out. I started out making the Tollhouse recipe on the back of the chocolate chip bag, then graduated to the Mrs. Field's cookie recipe. Over the years, I have experimented with different ingredients, changed things up, and created the perfect chocolate chip cookie, (in my humble opinion).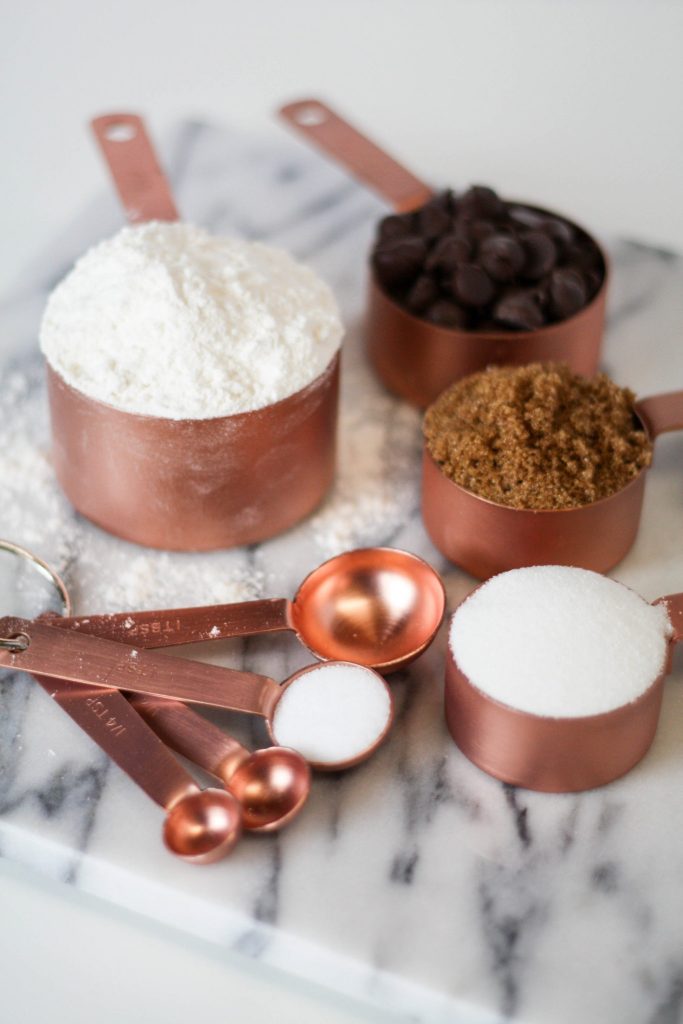 I baked and sold these cookies for a while locally! I had a ton of deliveries that Valentine's Day. I think if you really want to show a person that you love them, a batch of chocolate chip cookies is the perfect way to do that! These cookies are everything a chocolate chip cookie should be. Crispy on the edges, soft in the middle. The perfect dough to chocolate chip ratio. The right amount of saltiness to set off the sweet. And the thing that nobody can put their tongue on when they bite into one: the caramelized, nutty flavor the brown butter brings to the table.
Kara's Cookies was our first foray into the food industry, and what made us realize that people would pay us for making delicious food. It really boosted our confidence and helped us make the decision to buy Bravo Pizza.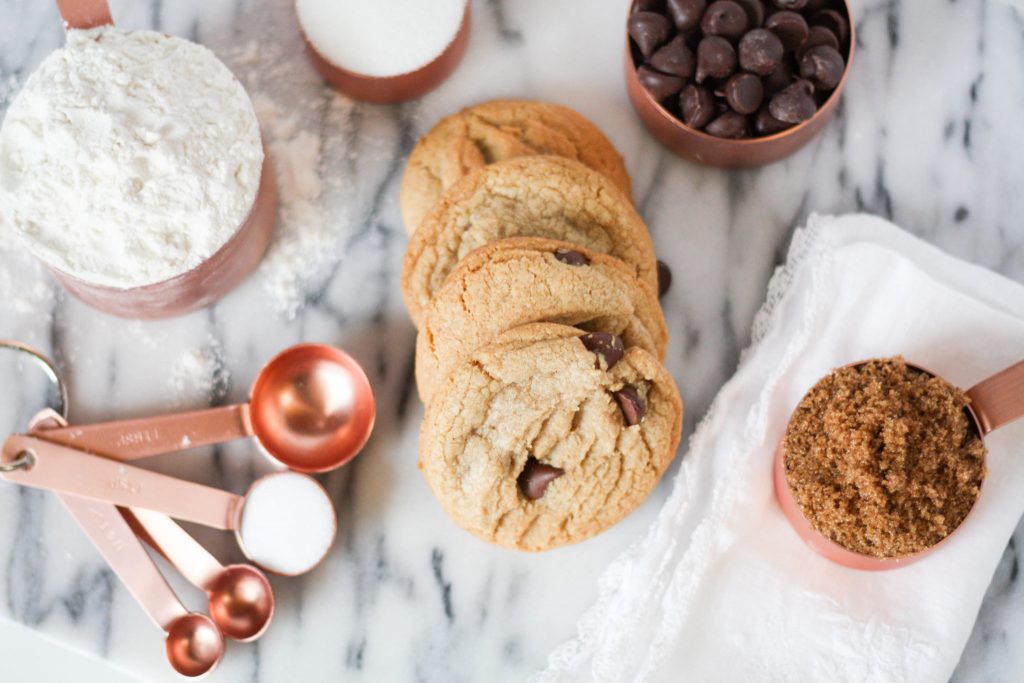 Good Cookie Food Bloggers' Valentine's Event
This Valentine's, I am joining with fellow food bloggers as we participate in raising funds and awareness for pediatric cancer research. My friend from the Permission to Hustle Retreat, Julie Deily of The Little Kitchen, has organized this fundraiser for three years now!
Cancer is the #1 cause of death of children by disease in the United States. There are 40,000 U.S. children actively battling cancer right now. Less than 4% of the National Cancer Institute's budget goes toward all childhood cancer combined. When I heard about this, I knew I had to get involved. It's a cause that is near and dear to my heart.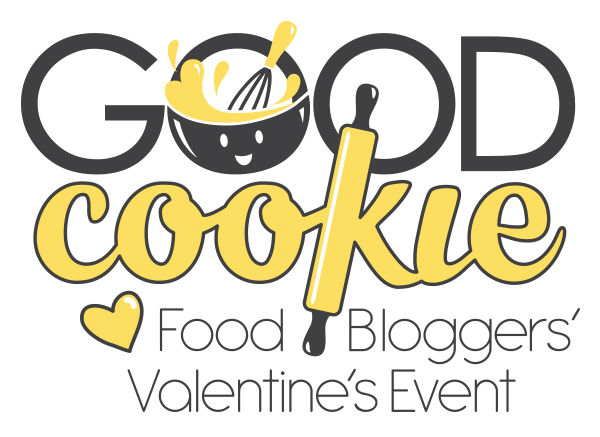 Help us make a difference by donating to Cookies for Kids' Cancer! Our goal is to raise at least $3000, because these three companies: Dixie Crystals, Mediavine and OXO have each pledged to match our donations raised through this campaign up to $3000!
Brown Butter Chocolate Chip Cookie Recipe
A few notes & suggestions about this recipe to get the best cookie:
use Imperial Sugar/Dixie Crystals dark brown sugar; it is the best of all the brands I have tried. I buy mine online from Target.
use unsalted butter
if you have a convect bake setting on your oven, use it! These really shine and get that crunchy edge but soft center when baked in a convection oven.
I use Guittard Semi-Sweet Maxi chocolate chips – they are larger and perfect.
If you don't have all of those items, these will still be one of the best chocolate chip cookies you've ever had :)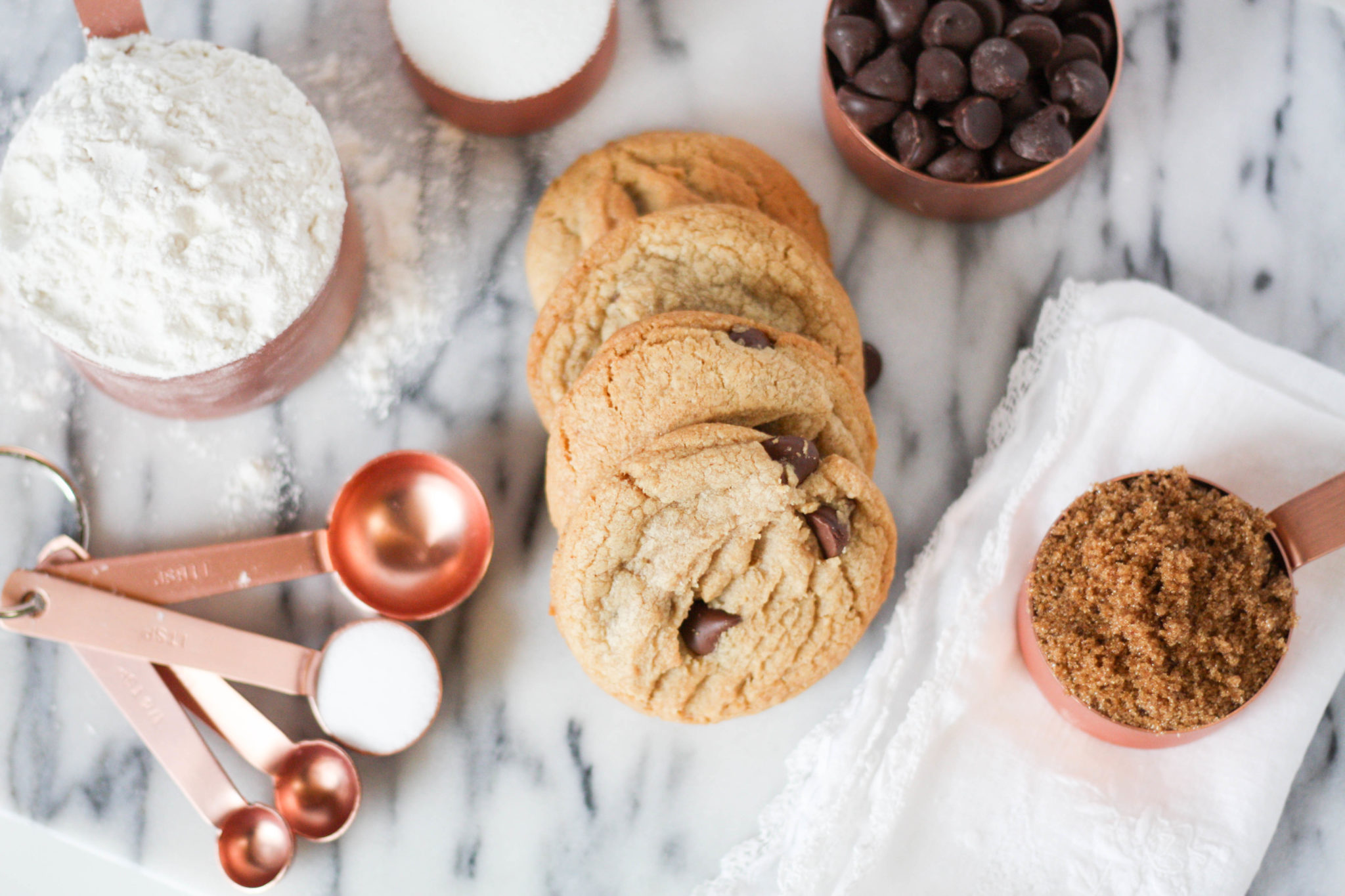 Brown Butter Chocolate Chip Cookies
Ingredients
4

sticks

plus 2 Tablespoons unsalted butter, softened

2

cups

granulated sugar

3

teaspoons

vanilla

1

cup

packed dark brown sugar

2

large eggs

2

large egg yolks

4 ½

cups

flour

2

teaspoons

salt

2

teaspoons

baking soda

2

cups

chocolate chips
Instructions
Brown 2 sticks plus 2 Tablespoons unsalted butter in saucepan. Once butter is browned, place in a bowl to cool slightly.

In Kitchen Aid, cream the remaining 2 sticks of butter with the granulated sugar. Cream on medium speed until light and fluffy, 3-5 minutes. Add the vanilla and beat until incorporated.

Once the browned butter has cooled slightly, pour into creamed butter mixture with the brown sugar. Cream for about 2 minutes until well incorporated. Add the eggs and egg yolks and beat for 1 more minute.

In a medium bowl, whisk together flour, salt and baking soda. Add the flour mixture all at once to the butter mixture and mix on low until just incorporated.

Remove the bowl from the stand mixer and fold in chocolate chips.

Cover with plastic wrap and put in fridge for 30 min.

Preheat oven to 375. After dough is chilled, scoop cookies onto a lined cookie sheet using a 1.5 inch scoop.

Bake 10-11 minutes or until lightly browned but still soft in the middle.
Recipes from all Bloggers Participating
Here are all of the other fabulous recipes from the other bloggers participating! Give them a look and see what you want to make for your sweetheart, then please consider donating :)
Chocolate Chip Cookie Cake from Julie of The Little Kitchen
Læsø Salted Chocolate Chip Cookies from Camilla of Culinary Adventures with Camilla
Meyer Lemon Cookies from Linda of Simply Healthyish Recipes
Soft & Chewy Gluten Free Oatmeal Raisin Cookies from Allie of Miss Allie's Kitchen
Small Batch Bakery Style Chocolate Chip Cookies Recipe from Faith of An Edible Mosaic
Chocolate Madeleines from Caroline of Caroline's Cooking
Rainbow Rice Krispie Treats from Bree of Baked Bree
Tiger Butter Candy from Melissa of MamaGourmand
Valentine's Day Gluten Free Sugar Cookies from Brianna of Flippin' Delicious
Chocolate Spritz Sandwich Cookies from Carlee of Cooking With Carlee
Pink Velvet Chocolate Chip Cookies from Jenn of Ever After in the Woods
French Butter Cookies from Rebekah of Kitchen Gidget
Brown Sugar M&M Cookies from Sara of Imperfectly Balanced Sara
mini rose cookies from Meaghan of the decorated cookie
Raspberry Linzer Cookies from Stephie of Stephie Cooks
Red Velvet Brownies with White Chocolate Cream Cheese Frosting from Coleen of The Redhead Baker
Lemon Poppyseed Cookies from Becca of Two Places at Once
Warn Dark Chocolate Melting Cups from Lisa of Snack Girl
Salted Dark Chocolate Cookies from Jessica of A Kitchen Addiction
Cherry Cordial Bundt Cake from Carolann of Apron Warrior
Nutella Stuffed Cookies from Allison of Celebrating Sweets
Strawberry Pudding Cookies from Holly of A Baker's House
Slice and Bake Whirligig Cookies from Laura of Untwisted Vintage
Raspberry Strawberry Cookies from Heather of Delicious Not Gorgeous
Chocolate Strawberry Hand Pie from Trang of Wild Wild Whisk
White Chocolate Cashew Cranberry Cookies from Brittany of Diary of a Southern Mrs.
The Best Potato Chip Cookies Recipe from Marybeth of Babysavers
Darth Vader Valentine's Day Hug Cookies to Support Cookies for Kid's Cancer from Jenn of justJENN recipes
Hazelnut Shortbread Cookies with Jam from Lisa of Garlic & Zest
Sprinkled Chocolate Shortbread Heart Cookies from Lisa of Blogghetti
Double Chocolate Chip Cookies from Dee of Meatloaf and Melodrama
Homemade Salted Nut Rolls from Shaina of Food for My Family
Valentine Sugar Cookie Cups from Melissa of Persnickety Plates
Chocolate Dipped Cashew Butter Cookies from Ashley of Fit Mitten Kitchen
Chocolate Vanilla Striped Shortbread Cookies from Denise of Chez Us
Pineapple Coconut Bar Cookies from Barbara of Barbara Bakes
Chocolate Raspberry Roll-Ups from Sue of It's Okay to Eat the Cupcake
Raspberry and Rose Meringue Parfaits from Michelle of Cup of Zest
Chocolate Chip Pudding Cookies from Jade of Jonesin' For Taste
Raspberry Thumbprint Cookies from Emilie of Finding Zest
Chocolate Mousse Cups from Miranda of Cookie Dough and Oven Mitt
Grain-Free Dark Chocolate Raspberry Tart from Gretchen of kumquat
Chocolate Shortbread Cookies from Sara of My Imperfect Kitchen
Chocolate Chip Cookie Pie from Angela of About A Mom
Honey Pistachio Shortbread from Megan of Stetted
Red Velvet Oreo Cheesecake Cookies from Nicole of For the Love of Food
Chewy Coconut Macaroon Hearts (Gluten Free) from Taryn of Hot Pan Kitchen
Chocolate Peanut Butter Valentine's Cookies from Becca of The Salted Cookie
Chocolate Caramel Pie from Stefanie of Mommy Musings
Gluten-Free Red Velvet Brownies {Dairy-Free} from Audrey of Mama Knows Gluten Free
Chocolate Raspberry Cupcakes from Erica of The Crumby Kitchen
Dark Chocolate Bourbon Coconut Cream Mousse from Lisa of Taste Cook Sip
Maple Butter Chocolate Chip Cookies from Jamie of Southern Revivals
Red Velvet Mini Layer Cakes from Gwynn of Swirls of Flavor
The Best Potato Chip Cookies Recipe from Marybeth of babysavers
Brown Butter Chocolate Chip Cookies from Kara of Kara in the Kitchen
Brown Sugar Snickerdoodles from Kristin of On the Home Front
Valentine's Gummy Hearts from April of April Golightly
Cocoa Sweet Dough Hearts from TammyJo of The Chocolate Cult
Heart-Shaped Sugar Cookie Cutouts from Susannah of Feast + West
Cranberry Pecan Oatmeal Cookies from Denise of addicted 2 recipes