I am a member of the Collective Bias®  Social Fabric® Community. This shop has been compensated as part of a social shopper insights study for Collective Bias and their client. #FROZENfun #collectivebias
If you have young children, I'm pretty sure that your home is in FROZEN Mania right now! My girls could not wait for the FROZEN DVD to come out after seeing it with Nonnie over Christmas break and have been singing the songs non-stop ever since. Who am I kidding, our whole family has been singing them!
The second we walked into WalMart, Ada found the FROZEN display! Look at that excitement…she's not even touching the ground!
Two very happy little girls. We only bought one DVD, of course. How many of you hand things to the cashier and say, "We're not going to buy this…" as you check out? It's a regular occurrence with us.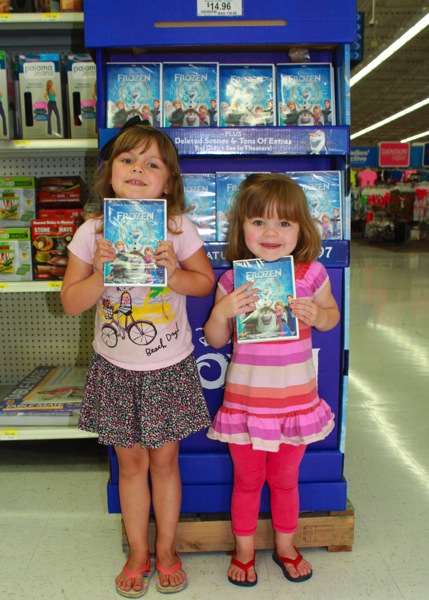 We got the girls Elsa & Anna's dresses and invited my family over for dinner and a FROZEN Talent Show! Ada/Elsa eating with Bobba & Nonnie:
And a very full-mouthed Lola/Anna eating next to Papa and Nana:
I made Apricot Chicken but subbed in Tangerine jam (so technically it would be Tangerine Chicken) with brown rice. It was delicious if I do say so myself!
Then during ice cream we played songs from FROZEN while the girls sang along to the parts they know. It was cute :)
I know that there have been numerous blog posts about the hidden messages in this movie. I am not here to add another conspiracy theory! For me, this story is about love. About the love that comes from caring about someone else so deeply because you have a bond that nobody can touch. It's about the selfless act of love that Anna shows Elsa at the end of the movie by sacrificing her life to save her sister. It's all about putting the needs of those you love before your own.
I love watching these two together. They remind me so much of my sister, Lindsay, and I. We are 16 months apart and Ada & Lola are 20 months apart.
I can't even sing or type the words Anna sings: "I'm right out here for you, please let me in! We only have each other, it's just you and me, what are we gonna do?" without choking up (Matt teases me). It is after their parents die, and it reminds me of right after our grandma died. I remember waking up the next morning for the first day of school and asking Lindsay, "Was it all just a bad dream?" She responded, "I don't want to talk about it." It was her way of grieving, and I wanted to talk it out and grieve in my way. As the eldest sister, my heart breaks for Elsa, wanting to comfort her sister but knowing she might only hurt her instead.
This is the tick-tock part of "Do You Want to Build a Snowman?"
Ada had me braid her hair so she could be just like Elsa. This girl loves to dress up. She is in this getup as I type :)
It works out nicely that there is a princess for each one of my girls. Such intensity!
In our 28 years as sisters, Lindsay & I have had multiple times where we've cried together. Sad tears, frustrated tears, laugh-so-hard-you-cry tears, and happy tears. As we got older, I had to learn that the protective big sister side of me needed to back off and let her do what she wanted, not what I thought was best. I've cried sorrowful tears with her over struggles and am so glad that I get to cry happy tears with her as she gets married in summerrrrrr (read that last part like Olaf sings it!)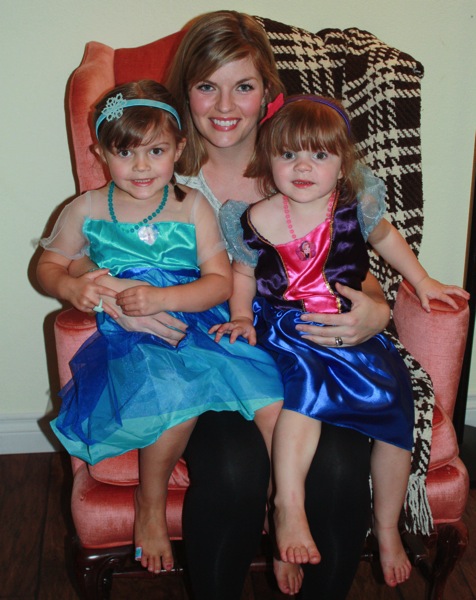 It will be so fun to watch Ada & Lola's relationship grow as they do. Having a sister means you have a built in best friend!