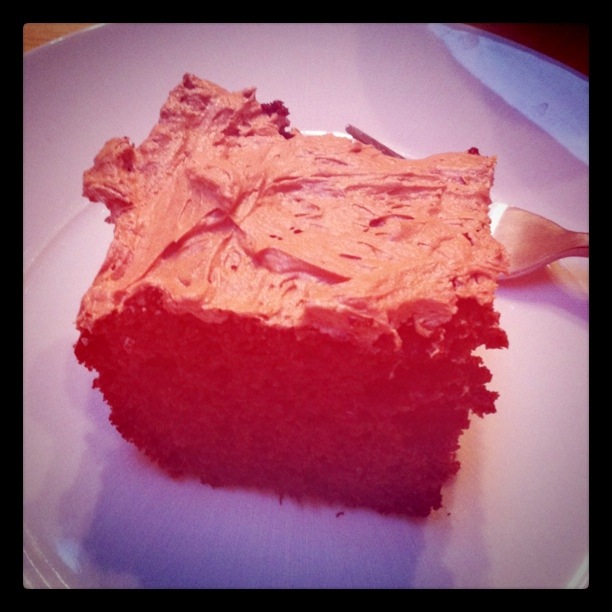 I saw this recipe over on The Sisters Cafe and knew just from the title that I had to make it! Chocolate and Dr. Pepper are my two comforts. Stressed-out Kara can be seen with a Big Gulp full of Dr. Pep in her hand! Well, happy Kara can be seen that way too :) This cake is very moist and rich. While melting the chocolate chips into the Dr. Pepper, it smells like a big chocolate covered cherry! But once the cake comes out, there is just a hint of cherry flavor.
I edited this to reflect how I made it & to make it more user-friendly as far as the butter measurements go. Enjoy!
Ingredients:
2 cups flour
1 cup sugar
1 cup firmly packed brown sugar
1 cup cocoa powder
1 1/2 teaspoons baking soda
1 cup Dr. Pepper
1/2 cup semi-sweet chocolate chips
2 large eggs
1 cup buttermilk (I was out so substituted just shy of a cup of milk with 1 T. white vinegar)
1 cup canola oil
1 1/2 teaspoons vanilla extract
Preheat oven to 350 degrees.  Grease a 9×13 cake pan.  Sift together the flour, sugar, brown sugar, cocoa and baking soda and set aside.  Heat the Dr. Pepper in a small saucepan over low heat.  Add the chocolate chips and stir until melted.  Remove from heat.  With an electric mixer, beat the eggs, buttermilk, oil and vanilla for 2 minutes.  At lowest speed, slowly add the Dr. Pepper mixture and beat for 1 additional minute.  Gradually add the dry ingredients and beat at medium speed for 2 minutes. Pour batter into prepared pan, and bake for 30 to 35 minutes or until a toothpick comes out clean.  Allow to cool completely before frosting.
Dr. Pepper Frosting:
1 cup plus 4 T. butter, room temperature
4 cups powdered sugar
1/4 cup cocoa
1/4 cup Dr. Pepper
1 1/2 teaspoons vanilla extract
Using an electric mixer, beat the butter until light and fluffy.  At low speed, gradually beat in the powdered sugar and cocoa.  Add the Dr. Pepper and vanilla, and turn mixer to high speed until frosting is light and fluffy, about one minute.