My mom and I saw a Diners, Drive-Ins, & Dives episode where Guy Fieri visited a place and they made something like this. Sorry I don't have an episode number or a restaurant name! Did anyone happen to see it? The apple pancake looked so good that I searched online for a recipe. I found a blog called Dandelion Mama where she had a recipe that looked similar to what I saw on the show. I made it one time according to her instructions, then altered it to my tastes the second time around. This is my thicker version.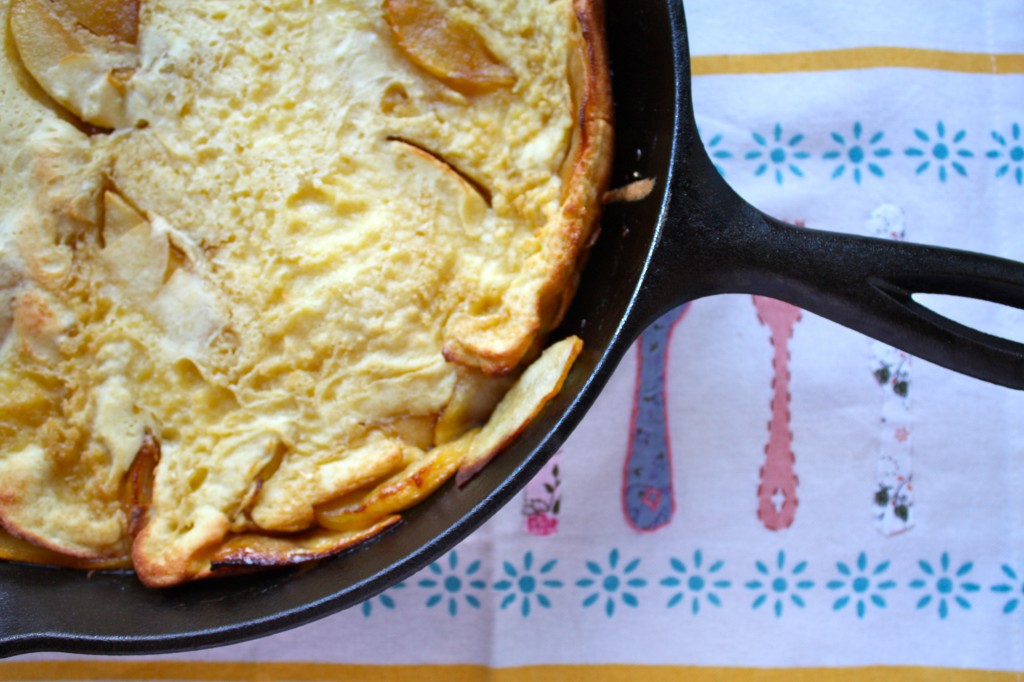 German Apple Pancake Recipe
adapted from Dandelion Mama
1/2 stick butter
2 large firm apples peeled, cored, and thinly sliced
1/2 cup milk
1 cup flour
4 large eggs
3 Tbsp sugar
1/2 tsp vanilla
1/4 tsp salt
1/4 cup brown sugar
1/4 tsp ground cinnamon
Preheat oven to 450 degrees, with rack in the center position.
Melt butter in cast-iron skillet over medium heat, setting aside 2 Tbsp in a medium bowl.
Add apples to melted butter in skillet and saute until softened and browned.
While the apples are cooking in the skillet, add the milk, flour, eggs, sugar, vanilla and salt to butter in bowl and beat until smooth. (This can also be done in a blender, but I stay away from mine because it's possessed.)
When apples are browned and softened, sprinkle with brown sugar and cinnamon. Stir the apples to coat in the syrupy goodness.
Then, pour the batter over the top of the apples. Your house will smell amazing at this point!
Put cast iron skillet in the oven and bake until pancake is puffy and golden, 12-15 minutes.
Dust with powdered sugar and enjoy!
You could also put syrup or jam on it, but I like it plain.