OXO sent me products to facilitate my review. As always, all opinions are 100% mine!
Baby June has been all about feeding herself recently! At 6 months, I introduced purees to her. She gagged, winced, and made faces no matter what I gave her! Fruits, veggies, rice cereal mixed in…she was NOT a fan. I was worried because Ada and Lola were both great eaters and had no issue with purees.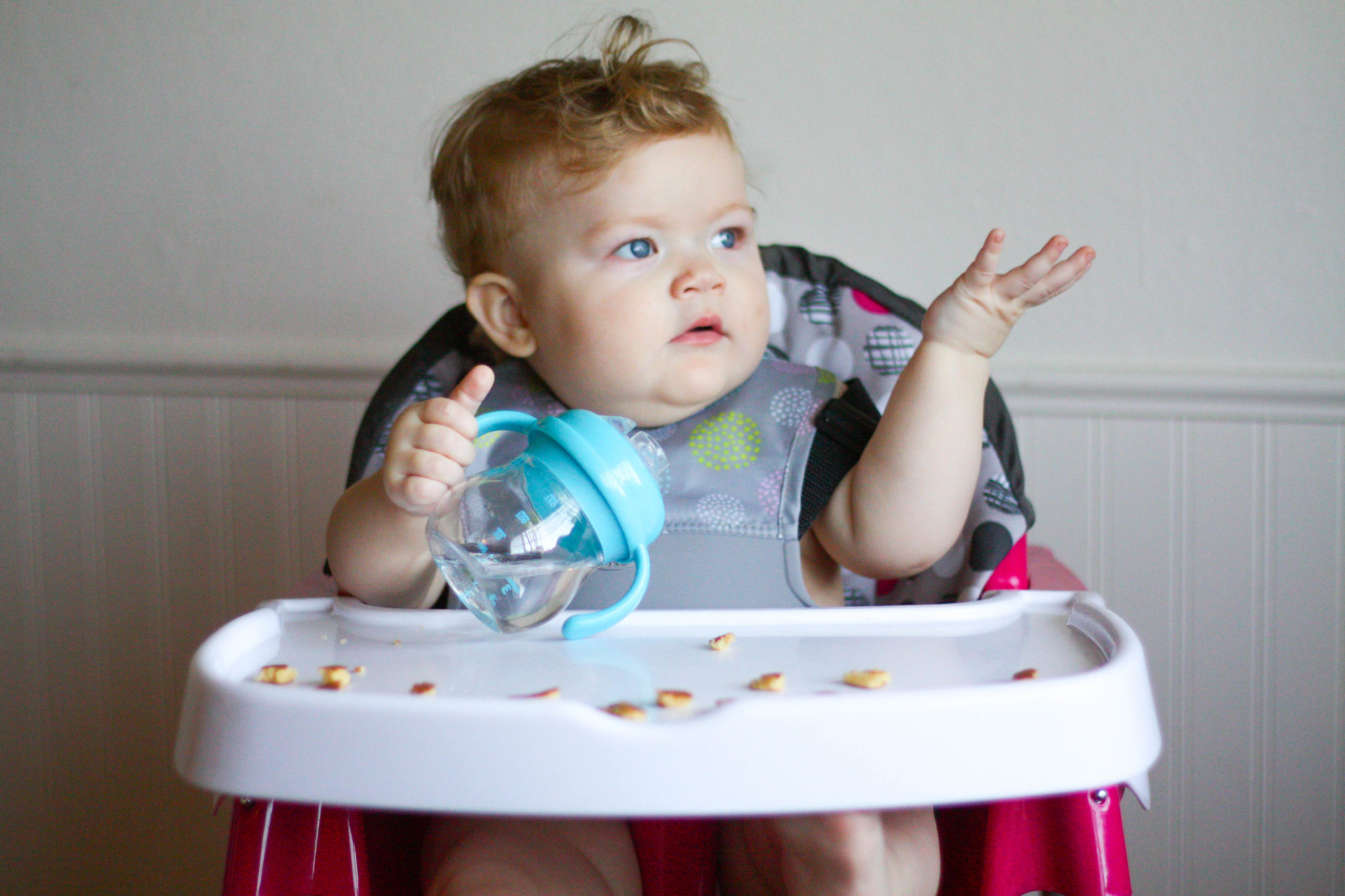 Well, after some failed attempts I backed off for a while. I was worried that we had a picky eater on our hands and I didn't want to ruin food for her. Then, while I would eat, Junie would say, "Mmm!" and try to pry my lips open. I started giving her little bites of soft foods and she was in LOVE! I would put things into her mouth and she had to pull it out, inspect it, and then put it back in her mouth and eat it. She is a little independent eater!
As you can imagine, it's a messy business. She is so happy, though! I am loving OXO's Roll-Up Bib because it has a pocket at the bottom that catches all of the food that doesn't end up in baby's mouth. Then, when not in use, it rolls into itself. They think of everything! Even the On-the-Go Feeding Spoon comes with a plastic case that is perfect for tossing into the diaper bag.
June is loving sipping water and learning how to drink with the Transitions Sippy Cup Set. See how she's tipping it in the pictures? It doesn't even spill! Then, when she's old enough, there is a grown up training lid that mimics an adult cup.
June's favorite foods:
bananas
sweet potatoes
squash
pancakes
avocados
whole wheat bread
scrambled eggs
I peel and chop the sweet potatoes and squash, then steam them. I just use a steam bag in the microwave. Storage is so easy and cute with OXO's Glass Baby Blocks! I LOVE that they can go straight from the freezer to the microwave because the glass is durable borosilicate glass, which is thermal shock resistant. It is such a cheap way to have baby food on the ready and then you know what she's getting.
June is almost 10 months old now and well on her way to branching out in the food world. What are some of your baby's favorites? Check out all of OXO's intuitive products for your little ones here.