I absolutely LOVE Panera. They built one in my hometown a few years back and I was SO happy! When we moved away I was heartbroken that there wasn't one within a 30-mile radius. It's the perfect meet-up spot and has tons of options to suit everyone's tastes. I love Panera when I'm pregnant because soups, salads, and bread usually sound better than anything else.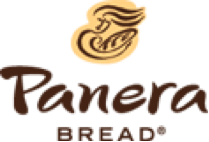 I'm a creature of habit and usually get the same thing every time I go to Panera. You Pick 2: French Onion Soup and Turkey Bravo Sandwich with a baguette to dip in the soup :) This time around, I switched it up. I got the Big Kid Grilled Cheese with Gruyere, Vermont White Cheddar, organic sliced American cheese and Applewood- Smoked Bacon grilled on White Miche Bread and paired it with the Creamy Tomato Soup. It hit the spot!
This is how it's done.
The Creamy Tomato Soup had a little kick to it, like a hint of red pepper. Love those croutons!
Hello, bacon in my grilled cheese sandwich!
My lunch dates :) They were cracking up because Ada was trying to get Lola to look at the camera, but she just wanted to look at her.
I love knowing that good, wholesome ingredients go into Panera's food. You can definitely taste the difference and that's what keeps me going back!
I was sent a Panera gift card and compensated for this post as part of the DailyBuzz Food Tastemaker program. All thoughts and opinions are 100% mine.