A few weeks ago, Matt texted me and said he had dinner taken care of for Sunday night. Okay! Awesome! Best text ever! The Jamie Oliver Foundation had come to Google and dropped off "Weekend Survival Kits" for employees to take home. Matt chose the Penne with Tomato, Basil, Olives, and Pecorino. It came with everything, down to the little container of sea salt. It's very similar to my Pasta Italiano, so I was in heaven! Fresh and fulfilling.
Sidenote: I am loving the #ABeautifulMess app for writing and doodling on your photos! Everyone is jumping on the bandwagon and they have the cutest borders and graphics. I used it on both photos below.
Matt was so cute about everything. He kept asking me questions as he was cooking & even put that little basil there so it looked pretty for a picture. We paired the meal with our favorite Trader Joe's salad – Spinach with Cranberries, Gorgonzola Cheese, and Pecans.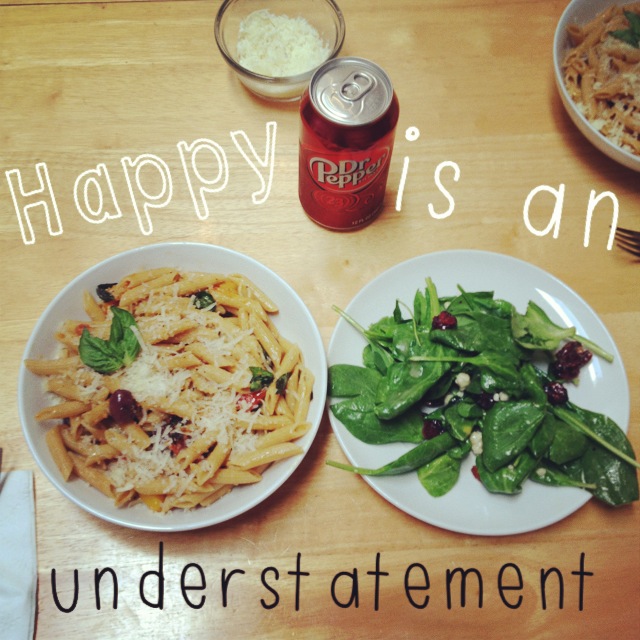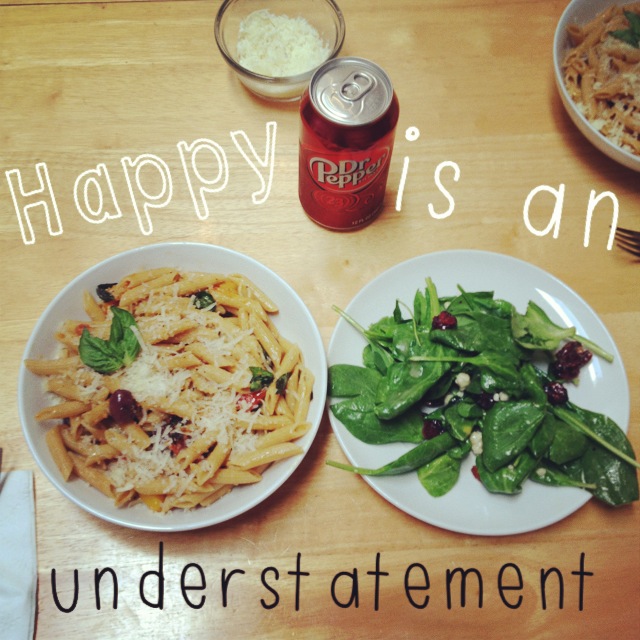 Penne with Tomato, Basil, Olives, & Pecorino
Ingredients
12

ounces

cherry tomatoes

Olive oil

Sea salt

Freshly ground black pepper

Good-quality balsamic vinegar

8

ounces

penne pasta

3.5

ounces

kalamata olives

halved

1

small bunch fresh basil

torn

1

chunk pecorino cheese

grated
Instructions
Preheat oven to 400 degrees, then bring a large pot of salted water to a boil.

Place the tomatoes into a large roasting tin, drizzle them with olive oil, and season with salt and pepper. Place in warm oven for 20 minutes.

Once water is boiling, add the penne pasta and cook until al dente.

Once roasted, squish the tomatoes with a fork to release juices. Drizzle with balsamic vinegar and set aside.

Combine the drained pasta, tomato mixture, olives, and basil in a large bowl. Season with salt and pepper to taste, and serve with grated pecorino.

Enjoy!
On Monday night, I had to get my workout in after the girls went to bed. Matt asked if I wanted some leftover pasta after I was done, and I said yes. He said he saved some for me, so after I finished I walked over to see a tupperware with 4 or 5 bites left! I was starving and he was so ashamed!! I made a huge deli sandwich which he ended up finishing for me :)