Salmon with pasta, spinach & capers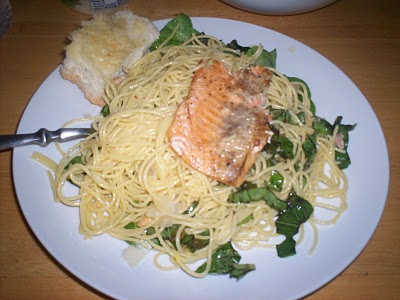 I came across this recipe on FoodNetwork.com.
I LOVE salmon, and it's so good for you. When you cook this, the smell of lemon, capers, garlic, and basil mix and make your house smell like a little restaurant on the Mediterranean!
I subbed regular pasta since I had it on hand.
I also cooked the salmon longer than Giada said to because I like mine a little more well done. It was still juicy and tasty! Such an awesome way to get your spinach in, too. It wilts once you put the pasta on top and is yum yum yum!