My grandparents have an abundance of zucchini right now, like most people with gardens do in the summertime. I wanted to use it for something other than bread or cake, so I turned to the Williams-Sonoma cookbook my mom gave me on my birthday. It's called Cooking From the Farmers' Market and is filled with recipes for fruits and vegetables in their seasons. I highly recommend it!
These pancakes are light and fluffy thanks to the egg whites, and you bite into perfect little spots of feta here and there. I almost omitted the mint but am so glad I didn't. Trust me, you want the mint!
Zucchini-Feta Pancakes Recipe
Makes 6-8 servings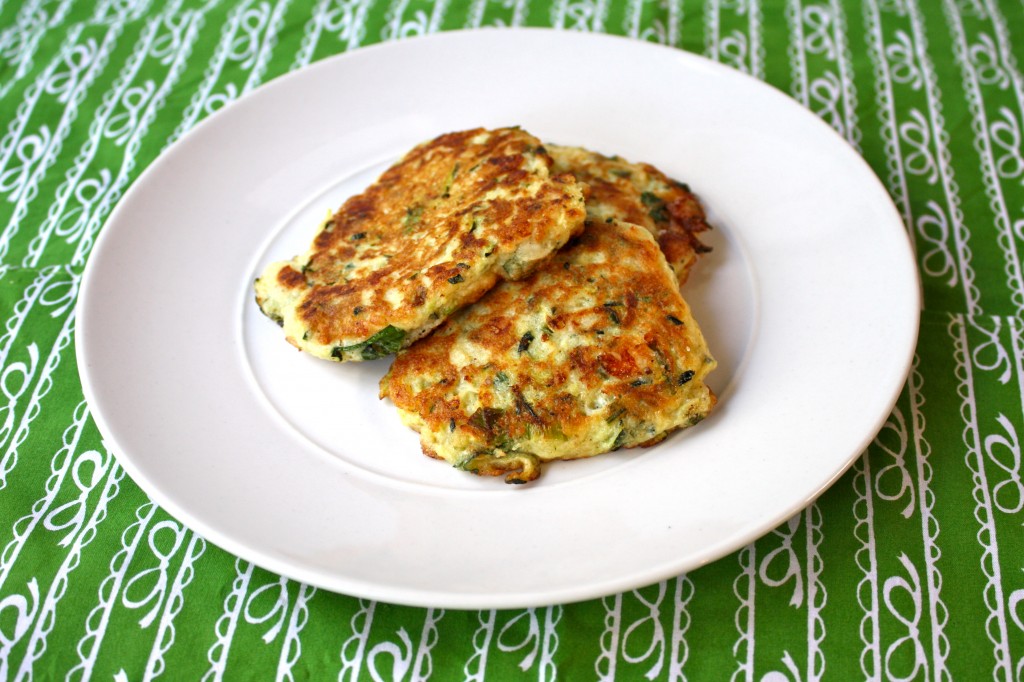 4 cups grated zucchini
Salt and freshly ground pepper
2/3 cup flour
1 teaspoon baking powder
1 cup crumbled feta cheese
4 large eggs, separated
1/2 cup thinly sliced green onions
2 Tablespoons chopped flat-leaf (Italian) parsley
1 Tablespoon  chopped fresh mint
3 Tablespoons olive oil
Sour cream for serving
Put the zucchini in a fine-mesh sieve, sprinkle with 2 teaspoons salt, and let stand for 15-30 min. Squeeze out any excess liquid. In a small bowl, stir together the flour, baking powder, 1/4 teaspoon pepper, and 1 teaspoon salt.
In a large bowl, stir together the zucchini, feta, egg yolks, green onions, parsley, and mint. Stir in the flour mixture.
In a clean bowl, beat the egg whites to soft peaks. Fold into the zucchini mixture.
In a frying pan over medium heat, warm the olive oil. Drop 4 spoonfuls of batter into the pan and fry the pancakes until crisp, about 1/2 minutes per side. Transfer to paper towels, season with salt, and keep warm. Add more oil to the frying pan and fry the remaining batter. Serve topped with sour cream.
My toddler, Ada, was so excited by these because they were PANCAKES! And my 1-year-old (ahhh!), Lola ate a whole one by herself! Well, I fed it to her, but she did all the munching. I ate three, Matt ate more, and I ate them for lunch every day. Just reheat them in a skillet and you're good to go. Enjoy!