My first baby is 4 years old! She had a party with her Sunbeam class, cousins, & playgroup friends.
I was pretty proud of the invitation I put together on PicMonkey (I don't do Photoshop)! I blurred out our address, that's why it looks funny.
We decided on the theme because I've had these adorable cupcake toppers and liners for a couple of years and still hadn't used them! We were watching the Nutcracker ballet on Netflix one day and Ada loved the dancing and everything so this idea was born and she loved it!
We had pomegranate lemonade and water to drink, chips, carrots, broccoli, & dip, orange slices, grapes, raspberries, and apples to eat. I love living near a Fresh & Easy again!! I made sure we had all finger food for little hands :)
I borrowed my best friend's beautiful Nutcrackers to decorate with…they were perfect! Thanks T :)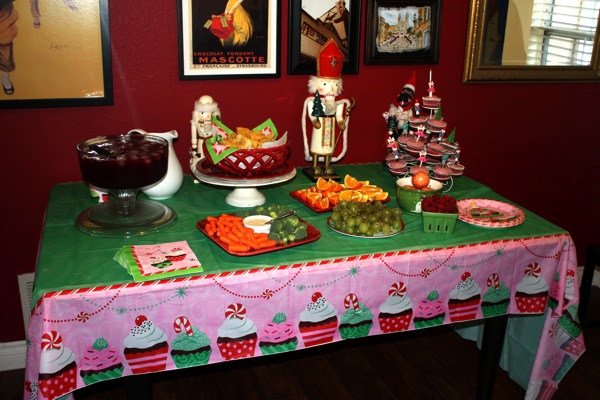 We had Nutcracker magnets the kids colored (& left on my fridge…I brought them to church the next day to give to everyone).
Then we played pin the star on the stable with a wall-cling Nativity that a Secret Santa left for us. The kids were adorable while playing it and helped each other out so much. A couple of them (including the birthday girl) didn't want to wear the blindfold. Kind of defeats the purpose of the game, but they were all still so tickled when someone put the star on top.
Then we sang Happy Birthday to Ada and she blew out her candle. Lovely see food :)
Ada requested pink and purple cupcakes with pink frosting just like the sugar plum fairy. Then I told the kids that if Ada was a good girl then the Nutcracker would show up at her birthday party!
TA-DA!
Ada & Evelyn were both stoked on Mr. Nutcracker, the rest…not so much. It turned into beat up the Nutcracker!!
Everyone keeps telling me what a good sport Matt is, but the truth is that he loves it :) We both do!
We had the Nutcracker Ballet playing on TV; such beautiful music. Reminds me of being a snowflake and soldier when I was in it as a little girl!
In the party favor bags we had a Nutcracker sticker scene, assorted Nutcracker Christmas tree ornaments, and bouncy balls.
Thank you to all of you that came and showed Ada love on her birthday! She's still talking about the time that all of her friends came over and played and ate cupcakes :)
Gray, Evelyn, Emma, Ada, Lola, Sephora, & Ava. Cole & Darby didn't want to be in the group shots :)
Everyone just needs to look at Ava (white coat) in this picture!! bahaha
Happy Birthday Miss Ada! Love you and your independent, smart ways. Can't believe you're a big 4-year-old already! xoxo
Sugar Plum Surprise Cupcakes
The cupcakes were so much fun to make! I used the flavorings and food colorings that McCormick sent me, along with the OXO cupcake corer!
We had the Sugar Plum Fairy, Nutcracker, Christmas Tree, and Rat King. Ewww. Nobody wanted him!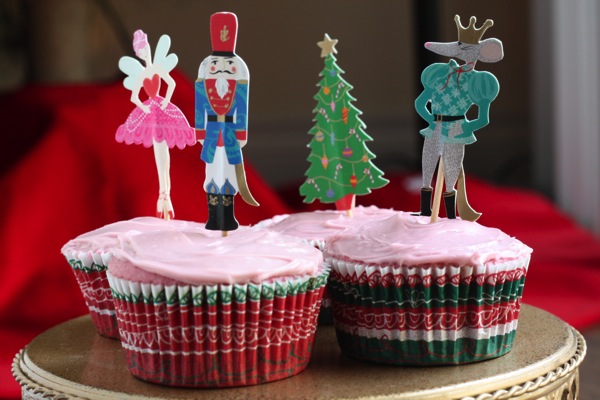 Aren't they pretty?
I flavored the batter and frosting with raspberry extract, then used the food colorings for dusty rose and purple.
And here's the surprise! M&Ms tucked into the center of the cupcake :) It was so much fun to watch everyone get to the middle!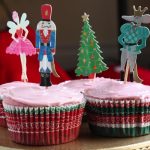 Sugar Plum Surprise Cupcakes
Ingredients
1

box white cake mix

1

can cream cheese frosting

M&Ms candies

Food coloring

Raspberry extract
Instructions
Prepare cake mix according to package directions. Add 1 Tablespoon raspberry extract and mix to incorporate flavor.

Divide batter into two equal parts.

To one half, add 12 drops red food coloring and 4 drops blue to make dusty rose.

To the other half, add 24 drops red food coloring and 16 blue drops to make pretty purple.

Line 24 cupcake tins with liners.

Drop Tablespoons full of the pretty purple cake batter into the liners. Top with Tablespoons of the dusty rose cake batter.

Bake cupcakes as directed, until a toothpick comes out cleanly.

Let cool completely before coring and frosting.

Once cupcakes are completely cooled, use your OXO cupcake corer to remove the centers of the cupcakes.

Fill each cupcake with M&Ms candies (I found that 1 teaspoon was perfect).

For the frosting, add 6 drops of red food coloring plus 2 drops of blue to make dusty rose. Add 1 teaspoon raspberry extract to flavor. Mix until the color is completely even throughout.

Frost cupcakes starting in the center to cover the candies and work your way to the edge.

Enjoy!