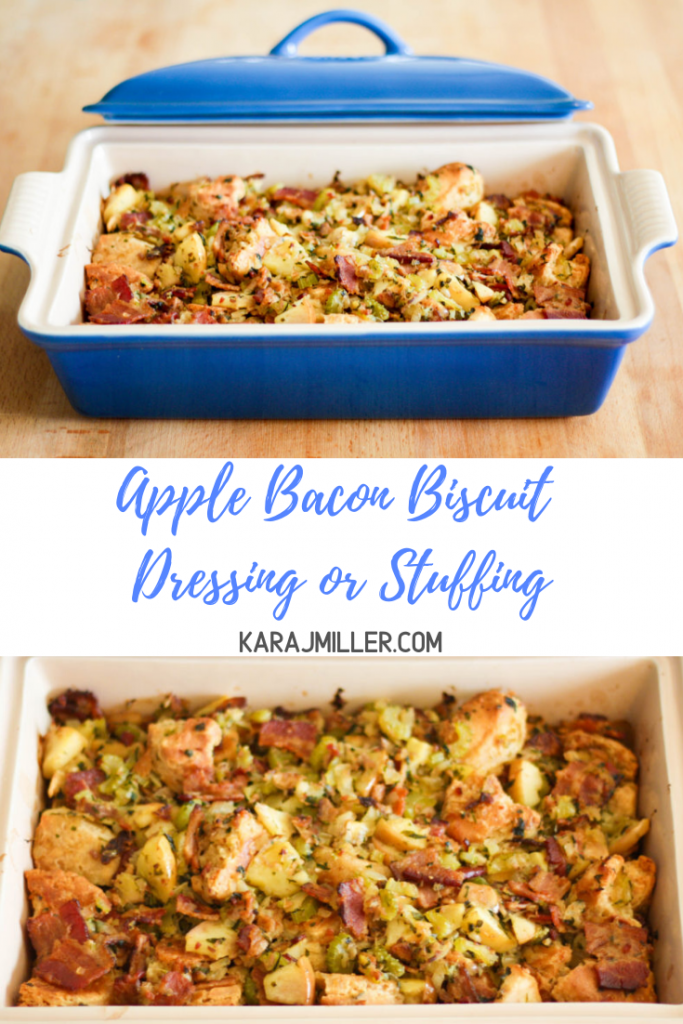 I found this dressing recipe in a Williams-Sonoma catalog years ago. I ripped it out and saved it for years, then finally made it for the past two years at Thanksgiving. I use my Le Creuset casserole dish that I got at the Williams-Sonoma outlet on the way to Las Vegas. It's my favorite and super versatile!
The only problem is that the original recipe called for mushrooms, and I don't like those. So, I decided to substitute apples from my grandpa's tree and it made the perfect stuffing! I know, you can't technically call dressing stuffing if it wasn't cooked inside the turkey, but it's just easier to call it that.
The first time I made this, I made the biscuits from scratch. The next year I used freezer biscuits. It tasted exactly the same both times. So do yourself a favor, save yourself some time, and use freezer biscuits!
Here's the recipe: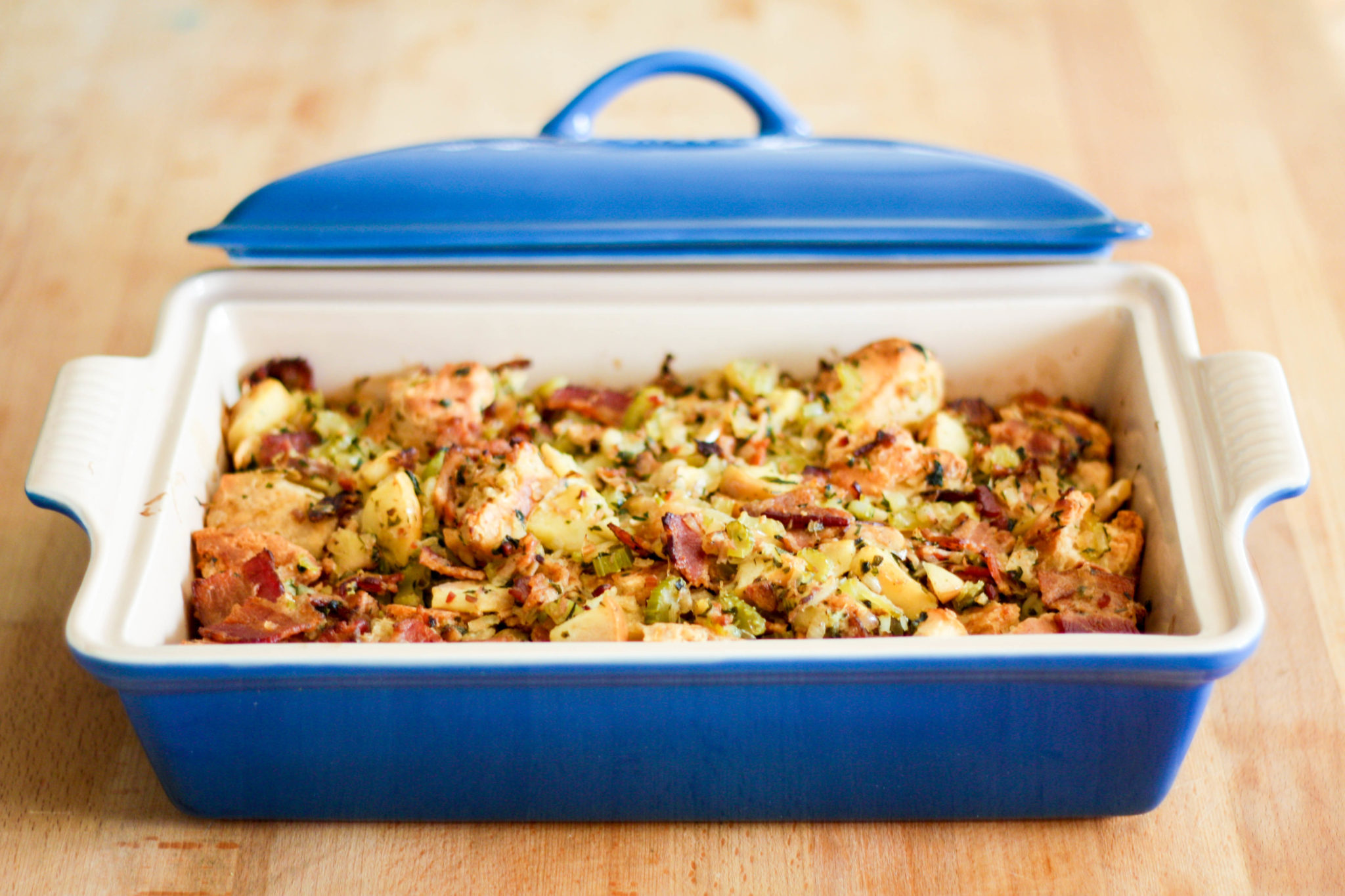 Apple Bacon Biscuit Dressing
Ingredients
Twelve 4" cream biscuits

cut into 1 1/2" cubes

1

pound

sliced bacon

cut into 1" pieces

2

yellow onions

diced

5

celery stalks

diced

8

ounces

tart apples

sliced

1/4

cup

chopped fresh flat-leaf parsley

2

Tablespoons

chopped fresh sage

2

Tablespoons

chopped fresh thyme

Salt and freshly ground pepper

to taste

4

cups

chicken stock
Instructions
Position rack in lower third of oven; preheat to 350 degrees.

Spread biscuits out on baking sheet. Toast until lightly browned, 25-30 minutes. Set aside. Increase oven temperature to 375 degrees.

In a deep sauté pan over medium-high heat, cook bacon until crisy, 7-9 minutes. Drain on paper towels. Pour off all but 3 Tablespoons of the fat. Over medium heat, cook the onions until translucent. Add the celery, apples, parsley, sage, and thyme, cooking until the celery and apples are soft (about 5 minutes).

Transfer onion mixture to a large bowl. Add bacon to bowl, season with salt and pepper. Add biscuits and 3 cups of the chicken stock, stirring to combine. If the mixture looks too dry, add the last cup of chicken stock. Otherwise, leave it out.

Transfer dressing to a baking dish. Cover with foil or lid, bake for 30 minutes. Remove foil or lid and bake for another 20 minutes, or until the dressing is lightly browned. Enjoy!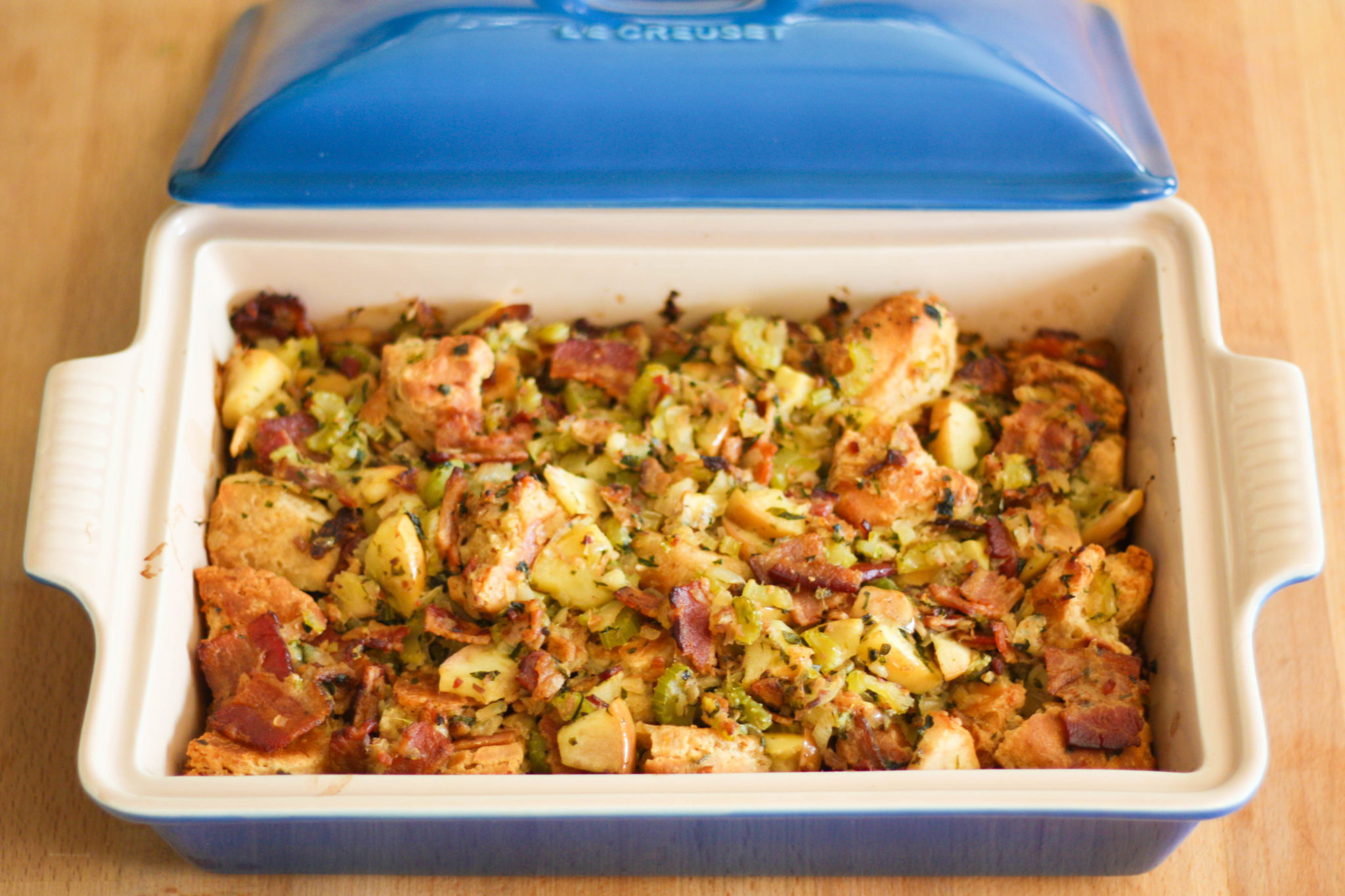 I love the salty bacon married with the sweet-tart apples. It's a match made in Thanksgiving heaven! Next to turkey, mashed potatoes, and covered in gravy, it's to die for! I would eat a big scoop of stuffing alone for lunch in the days after Thanksgiving.  
Yum! I hope you all have a wonderful holiday season surrounded by good food and the ones you love!