This dish smells wonderful while cooking & is so simple. I'll be making it again, but with MUCH less cumin & cayenne pepper! My mouth was on fire while eating this, but it's yummy. I'm just a mild girl. Thank goodness I set some beans and quinoa aside for my little one before adding the spices.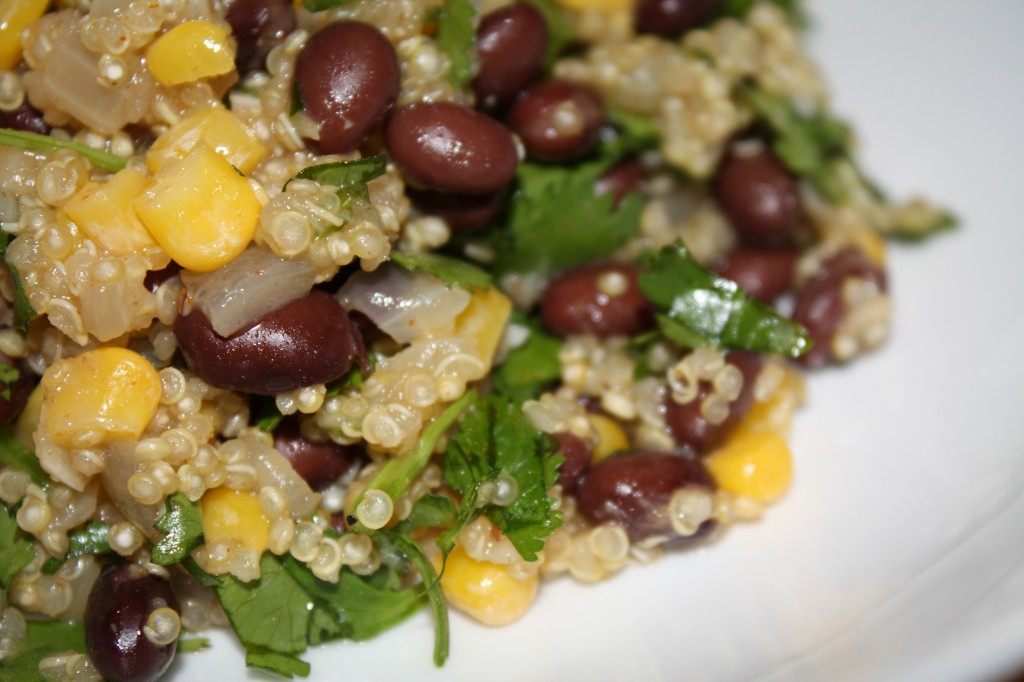 Recipe courtesy The Sisters Cafe via Mel's Kitchen Cafe
1 tablespoon olive oil
1 medium yellow onion, chopped
2 cloves garlic, minced
3/4 cup uncooked quinoa
1 1/2 cups chicken or vegetable broth
1 teaspoon ground cumin (I'm changing this to 1/4 t. next time)
1/4 teaspoon cayenne pepper (I'll start with a sprinkle of this & keep adding little by little until it's good)
1/2 teaspoon salt
1/2 teaspoon freshly ground black pepper
1 cup frozen sweet white corn
1 (15 ounce) can black beans, drained and rinsed
1/2 cup cilantro, chopped
In a medium pot, heat the olive oil over medium heat.  When shimmering and hot, add the onions and saute for 4-5 minutes, stirring often.  Add the garlic and stir for a minute or two until the garlic is fragrant, being careful not to burn the garlic.
Add the quinoa and cover with broth.  Stir in cumin, cayenne pepper, salt and pepper.  Bring the mixture to a boil.  Cover, reduce heat and let simmer for 20 minutes (or until the liquid is absorbed).
Stir in the frozen corn and black beans.  Cover and let the pot sit off the heat until the corn and beans are heated through, about 5-6 minutes.  Stir in cilantro.  Serve warm or chilled – it is delicious both ways!