Why hellooooo there! Happy New Year! Can I still say that on January 16th? I didn't mean to take such a long break from blogging, but it was a much needed one. I worked hard in December and was a bit burnt out…the post-holiday migraine told me so. :)
We had a wonderful Christmas and I hope that you did too! Here's a recap.
We went to see Santa in SLO and Ada was so cute with him. He asked what she wanted and she said, "A pink scooter!" He said, "And what else?" She answered, "That's all!"
Lola was absolutely terrified of Santa. I was the heartless mother who wanted to get a picture of her screaming and send it into Ellen but my mom couldn't bear seeing Lola in such distress! It was pretty sad. So I have a picture of sweet Nonnie rescuing Lola from the grips of creepy Santa.
We enjoyed Christmas magic…Ada was having trouble falling asleep one night so I said she could come lay on the couch by me. I left all the twinkle lights on and I said, "It's so magical with just the Christmas tree lights on." and she said, "Yeah, it's like Disneyland." Then immediately fell asleep.
I love these ornaments that the girls made at church! These will have a permanent spot on my tree forever.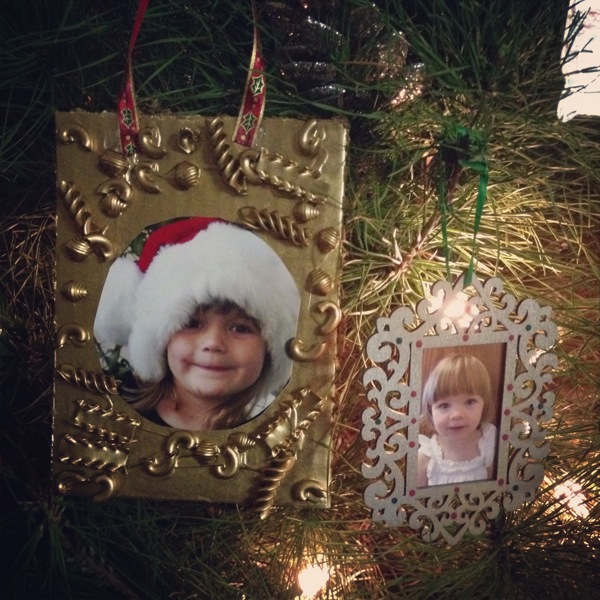 We had family time with Uncle Sean and Auntie Becca in town!
Excited little girls going to bed on Christmas Eve!
The tree before Santa and his elves went to bed! :)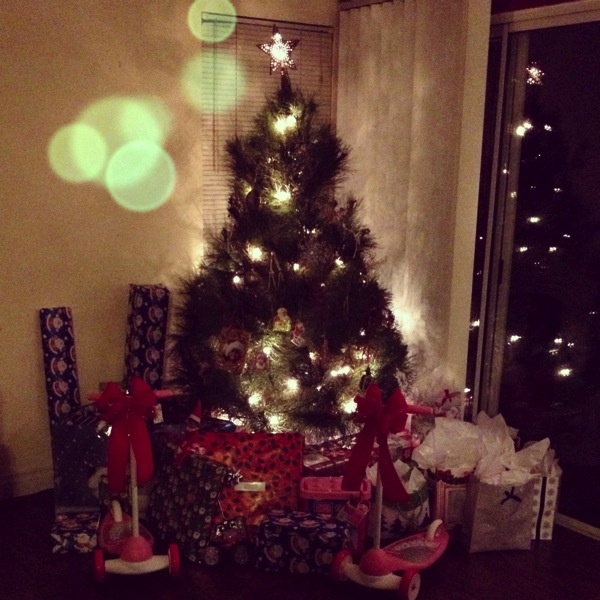 And my phone died after I took this picture. It was kind of a good thing because then I was focused on the girls during Christmas morning and not on taking pictures and videos. I put Matt in charge of that and he made this beautiful video. It's titled the way Lola says Christmas :)
As I was excitedly wrapping all of the gifts that I'd bought and made for my family, I kept having this thought and shared it on Facebook: You know the excitement you feel as you watch someone open a gift that you've been waiting for them to open? The perfect gift that you know they'll love and have been wanting? It's the best! I keep thinking that this is how our Heavenly Father must feel as we accept Jesus Christ as our Savior and allow his Atonement, the greatest gift of all, to wash us clean and make us whole. I hope you all had a wonderful time with your loved ones…Merry Christmas! :)