Last month, my mom, husband, girls, and I drove up the coast to stay at the Hofsas House Hotel in Carmel. We were so excited for a little getaway and had the most wonderful time! Upon arrival, we were greeted with Martinelli's and gourmet cheese from a local cheese shop. I was immediately in love!
If you've never been to Carmel, it is the most charming little coastal town. It's the perfect home base for your vacation because Big Sur, Monterey, and Pebble Beach are all nearby.
Interesting facts about Carmel:
– There are no addresses in Carmel. To give directions, you tell people between which streets you are located. Because of this, you will see many homes with names.
– Because there are no addresses, residents must go to the Post Office to get their mail. It's the social hub of town!
– There is actually a law on the books saying that you may not wear high heels over 2 inches high! Insurance people were worried about accidents with the cobblestone roads and uneven roads from tree roots :)
– Every bed and breakfast serves a continental breakfast.
– There are no commercial hotels in Carmel. Only homey, mostly family-owned Bed and Breakfast-type properties.
– There are also no chain restaurants in Carmel.
– Clint Eastwood was once Carmel's mayor!
– Carmel is devoid of neon signs, expect to see lots of beautifully crafted wooden signs instead.
– There are no traffic lights either!
Carmel is incredibly dog friendly as well. We wanted to bring Maverick but the weather stopped us from doing it. A wet dog in a car is not the best, so we will just have to make another trip to beautiful Carmel with Maverick in tow next time!
Breakfast in the lobby consisted of authentic French pastries, yogurt, juice, and fruit.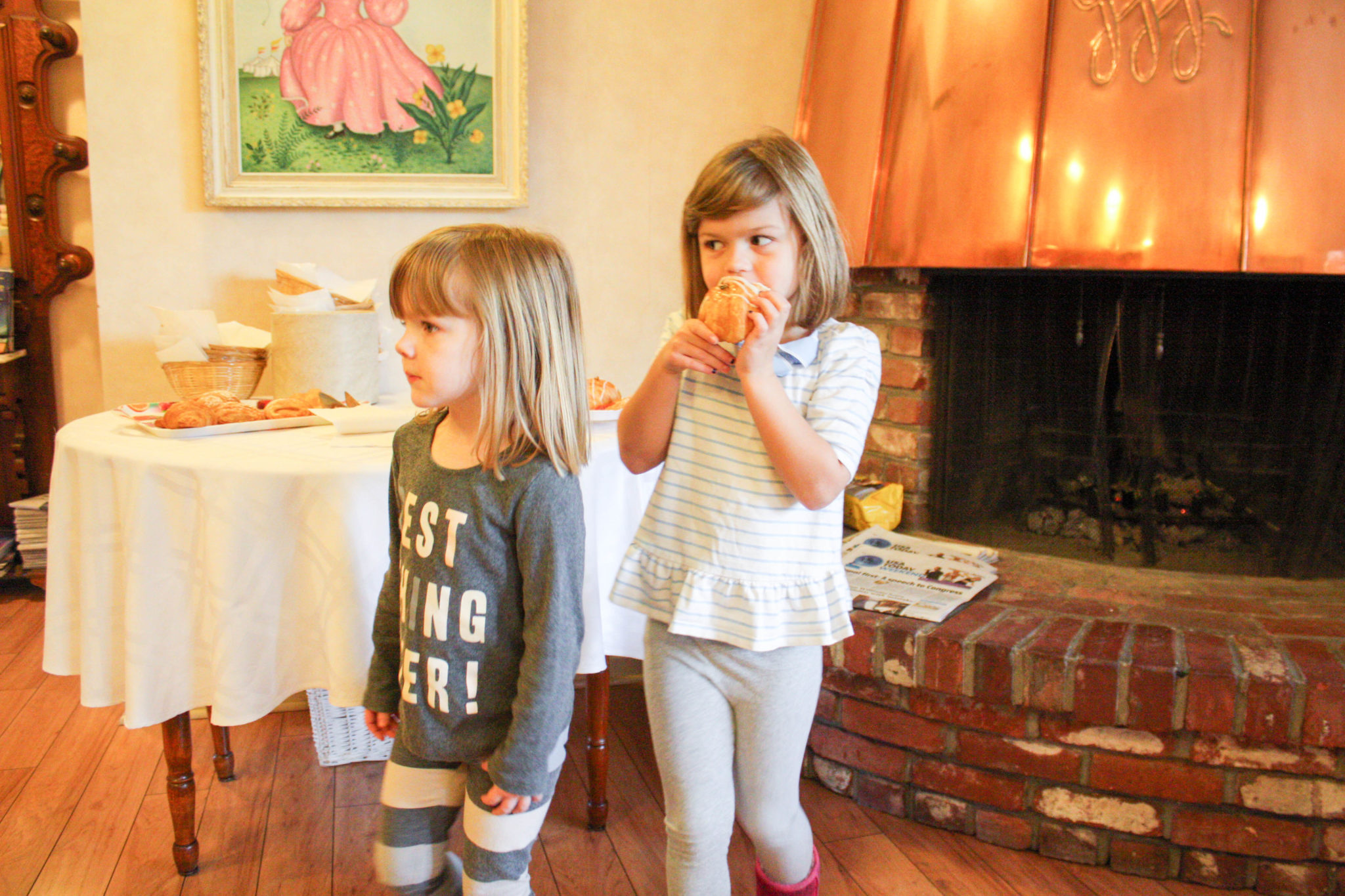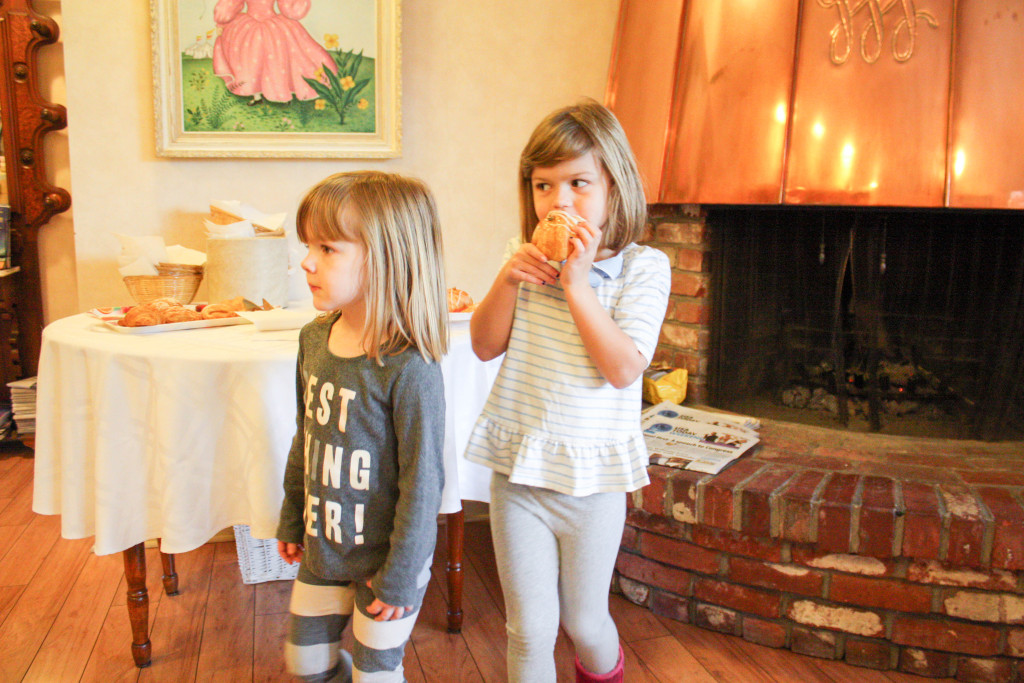 I settled for the pain-au-chocolate, of course.
The girls sitting in the children's sized antique wingback chairs in the lobby. Ada deep in thought, Lola happy as a clam :)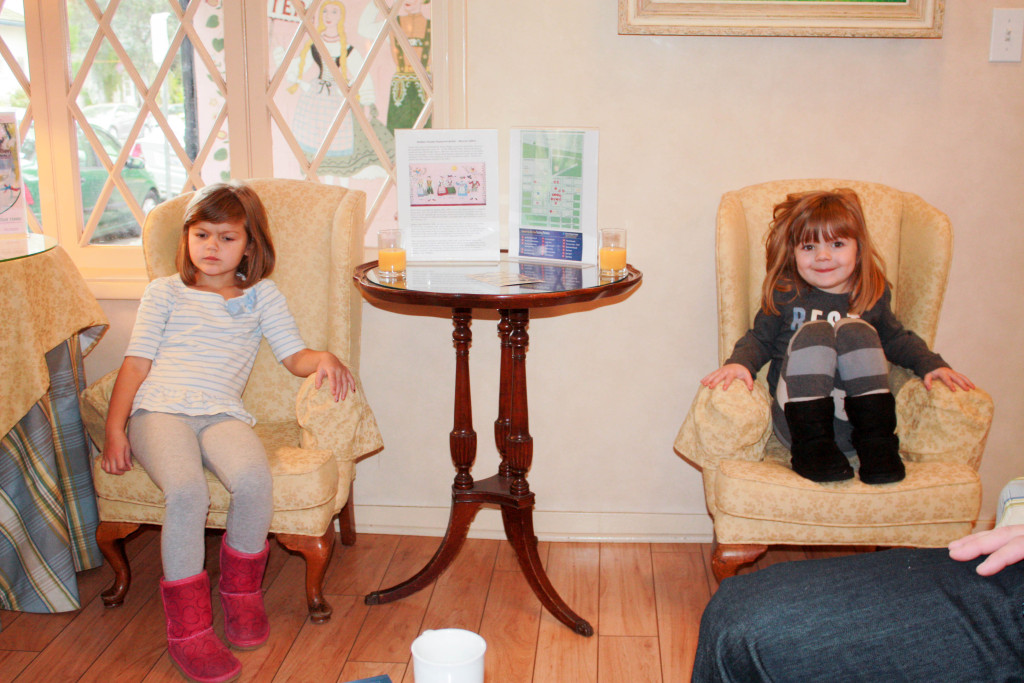 Hand-painted mural that welcomes you into the Hofsas House: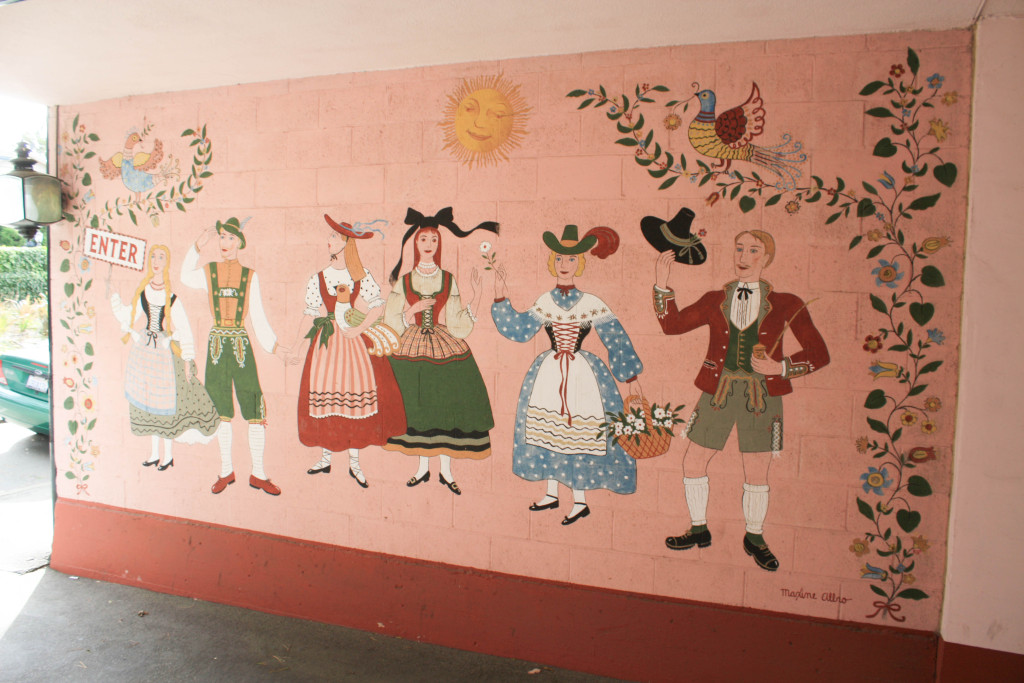 Carrie now runs the hotel that her grandmother (pictured below) started. As a child, Carrie would visit her grandmother and help her by taking guests up to their rooms. She always knew she would end up here, it was just a matter of time. I love stories about family and multi-generational bonds! Carrie went the extra mile and really made us feel like family during our stay.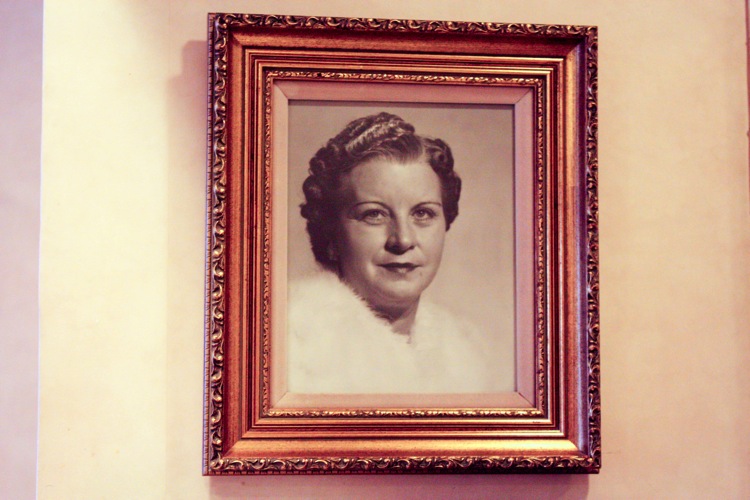 Look at the beautiful ocean view from our balcony: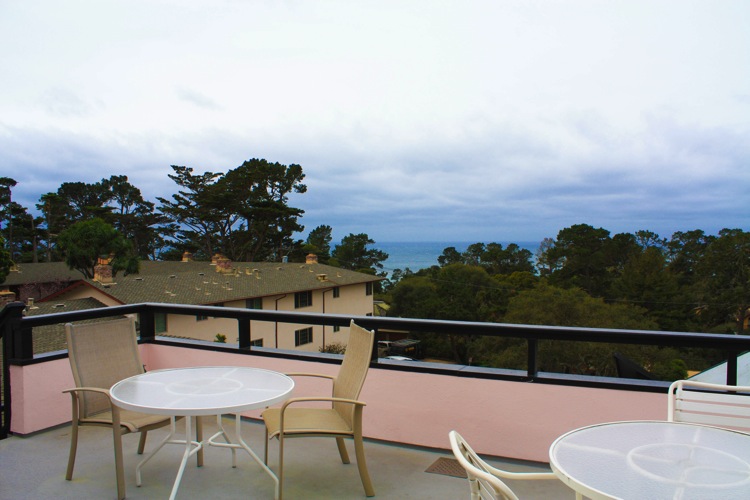 The property has colorful flowers in bloom and stairways for discovery :)
Two of my favorites: hydrangeas and my Lola girl!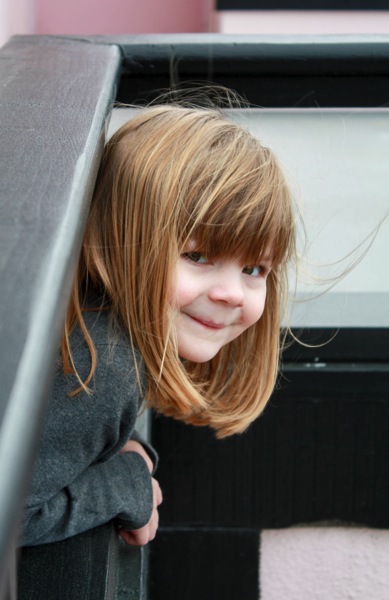 Every room is decorated differently, and I loved the shabby chic, homey feel of ours. Our suite consisted of one king bed, another room with two queen beds, two bathrooms, and a kitchenette with a sink, mini-fridge, and microwave.
It was the perfect setup for us because the girls could go to bed in one room while the adults stayed up later in the other!
We decided to drive the famous 17 Mile Drive. Stunning views, as you can see below.
It was quite blustery out!

We didn't let the weather stop us though, the pool is heated so we went for a swim!
Followed by s'mores by the fire to warm up and dry off in our lovely room. 
We tried The Grill on Ocean Avenue for dinner, but the power went out! So back we went for lunch and we are so glad that we did! I had the chicken salad that was served inside an artichoke (major points for creativity), my mom had the crab louie, and Matt had a seafood medley pasta. We all loved our dishes and would eat at The Grill again in a heartbeat!
The best way to see Carmel is to walk around it's streets. The incorporated city is only one square mile, so it won't take you very long :) You never know what hidden gems you'll find; like this Cottage of Sweets complete with moss-covered roof! Magical. Their fudge was smooth and rich!
Carmel has something for everyone. Incredibly family friendly and such a nice break from the rush of day-to-day life. Start planning your trip now!
To see the current packages and rates offered by the Hofsas House Hotel, check their website here: http://www.hofsashouse.com/
We were guests of the Hofsas House Hotel. As always, all opinions are 100% mine!