I've seen potatoes prepared this way and have always wanted to try making them. They look so pretty! I did some research and found out that they are named after the restaurant that created them, located in the Hasselbacken Hotel in Stockholm, Sweden. Now that you've had your history lesson, it's time for your cooking lesson!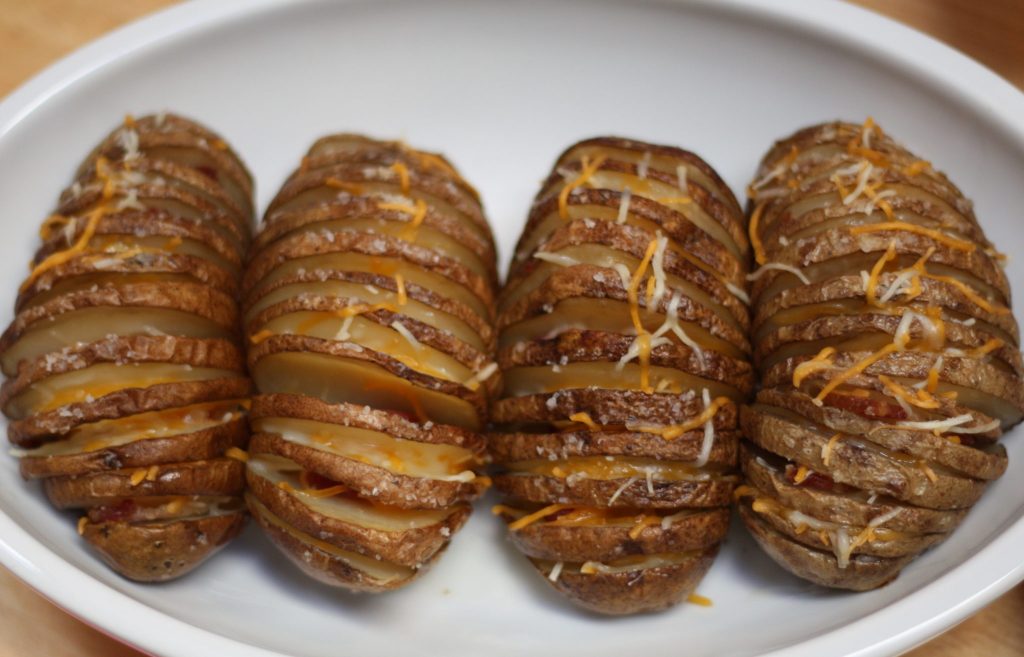 When I buy my bacon, I cook up the whole package in the oven and then freeze it. Alma Carson taught me that trick! Then you always have cooked bacon ready to go and can just zap it in the microwave without the mess and smoke every time.
Bacon Hasselback Potatoes
Ingredients
8

Russet potatoes

similar sizes

1/2

cup

grated cheese of your choice

4-5

slices

bacon

cooked and frozen, chopped

1/4

cup

Extra Virgin Olive Oil for drizzling

Kosher or sea salt to taste
Instructions
Preheat oven for 450 degrees. Grease a large baking pan and set aside.

Scrub potatoes and pat dry. Place a wooden spoon on each side of the potato to prevent slicing all the way through it. Slice through the potato, making your cuts about 1/4 in. thick. Rinse each potato under cold water, pulling the sections apart and letting the water run through each one. This will rinse the excess starch out and help the potatoes fan out while cooking. Dry the potatoes well and place in prepared baking dish. Stick bacon squares into random slices (I put 3-4 in each potato). Sprinkle the cheese over the potatoes, opening up some of the slices to get the cheese down in there.

Drizzle the olive oil over all of the potatoes, followed by salt. Cover the baking dish with foil and bake for 30 minutes. Remove the foil and bake another 15 minutes until the potatoes are cooked through and the skin is nice and crunchy.

Remove from oven and let cool, serve warm, and enjoy!

These froze well after being individually wrapped in foil and placed in a freezer baggie.