Hi again everyone…I have so much to tell you, so this is a mega-post! First of all, I have to say that I met Deb of Smitten Kitchen! She came to Santa Cruz (miracle, I know) on her book signing tour! I was so starstruck that I forgot to get a picture with her. This is the best I got, a grainy cell phone pic from way in the back of the hot & stuffy bookstore. But I was elated to meet the woman who inspired me to start a food blog and realize that even though you have a tiny kitchen, you can still make delicious food. It was awesome. I gave her one of my cards with my picture of her granola bar recipe on it and asked her what advice she would give a lowly food blogger like me. She said, "Keep it fun. If you aren't having fun, something needs to change. Continue tweaking things until it's fun." Words to live by! 
I have wanted to make this cake of Deb's for a long time since Matt loves yellow cake. It is just incredible. He was a happy birthday boy! I could've eaten all of the batter straight without baking it. The cake is moist, dense (but not too heavy), and everything that a birthday cake should be! I chose to make a different frosting than the sour cream one because I didn't think my family would care for it. The fudge frosting was perfect! And I LOVE that it's made in my food processor. Easy & fast! I did, however, forget to add the milk. So the night of it tasted awesome, but after being in the fridge it was pretty solid. So don't forget the milk!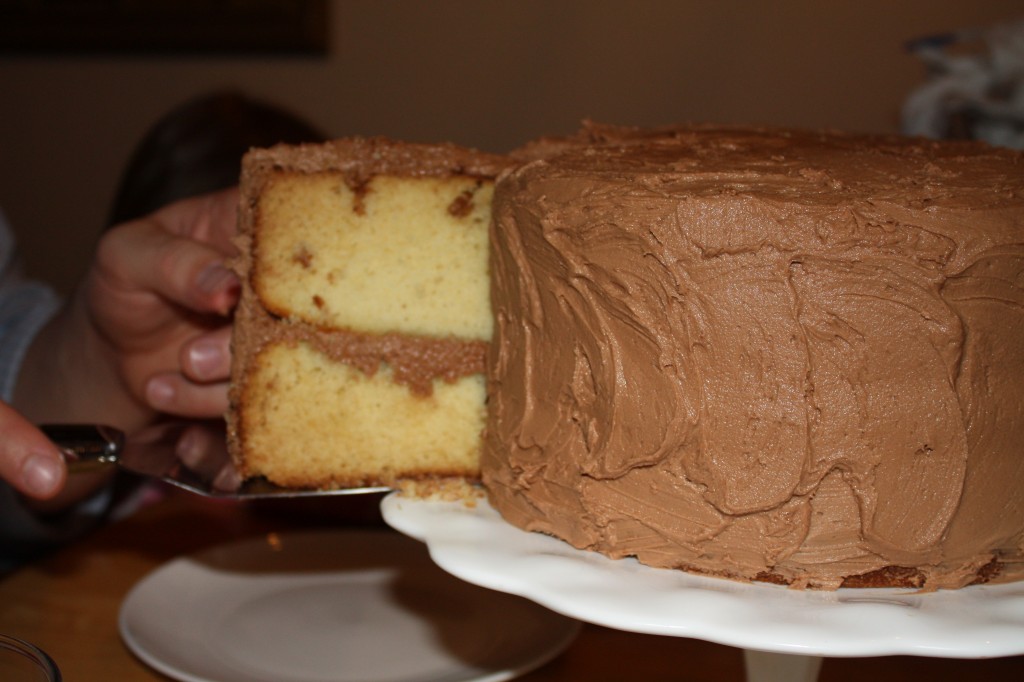 I don't claim to be an expert on frosting layer cakes, but I have learned a few things over the years. The first time I made a layer cake, it was a German chocolate one for my mom's birthday. We took it over to my Nana's house and it had cracked down the middle and we just poured the frosting inside! It was hilarious. I wish I had a picture of that cake wreck, it still tasted amazing but was a hot mess. Nana told me that's why she sticks to sheet cakes :)
Make sure your cakes are completely cooled before frosting them. You can even make them ahead, wrap them in plastic wrap, and store them in the fridge or freezer.
First, place a dollop of frosting on the center of your cake plate. This will anchor the bottom layer and keep it from sliding.
After you have leveled out the bottom layer with a serrated knife, center it on top of the frosting.
Place a good amount of frosting on top of the first layer and spread to the edges. You don't have to spread all the way to the edge, the weight of the top layer will squish it out for you.
Next, level the second layer. Place it on top of the first layer with the top side down.
Next, plop a few cups of frosting on top of the cake.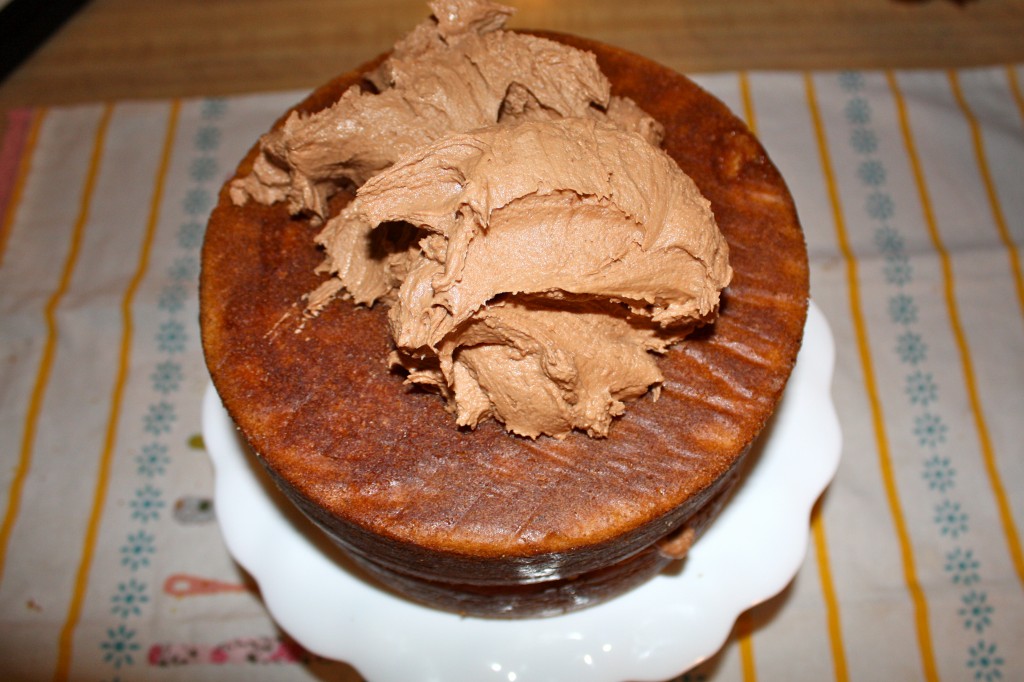 Spread a thick layer carefully, making sure not to pull up any crumbs. I know some people do a crumb coat then follow with another coat of frosting but I don't have time for that business. Just be careful and use lots of frosting and you'll be fine!
Start spreading the frosting down over the edge, adding more frosting to the sides of the cake and spreading carefully.
Continue until all of the cake is covered evenly and your little helper can't wait any longer!
Wipe up excess frosting from your plate. Voila! You did it! Now go eat your beautiful creation :)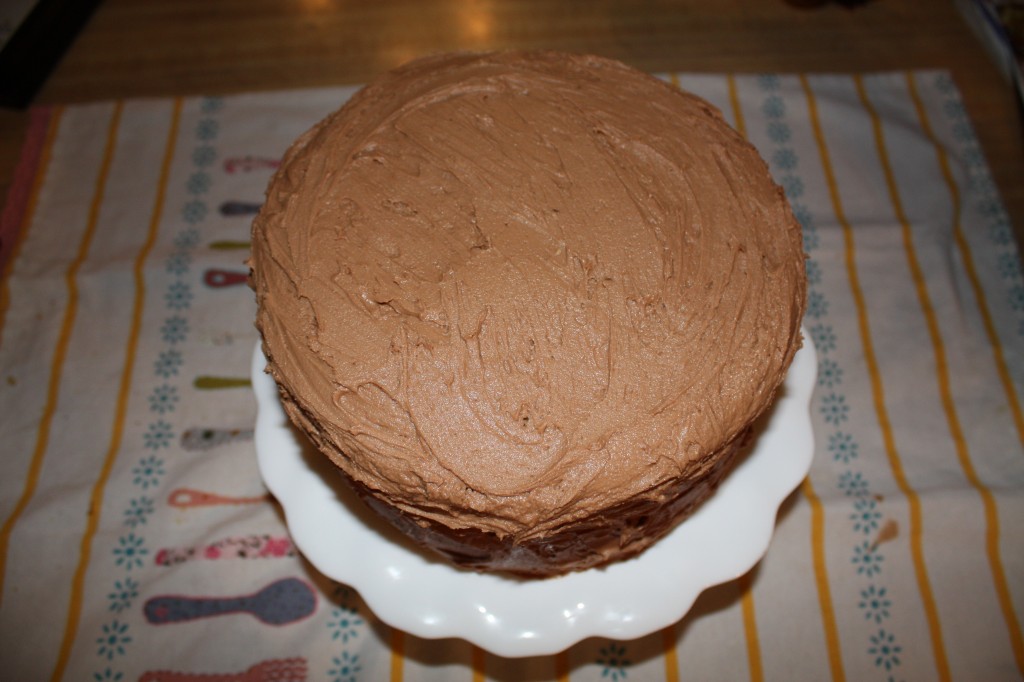 Homemade Yellow Cake with Instant Fudge Frosting
Total Time
1
hour
10
minutes
Ingredients
For the cake:

4

cups

plus 2 tablespoons cake flour

2

teaspoons

baking powder

1 1/2

teaspoons

baking soda

1

teaspoon

table salt

2

sticks

1 cup unsalted butter, softened

2

cups

sugar

2

teaspoons

pure vanilla extract

4

large eggs

at room temperature

2

cups

buttermilk well-shaken

For the frosting:

From Smitten Kitchen who adapted it

barely, from a Sky High recipe

6

ounces

unsweetened chocolate

melted and cooled

4 1/2

cups

confectioners' sugar

no need to sift

3

sticks

12 ounces unsalted butter, at room temperature

6

tablespoons

half-and-half or whole milk

1

tablespoon

vanilla extract
Instructions
Preheat oven to 350 degrees. Spray two 9-inch round cake pans with cooking spray, or butter them. Line bottom of pans with circles of parchment paper, then butter parchment.

Sift together flour, baking powder, baking soda, and salt in a medium bowl. In a stand mixer, beat butter and sugar with the paddle attachment at medium speed until pale and fluffy, then beat in vanilla. Add eggs 1 at a time, beating well and scraping down the bowl after each egg. At low speed, beat in the buttermilk until just combined (batter will look curdled). Add the flour mixture in three batches, mixing just until each addition is incorporated.

Divide batter evenly between the two cake pans, then drop pans on counter several times to get rid of any air bubbles. (This part makes a ton of noise and makes my girls scream and giggle!)

Bake the cakes until golden brown and a toothpick inserted into the center comes out clean, 35 to 40 minutes. Cool pans on a rack for 10 minutes, then run a knife around the edge of the pans. Invert onto rack and discard parchment, then cool completely, about 1 hour.

Frosting Directions:

Place all of the ingredients in a food processor and pulse to incorporate, then process until the frosting is smooth.