I'm finally getting around to posting about day 2 of the Foodbuzz Festival in San Francisco. The recap of Day 1 is here.
I was SO proud of myself for navigating the mess of bus lines that got me lost last year! Would you look at this map? Oh dear. I was stressed out that I wasn't going to make it in time for the TCHO Chocolate factory tour. Thank goodness the guy stopped and picked me up, the bus was packed and he wouldn't pick anybody else up the whole way! Once I made it to the Embarcadero, I had to run a few blocks to make it in time. My flats were actually not that bad to run in, until the next two days when I had the WORST shin splits of my life! It killed to be in heels at church the next day.
I made it to TCHO in the nick of time & got to go on the tour. Here's our lovely tour guide. He was interesting, talked really fast, and was very informative. He had this little microphone that didn't really help us hear him any better, and kept moving it to take sips of his tea. I loved learning about cocoa, the process of making chocolate, the different ways it's infused with flavors, and touching cocoa butter and cocoa beans. I also really appreciate how closely TCHO works with their farmers and how well they treat their employees!
What's a chocolate factory tour without one of the best TV scenes involving chocolate?!
They didn't allow any pictures to be taken where the chocolate magic happens, but it was so wonderful. Did you know that they only let women package their chocolate? Any guesses as to why? The answer is that women have a lower basal body temperature and can hold chocolate a second or so longer than a man can before it melts. You learn something every day!
After the tour, they let us sample all of their high-quality chocolate. I am a milk chocolate girl through and through. But what he taught us was that to eat chocolate the right way, you must use all five senses. 1. Look at the chocolate 2. Snap the chocolate in half so you hear it 3. Feel the chocolate in your hands 4. Smell it 5. Taste it. Now tasting means letting it sit on your tongue and melt for a bit. This changed how I view dark chocolate! I actually enjoyed quite a few of the dark pieces we sampled because I let it melt on my tongue and dissolve instead of biting into it. The 99% cocoa was AWFUL though. I ran to the trash can and spit it out. No amount of melting could help that puppy out.
After the TCHO Chocolate factory tour (which had no Gene Wilder or everlasting gobstopper involved, bummer), I walked downtown to shop a bit before my mom came to meet me. We met up for the Taste Pavilion and sampled food after food after food!
Here is the famous Chef John Ash, behind a beautiful Alaskan halibut. They served it in a coconut curry sauce that was absolutely perfect & my mom's favorite.
My favorite were the crab cakes! Oh my goodness. They were the best crab cakes that I have ever had in my entire life! The wonderful people at Alaska Seafood have perfected them. I was so glad that we got some first because I heard they ran out and/or people were too full by the end! Mmm I could go for one or three about now :)
I am a total fan of Naked juice and drank it all through my pregnancy with Lola. I had to have some of their orange juice every morning! They had this mango juice that was insanely sweet and had NO added sugar in it. Incredible!
The cupcakes from Mission Minis were so moist and the perfect size. I kept the two spiders and brought them home for my girls :)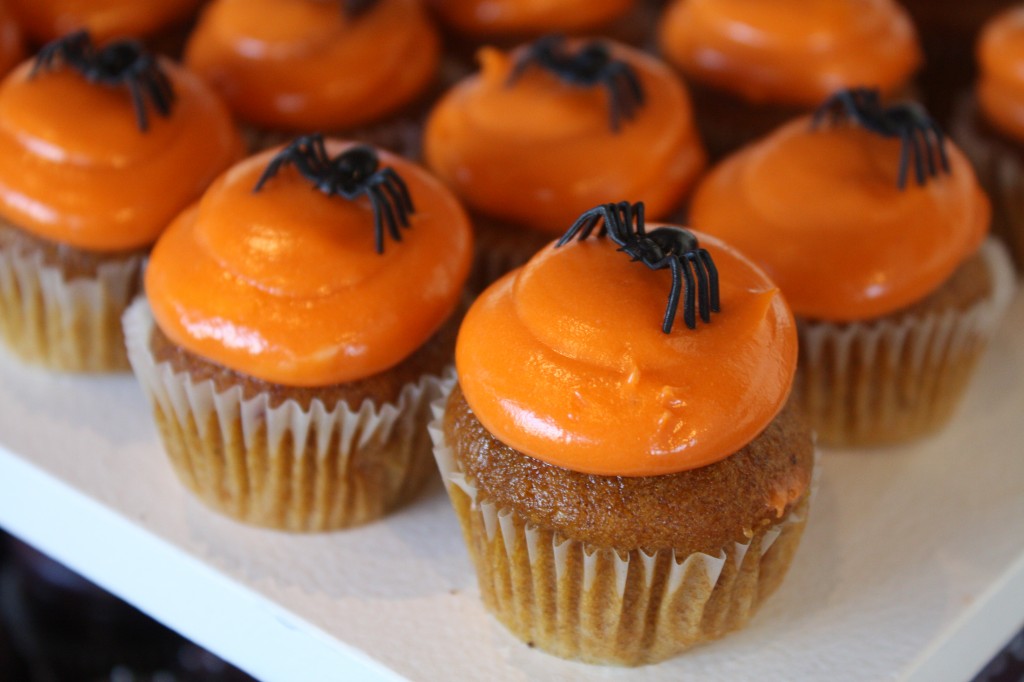 After all of the chocolate tasting and all of the food at the Taste Pavilion, my mom and I headed to Nordstrom to shop for a bit. They had a huge event going on and we got our makeup done! Here I am with Bobbi, who I've followed on Instagram for over a year now! I was SO happy to meet her in real life and it was crazy feeling like I know her so well but having never met in person. Here we are with our final makeovers!
I am so disappointed with myself, I didn't take any pictures at the Gala with my hair done or all of us dressed up! We had a minor car incident, then tons of traffic, and my phone died, so I wasn't really focusing on pictures. But I did take a few at the dinner of the food. It was held at the Academy of Sciences in Golden Gate Park and was stunning!
My favorite was the artichoke ravioli with ginger soup, pictured below.
The mushroom & onion pizza was my favorite from this plate, nothing else was a standout. For dessert, my favorite was the pot de creme in the tiny mug!
I had so much fun this year and am excited by all of the new people I met and connections I made. Thank you DailyBuzz Food for a wonderful event! I have another awesome giveaway coming so stay tuned! :)