Meet our little decorative crow, Richard Nixon. Ada named him that…I guess she has picked something up from those Presidential flash cards!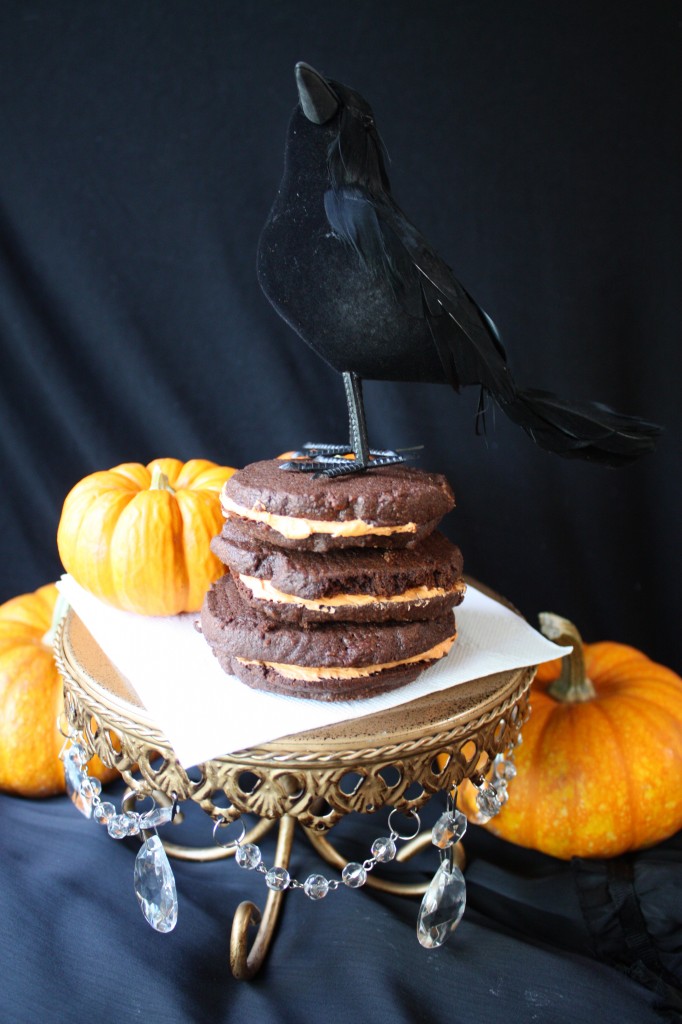 He's a proud bird. Proud to be sharing a photo shoot with such decadent cookies!
I saw this recipe on Bakerella's beautiful site, and she made it from the cookbook Flour. Which has now been added to my wish list :) Thank you, thank you for sharing it! It is a keeper and so versatile. You could leave the filling white for any time of year, or add food coloring to make them festive for holidays.
Mine are definitely more rustic than Bakerella's, but I'd love to make them perfectly round like she did (using a cookie cutter) when I don't have two monkeys hanging on me. And Richard Nixon pecking at me.
Homemade Oreos!
Ingredients
For the cookies:

1

cup

2 sticks unsalted butter, melted and slightly cooled

3/4

cup

sugar

1

teaspoon

vanilla extract

1

cup

semisweet chocolate chips

melted and slightly cooled

1

egg

1 1/2

cups

unbleached all-purpose flour

3/4

cup

Dutch-processed cocoa powder

1

teaspoon

kosher salt

1/2

teaspoon

baking soda

For the filling:

1/2

cup

1 stick unsalted butter, softened

1 2/3

cups

confectioners'

powdered sugar

1

teaspoon

vanilla extract

1

Tablespoon

milk

Pinch

of kosher salt

Food color

optional
Instructions
In a stand mixer with whisk attachment, whisk the butter and sugar until well combined. Add in the vanilla and chocolate, then whisk in the egg until combined.

In a separate bowl, whisk flour, cocoa, salt, and soda until combined. Stir the flour mixture into the chocolate mixture. Let the dough sit for an hour to firm up.

After an hour, turn the dough out onto waxed paper. Use a spatula to shape the dough into a log about 2 1/2 inches in diameter along the edge of wax paper. Start rolling the dough and shaping as you wrap and roll. Try to keep the paper tight and push the ends of the log so that they are flat. Twist the ends of the waxed paper to secure. Refrigerate for at least two hours or until firm. If log settles and flattens on one side, rotate every 15 minutes or so to maintain a round shape.

Heat oven to 325 degrees and line baking sheet with parchment paper.

Slice dough into quarter-inch-thick slices and place on prepared baking sheet. Bake for about 20 minutes or until cookies are firm to the touch. Note: Bakerella under-baked her cookies by half the time and said they were fine, so I followed her suggestion. I was worried about charring them since they're black already and there's no golden brown edge to go by! Mine were fully cooked and soft, I imagine if you cooked them the full time you would end up with a hard cookie much more like an Oreo. It's all up to you and what you prefer.

Let cookies cool on a rack and prepare the filling. In a stand mixer with paddle attachment, beat the butter until smooth and creamy. Add sugar and vanilla and beat until smooth. Add the milk and salt and continue beating until smooth again. Place about a tablespoon of filling on the bottom of one cookie and sandwich with a second. Repeat with remaining cookies and enjoy!