This post was sponsored by Starbucks as part of an Influencer Activation for Influence Central. I received compensation and complimentary products to facilitate my review.
What is your go-to Starbucks drink? Mine is a Tall Salted Caramel Hot Chocolate. If it's cold out, this drink will warm me right up! The problem is: the Starbucks near me closes at 8 PM (it's inside of a grocery store). There have been so many times that my mom and I are heading home from a baby shower or some other party and think, "Ooh! Hot cocoa would be perfect right now!" only to realize it's past 8 PM and we don't want to drive downtown to go to the 24-hour Starbucks drive thru.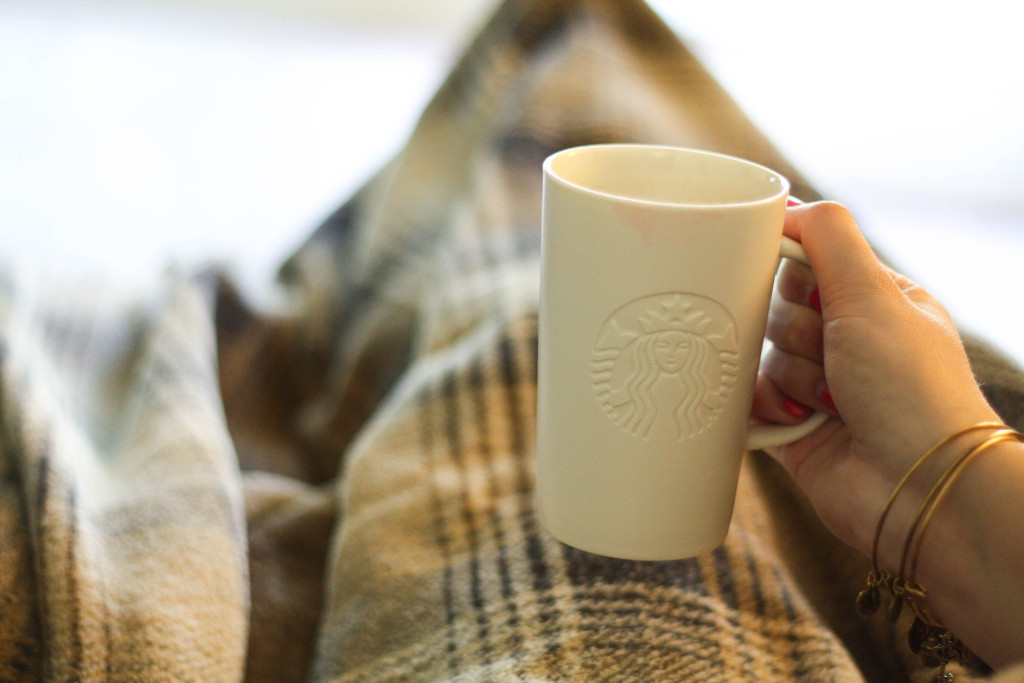 This dilemma will no longer be an issue thanks to Starbucks® Hot Cocoa K-Cup® Pods!! They are beautiful little cups of rich, creamy, chocolately goodness made with real cocoa and fat-free milk that pop right into your Keurig machine. Basically a happiness pod! You can find them wherever you buy groceries.
Starbucks sent me the sweetest Cozy Collection! It was a box complete with plush blanket, new mug, shortbread, marshmallows, a $5 Starbucks card, coupon, and two types of Starbucks® Hot Cocoa K-Cup® Pods: Classic Hot Cocoa and Salted Caramel Hot Cocoa. When any type of package comes in the mail, my girls immediately want to help open it and get to playing with what's inside. The princesses dolls had quite the little picnic inside the Cozy Collection!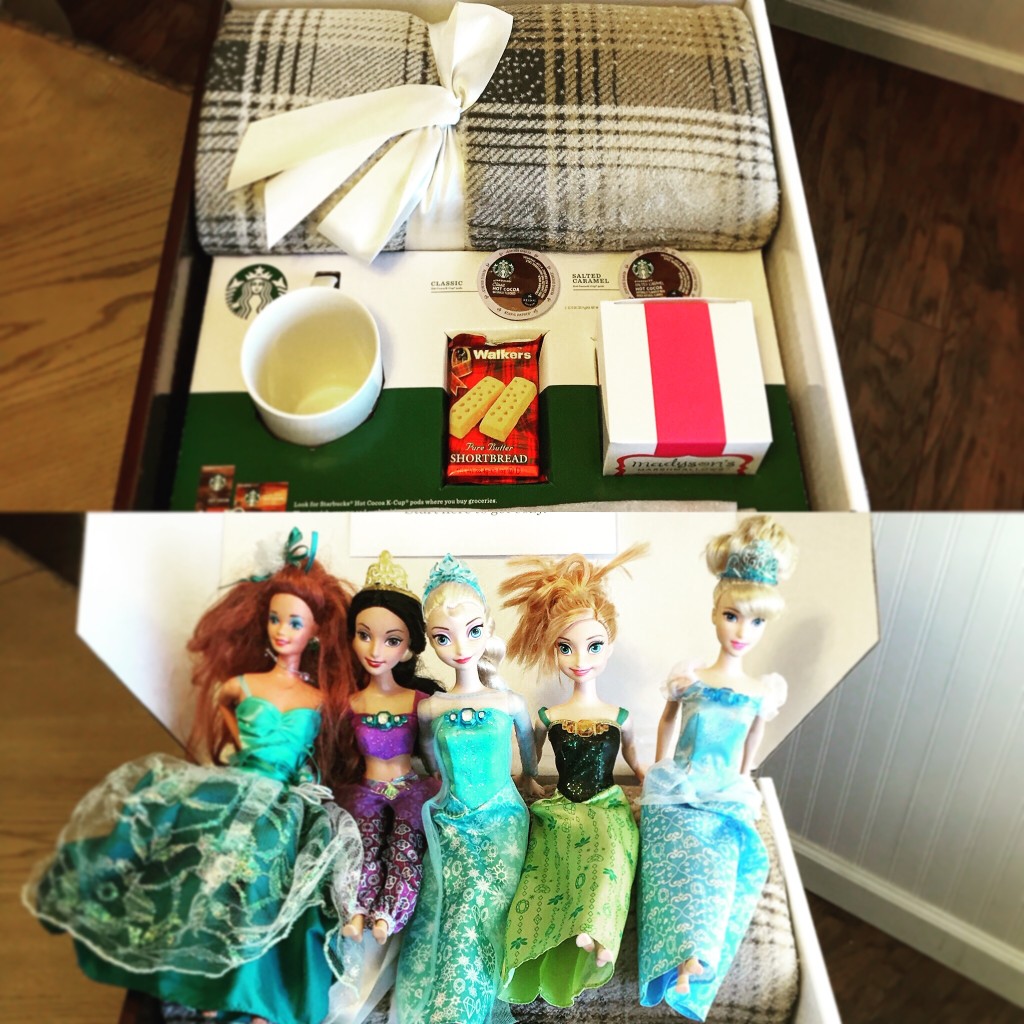 Have you ever tried Walker's Shortbread before? My dad always brings us some from Scotland when he has trips to Edinburgh. It is delicious on its own, but dipped in hot cocoa it takes everything to a whole new level! Try it sometime, it reminds me of the scene in Lady and the Tramp when Darling and Jim Dear give Lady a donut dipped in coffee for breakfast :)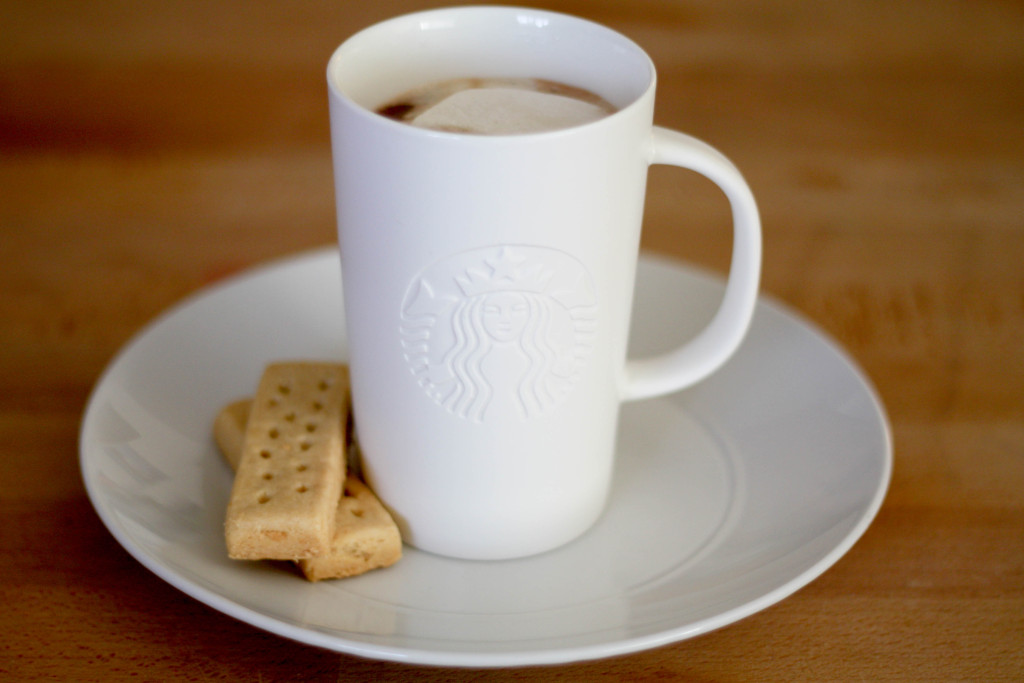 The marshmallows from Madyson's are insanely good as well! They taste homemade (see my homemade marshmallow post here) and melt into the top of your cocoa, leaving the perfect amount of creamy vanilla taste on top. Baby June and I all snuggled up thanks to the Cozy Collection:
I am keeping so cozy in my comfy chair, sipping hot cocoa, wrapped in my plush blankie. The look below is me taking a sip before Lola came to steal the mug :) 
I am so glad to have Starbucks® Hot Cocoa K-Cup® Pods on hand for instant comfort and warmth! Want to score a Cozy Collection of your own? Enter the contest here!