I saw Rachael Ray make this on her show the other day, and I had to try it. This Lazy Bolognese-Style Lasagna did not disappoint!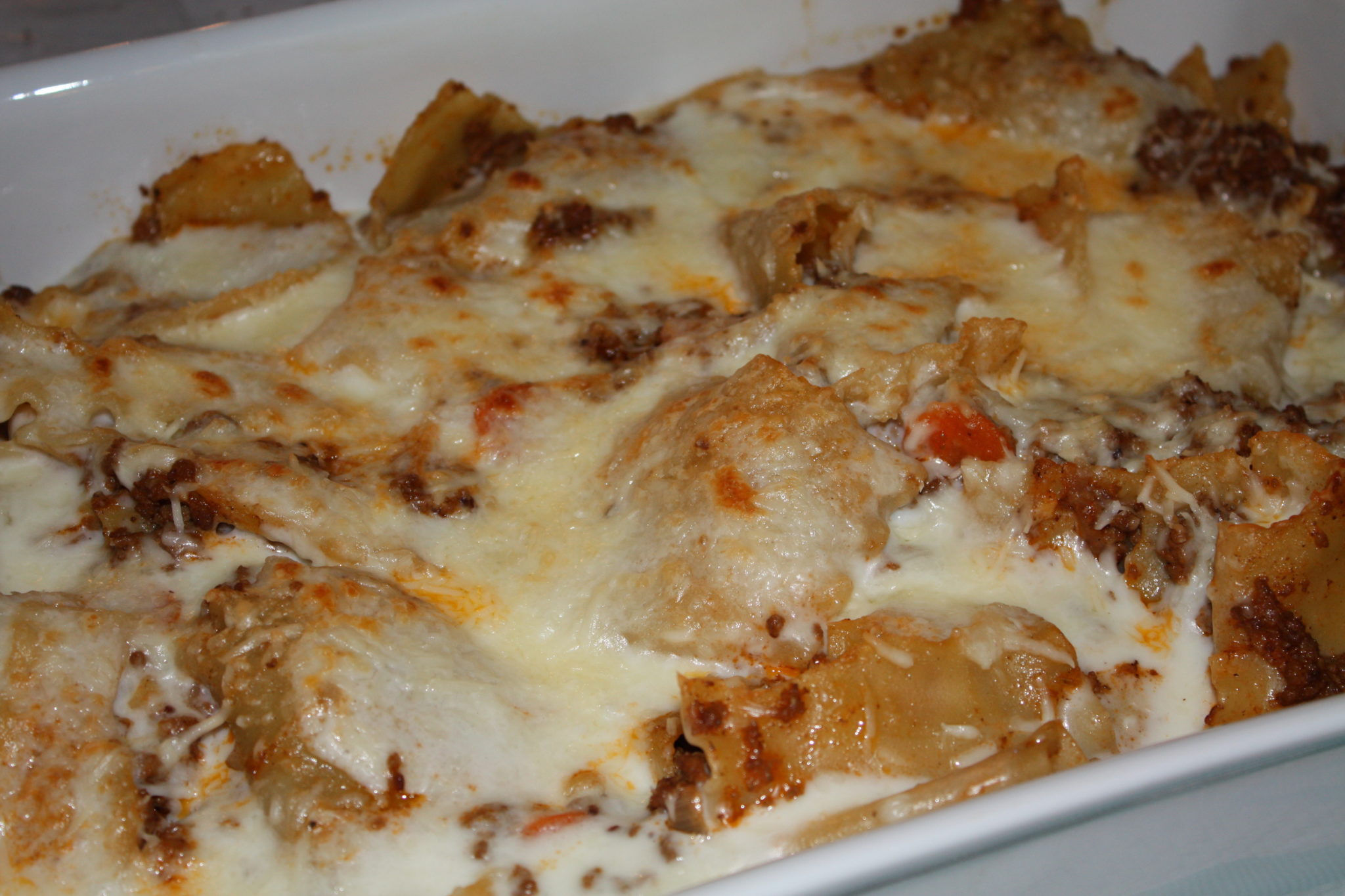 Ingredients:
Salt and pepper
1 pound wavy lasagna noodles, broken into irregular pieces
2 tablespoons extra virgin olive oil (EVOO)
1 1/2 pounds ground beef
1 onion, finely chopped
2-3 large cloves garlic, finely chopped
1 small carrot, finely chopped or grated
1 sprig rosemary, finely chopped (I used 1/2 tsp. dried)
A sprinkle of ground cloves (I omitted these)
1/4 cup tomato paste
1 cup white wine (Instead of white wine and beef stock, I used 3 cups chicken stock)
2 cups beef stock
3 tablespoons butter
2 rounded tablespoons flour
2 cups whole milk
Freshly grated nutmeg, to taste
Freshly grated Parmigiano Reggiano cheese
Bring a large pot of water to a boil, salt it, add the pasta and cook to al dente.
In a Dutch oven, heat the EVOO, two turns of the pan, over medium-high heat. Add the beef and brown well. (Here I would advise to drain as much of the fat as possible. Mine ended up a bit greasy because I didn't do it even though I thought to…but I was following what Rachael did on her show. Next time I'll drain it!)
Add the onion, garlic, carrot, rosemary, cloves and lots of salt and pepper and cook until tender, 7-8 minutes. Stir in the tomato paste for 1 minute, then stir in the stock for 1 minute and simmer for a few minutes longer.
Pre-heat the broiler and position a rack in the center of the oven.
In a saucepan, melt the butter over medium heat. Whisk in the flour, then the milk, and let thicken enough to coat a spoon; season with salt, pepper and nutmeg.
Toss the pasta with the meat sauce and arrange in a casserole. Pour the bechamel sauce over the top in an even layer. Top with a layer of Parmigiano Reggiano and broil in the oven to brown the top.
You could even add squash or zucchini along with the carrots, I might do that next time. As miss Ray would say, YUM-O! She has this Lazy Bolognese-Style Lasagna down pact.