A couple of weekends ago, we went down to the Los Angeles LDS Temple for Stake Temple Day. It is so peaceful there.
We love going back to where we were married :) A big thank you to my in-laws for watching our girls for the day so that we could do a session together!

I was sent the Lemonade cookbook to check out (isn't it pretty?):

In reading it, I found that there are multiple Lemonade locations in the Los Angeles area. We decided to try one out after the temple and headed to the Brentwood location.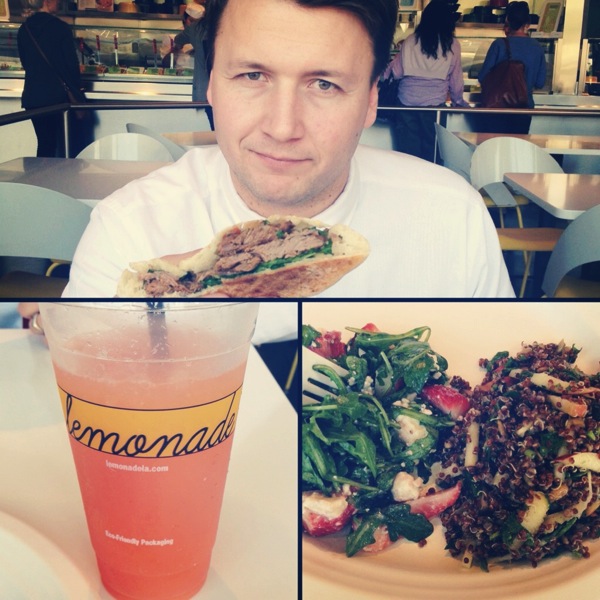 Matt loved his Braised Short Rib Sandwich, and we all loved the Arugula Strawberry Salad and Red Quinoa Salad with Apples. Matt's brother said the Ahi Tuna was the best thing he's ever eaten and my sister-in-law raved about the Brussels Sprouts. The recipe is in the cookbook and I can't wait to make them!
My uncle and I both got the Blood Orange Lemonade and it was sooooo good! I just asked the girl which one was the sweetest & she was right on.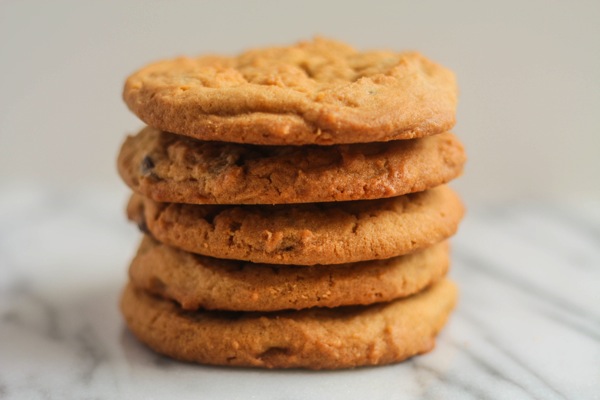 I decided to make the Peanut Butter Chocolate Chip cookies on Sunday and they were awesome! We munched on them while watching the Oscars :) They have a crispy, sugary bite around the edges and are chewy on the inside.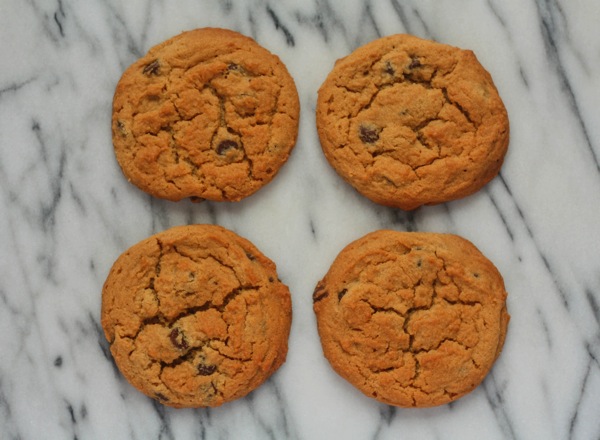 Peanut Butter Milk Chocolate Cookies
I doubled this, because when is one dozen cookies ever enough? :)
Ingredients
3/4

cup

all-purpose flour

1

teaspoon

baking soda

1/2

teaspoon

salt

1/2

cup

1 stick unsalted butter, at room temperature

1/2

cup

light brown sugar

loosely packed

1/2

cup

granulated sugar

1/2

cup

creamy peanut butter

1

large egg

1

teaspoon

natural vanilla extract

1/2

cup

milk chocolate chips
Instructions
Preheat the oven to 350 degrees. Grease two baking sheets, or line with silpat or parchment paper, set aside.

In a mixing bowl, combine the flour, baking soda, and salt; set aside. Put the butter and sugars in the bowl of a standing electric mixer fitted with a paddle attachment, or use a hand-held electric beater. Beat on medium speed until light a fluffy, about 3 minutes. Scrape down the sides of the bowl. Add the peanut butter, beating well to incorporate. Add the egg and continue to beat until well combined.

Turn the mixer to low speed and slowly add the dry ingredients to the creamed butter and sugar mixture in 2 additions, beating just to combine. Do not overmix or the cookie dough can become tough. Turn the mixer off and fold in the chocolate chips with a rubber spatula, until evenly distributed.

Using a small scoop, put the dough on prepared pans about 2 inches apart. Bake for 12-15 minutes, until the cookies are just set on the edges but still fairly soft in the middle. Cool on the pans for 5 minutes, then transfer to a wire rack to cool completely.
This post contains an affiliate link, thank you for supporting me!