For my sister's Bridal Shower, I also made a cheese plate. It was SO much fun to put together and really looked beautiful! One of my Nana's sweet friends asked me if it was real, she thought it looked too pretty to eat :)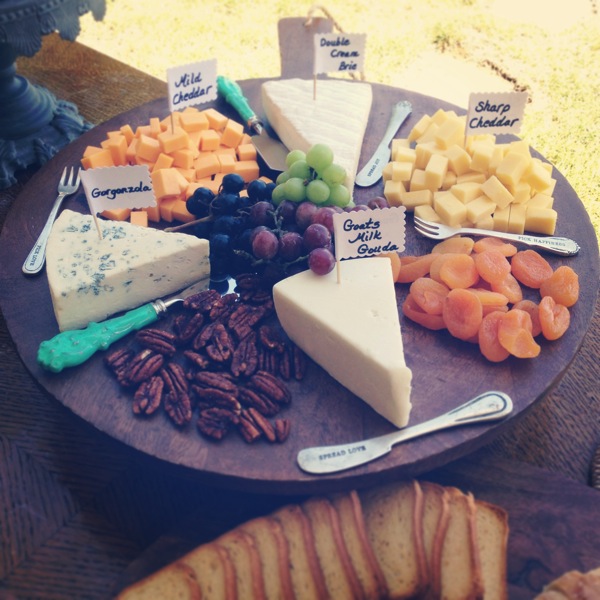 Meghan, who co-hosted the shower along with her sister Hayley, had the beautiful wooden boards. I need to get some so that I can make a platter again in the future. My mom gave me the adorable forks and knives from Pottery Barn for Christmas & they are my favorite! They say, "Pick Happiness, Spread Love, Spread Joy, & Pick Love" on them. The teal cheese knives are from Anthropologie.
I used this article from Real Simple as a guide, then hit up – wait for it – Trader Joe's to get all of my spoils! They really do have the best cheese selection in town for the best prices; and all of the sides as well. Here is what I used, I stayed pretty conservative but you could get crazy with the stinkiest cheeses you want!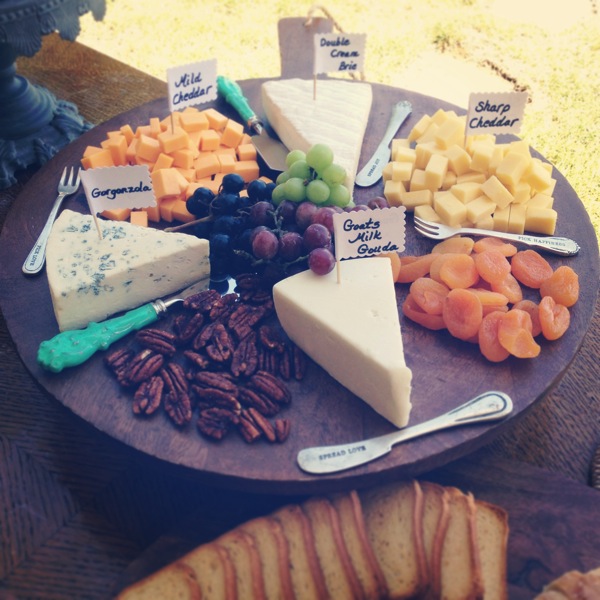 How to Make a Beautiful Cheese Plate
In France, cheese is served after dinner, before dessert. No matter when you serve it, a cheese plate is sure to please!
Ingredients
Mild Cheddar Cheese

Sharp Cheddar Cheese

Gorgonzola Cheese

Double Cream Brie Cheese

Goats Milk Gouda Cheese

Candied Pecans

Green

red, and black seedless grapes

Dried Apricots

French baguette

sliced

Water crackers

Multigrain crackers

Brioche toasts
Instructions
Keep cheeses refrigerated until 10 minutes before serving time.

Remove wrappers and arrange cheese on platter in a way that looks good to you.

Place fruits and nuts in the spaces between the cheeses.

Make sure you have enough knives and forks for each item.

Slice bread and arrange along with crackers for serving.

Enjoy!