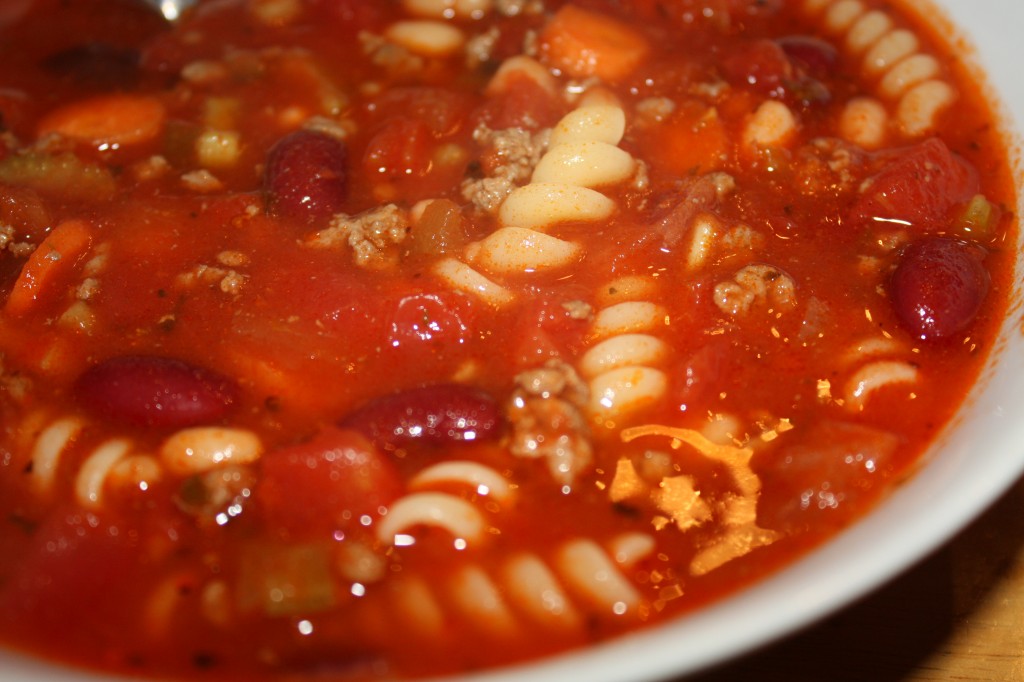 I have made this soup many, many times for this happy boy. If you're wondering about the noodle in his hand, he was cooling it off for the baby to eat :)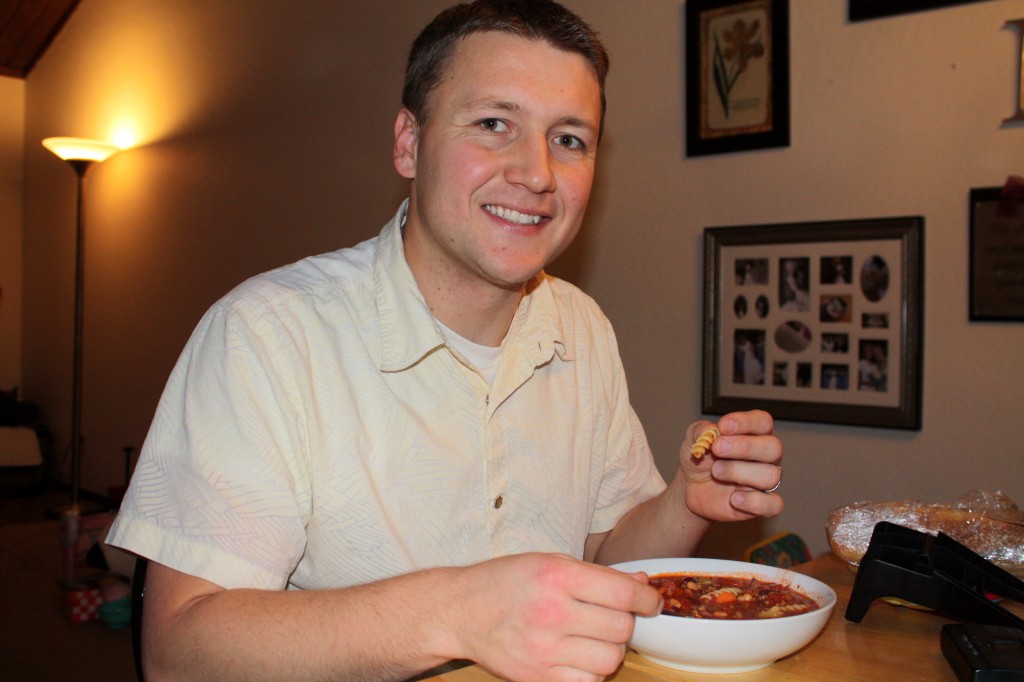 I found this adaptation of Olive Garden's yummy soup a few years back from Stephanie O'Dea at Crockpot 365.
1 pound lean ground beef, browned and drained
1/2 large red onion, chopped
1 cup carrots, chopped
2 celery stalks, sliced
2 cans (14.5 oz) diced tomatoes (and juice)
1 can kidney beans, drained and rinsed
1 can white beans, drained and rinsed
4 cups beef broth
1 jar (16.5 oz) pasta sauce
2 tsp oregano
1 T Tabasco sauce (I have never added this ingredient…never have it on hand and can't justify buying it for one recipe!)
1/2 tsp salt
1/4 tsp black pepper
1/2 cup dry pasta, to add at end of cooking time (I used rotini)
Use a 6 quart or larger crockpot, or cut the recipe in half. This makes a lot!
Brown the meat on the stovetop, and drain well. Let it cool a bit.
Chop up the carrots, onion, and celery. Add it to the empty crockpot.
Drain and rinse the beans, and add them. Add the whole cans of tomatoes, and the pasta sauce. Add the beef broth. Add the salt, pepper, oregano, and Tabasco sauce (if using). Stir in your meat.
Cover and cook on low for 8 hours, or high for 4. When the vegetables are tender, stir in the 1/2 cup of dry pasta.
Cover and cook for another hour on low, or until the pasta is tender. It will swell quite a bit.
(What I do is boil some water and cook a little bit of pasta separately, then throw it into the soup bowls. Because this makes so much, I freeze some for future meals. If all of the pasta is in there, it gets really squishy and gross. So keep the pasta separate unless you are feeding a crowd!)
Serve with bread &  parmesan cheese. Then reminisce about when you worked at Olive Garden and all of the corny jokes people had when you'd ask if they wanted freshly grated parmesan cheese. "You're gonna be here a while!" "Your arm is gonna fall off!" "Keep it comin'!" "You're gonna have to get more cheese!" Har har har.