Recovering from being sick is crazy. I always think, "Yay! Glad that's done and over with. Now to do everything I didn't do while I was sick." Commence cleaning, doing dishes, folding clothes, then the shutdown. I was trying to catch up on everything Monday but I was so tired! I got a text from my mom in the morning right as I was about to make "TOAS and EGG" for Lola that said, "Come over if you or the girls want pumpkin waffles!" Um, yes please and thank you! I literally had the first egg in my hand, ready to crack. Perfect timing! I got us all dressed and we walked over to Nonnie's house for some delicious waffles. It felt so good to get outside and move…all I did was sleep and lay around for two days while sick – yuck.
My mom graciously watched the girls while I went home to shower and get ready. Amazing how nice it feels to clean the shower & get ready without any interruptions!
I even hung this mirror over the rosebush from hell: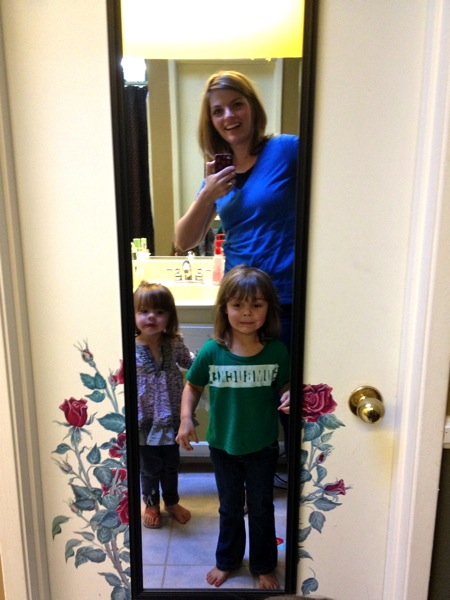 It's a temporary fix, but it'll do until I can paint over it. I've been thinking a lot about chalk painting the cupboards, pantry doors, and this door…who has done it?
Oh how I love Lola's chubby little hands on my cheeks! She is so snuggly when she wakes up & rests her cheek on my face :)
Today Ada helped me hang a mirror over the fireplace. Progress, people! Almost out of boxes…almost.
That little hammer was mine when I was Ada's age! I literally remember carrying it around as a 3-year-old on the deck my dad built in Smyrna, Tennessee.
I made some chicken & salad for dinner that I'll be sharing on here soon! Already looking forward to leftovers for lunch :)
What's your earliest childhood memory?
Are you a DIY-er or pay someone to do it type of person?