I participated in an Influencer Activation on behalf of Influence Central for Hershey's KISSES Deluxe. I received product samples to facilitate my review and a promotional item to thank me for my participation.
It's not Christmas for me without Hershey KISSES. Ever since I can remember, Santa would leave them in our stockings on Christmas morning. So naturally, they were (and are) part of my breakfast every Christmas Day!
Hershey's has come out with a new type of KISSES chocolate! Hershey's KISSES Deluxe. They are delectable! They are twice the size of an original KISSES chocolate, and there is a hazelnut inside, along with a smooth, creamy chocolate center and some crunch thrown in for good measure. Now, the truth behind the label. Are you ready?  
TA-DA! This is what was happening before I could photograph the package! I kept eating the Hershey's KISSES Deluxe because they are that good…and I had to sneak them from behind the label so I could get my beautiful packaged shot above!! Matt was cracking up when he pulled back the label and saw how many I'd already eaten :)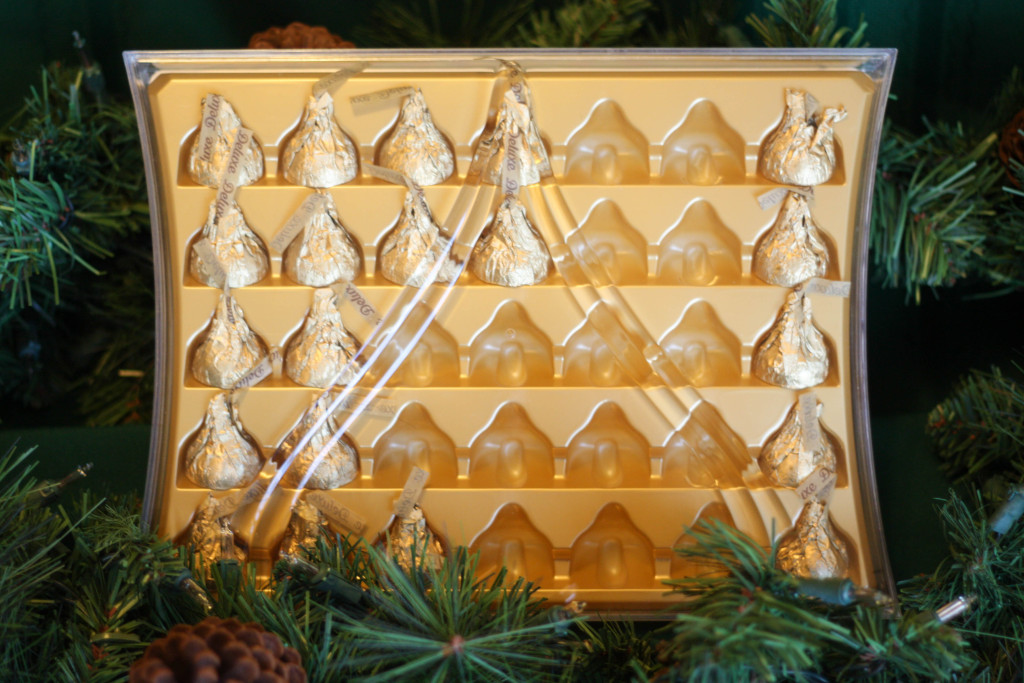 I love the fancy gold packaging on the Hershey's Deluxe KISSES. They really are festive and the perfect gift for anyone you want to spoil this Christmas season. The hazelnut gives them a European flavor.
My cute little helper's hand (age 4) helps you see how large these babies are.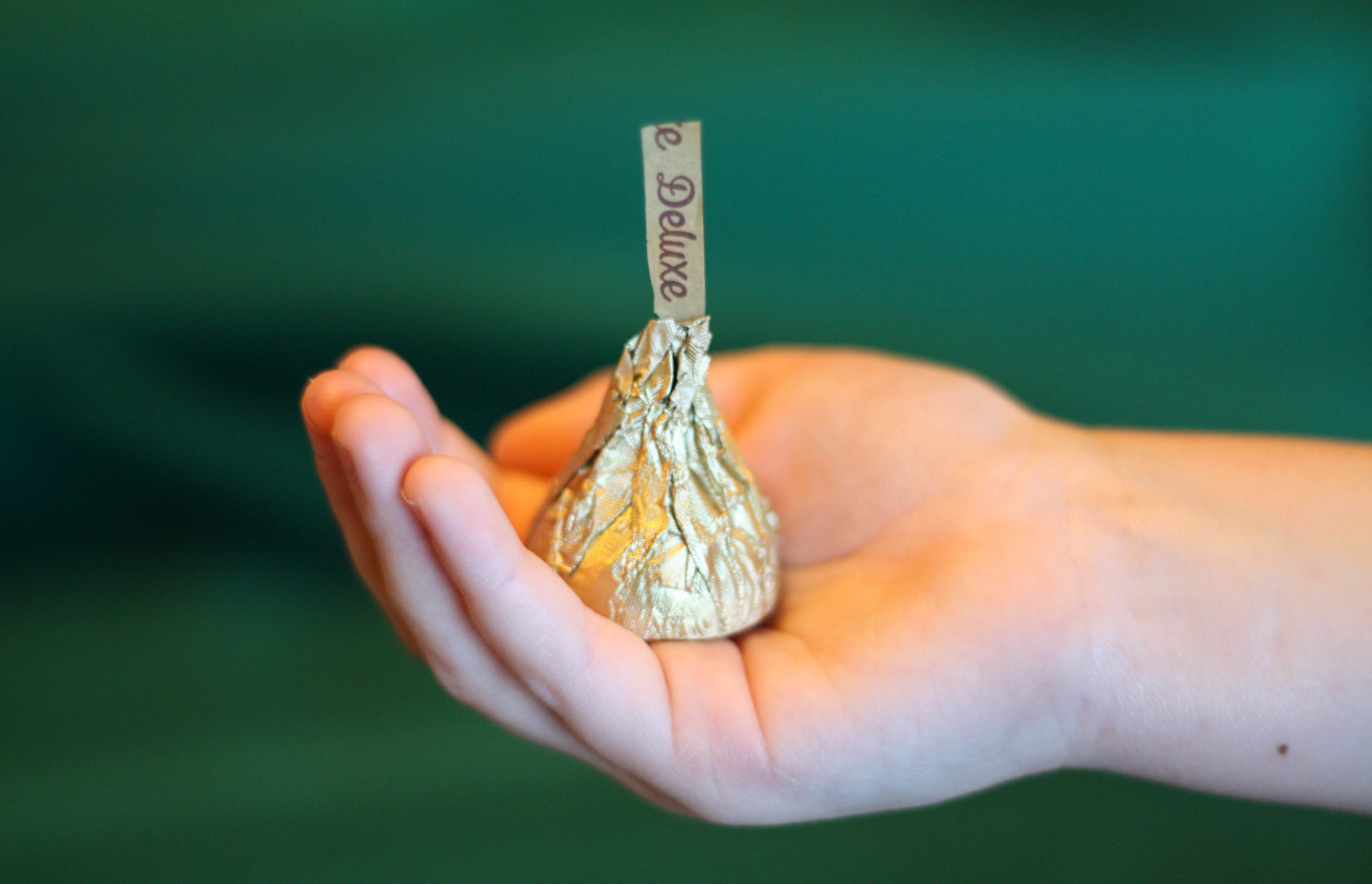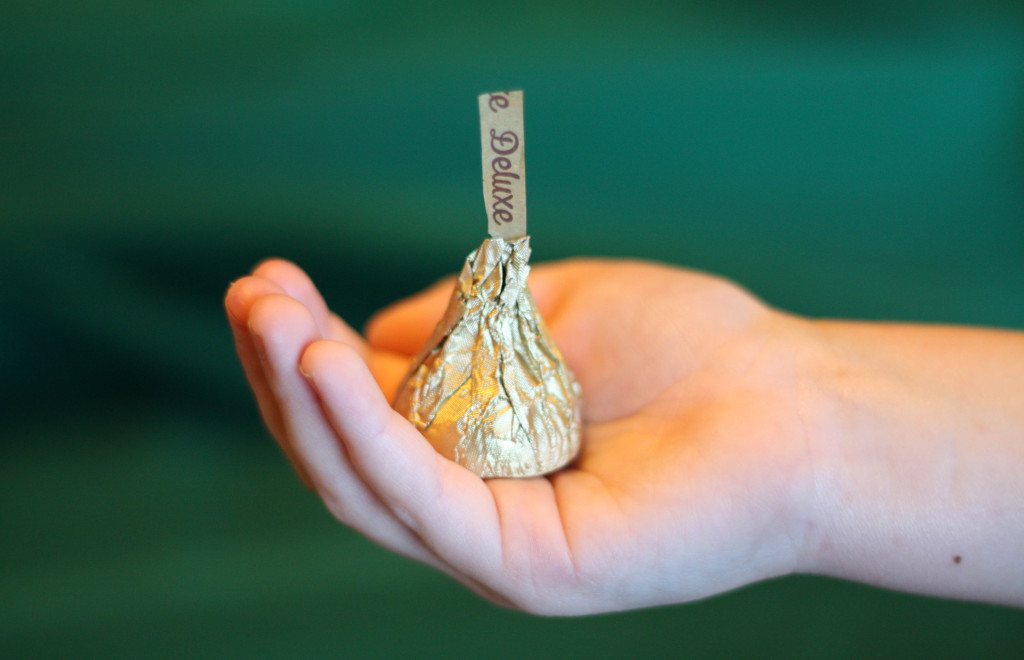 This Christmas season, let's all think about who we can "Say More" to. I'm going to work on my husband this Christmas, because we usually tell each other no big gifts to try and keep things simple. That doesn't mean I can't tell him in a heartfelt way how much I appreciate everything he does for our family, though! Check out the video below and how a sweet family shows their wife & mother how much they admire and love her.
Also – Hershey's is running a contest where you could win one of 50 Hershey's KISSES Deluxe 75 – piece gift boxes valued at $35!! Trust me, you want to win one :) Enter below:
Hershey's KISSES Deluxe Giveaway
I-C will randomly select fifty winners from all program entries and will handle fulfillment of the winning prizes.
Who will you "Say More" to this Holiday season?