I participated in a campaign on behalf of Mom Central Consulting for Cascade. I received a product sample to facilitate my review and a promotional item as a thank you for participating.
I am not a fan of doing the dishes. I sure love to dirty them while making food, but washing? Not so much. It's one of those chores that my husband and I both don't like, which is too bad. I wish he loved to do them because then we'd be a super team!
Imagine my happiness when I heard about Cascade Platinum Pacs! They claimed to wash my dirty dishes without me pre-washing them. Not only that, but they also were supposed to clean my entire dishwasher at the same time!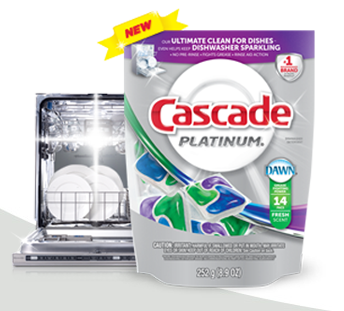 Needless to say, I was skeptical. I've tried not pre-washing my dishes before, and it always ended with many items needing to be run through the dishwasher again. Waste.of.time.
I tested out Cascade Platinum Pacs with a cutting board that had stuck-on tomato seeds on it, a plate with baked cheese clinging to it, along with many other gross things that had been sitting for a few days. (I refrained from taking pictures and posting them – you're welcome! Just look at my header and picture that stack of pots going in.) I didn't hold my breath, and popped a Platinum Pac in the bulk soap container.
When I went to unload the dishes, I grabbed a plate first. It was SO shiny and clean! You know the feeling when it's got a squeak to it while you hold it in your hands (I'm making an eee-eee noise for you right now)? There were no spots, no cheese remnants, and I could see my reflection in the white plate. I checked the inside of the dishwasher, and it looked like some of the hard water deposits had been cleaned off the inside too. I imagine that with continued use, it will get cleaner every time! Every item in the dishwasher was sparkling, squeaky clean.
Gail Simmons, of Top Chef fame, is huge on plating as a judge. I agree with her on white plates making everything you place on them stand out. I love that everything I put on white just stands out automatically and you are really drawn to the food as the subject because the white sets it apart. I am so glad to know that my dishes will be clean and close-up ready with Cascade Platinum Pacs. I have experience with having to wipe spots off before photographing food!
Cascade is having a fun contest on Instagram right now, check it out here. There are great prizes up for grabs! Take a picture of your perfect place setting and don't forget to hashtag #MyPlatinum and tag @MyCascade. Good luck!