I have been watching Wheel Of Fortune since I can remember! As a child, I loved solving the puzzles and impressing my parents :) I've always wanted to be a contestant on the show, and tried to get into a taping in Vegas but it was full. Imagine my excitement while at the gym and a commercial says that the Wheel Bus is coming to SANTA MARIA, CA!!! Our little Town Center Mall, where I had my first job wrapping Christmas presents at Gottschalk's (RIP), had the traveling Wheel of Fortune show!!
I went down there to apply and was feeling great. I heard a Billy Joel song on the radio while driving down. Always a good sign when my Billy serenades me!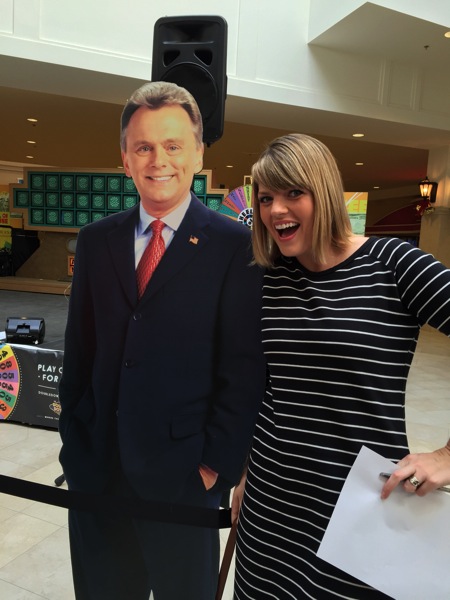 I got down there, filled out my application, and ran into my friend from college! We stuck together and we took pics of each other. Hopefully I can get pictures with the real Pat & Vanna soon!
The way it worked was they had a huge box where all of the applications went. Once the game started, they would draw applications out of a gold spinny-thing. Very scientific. I saw a friend get drawn for the first game and it was exciting to cheer her on! My name was called for the 3rd or 4th round and I was SO excited!! I called my family but none of them made it to the mall in time, they had the games moving so quickly.
This is the picture that they took of me and then stapled to my application.
Here I am on stage talking about how much I love Italians and traveling. They said show personality and excitement and I think I did! I didn't solve the puzzle, but got the first word. I won a t-shirt and a cardboard bus. It was so much fun! They say that if they liked how I performed on stage, I will hear from them in a few months for an audition here on the Central Coast to be on the actual show! I am crossing my fingers, saying my prayers, and wishing on stars that I get chosen!!
Lola spotted me in the crowd and Ada was very into the game. She'd clap when everyone applauded and guessed letters. We got lunch at the mall and people passing by were so sweet, complimenting me and telling me I'd get on the show.
Matt & I sang a duet in church, I love singing with my hubby.
Funny story – we sang this at Stake Conference when we lived in Santa Cruz & when we harmonized, a little old lady in the front row goes, "OH THAT'S NICE!" Super loud!! It was SO hard not to crack up in the middle of singing! I love how in this recording it sounds like a little baby says, "Yay!"
Enjoy :)