For Ada's 2nd birthday, I made her cupcakes to bring to the park and eat with her little friends and their moms. They were so moist and as close as I've gotten to Sprinkles' vanilla cupcake yet! I still need to work on the frosting…I'll probably have to add another stick of butter to get it like theirs.
I used Ticings on top of the cupcakes, and they looked absolutely adorable! They are so cute and easy to apply. I love that it looked like I spent a ton of time making a fancy design, when I just peeled the sugar icing off of the page and laid them on top of the frosted cupcake. After that, I dipped each one in a mixture of pink and purple (papal according to Ada) sprinkles. A 2-year-old's dream come true!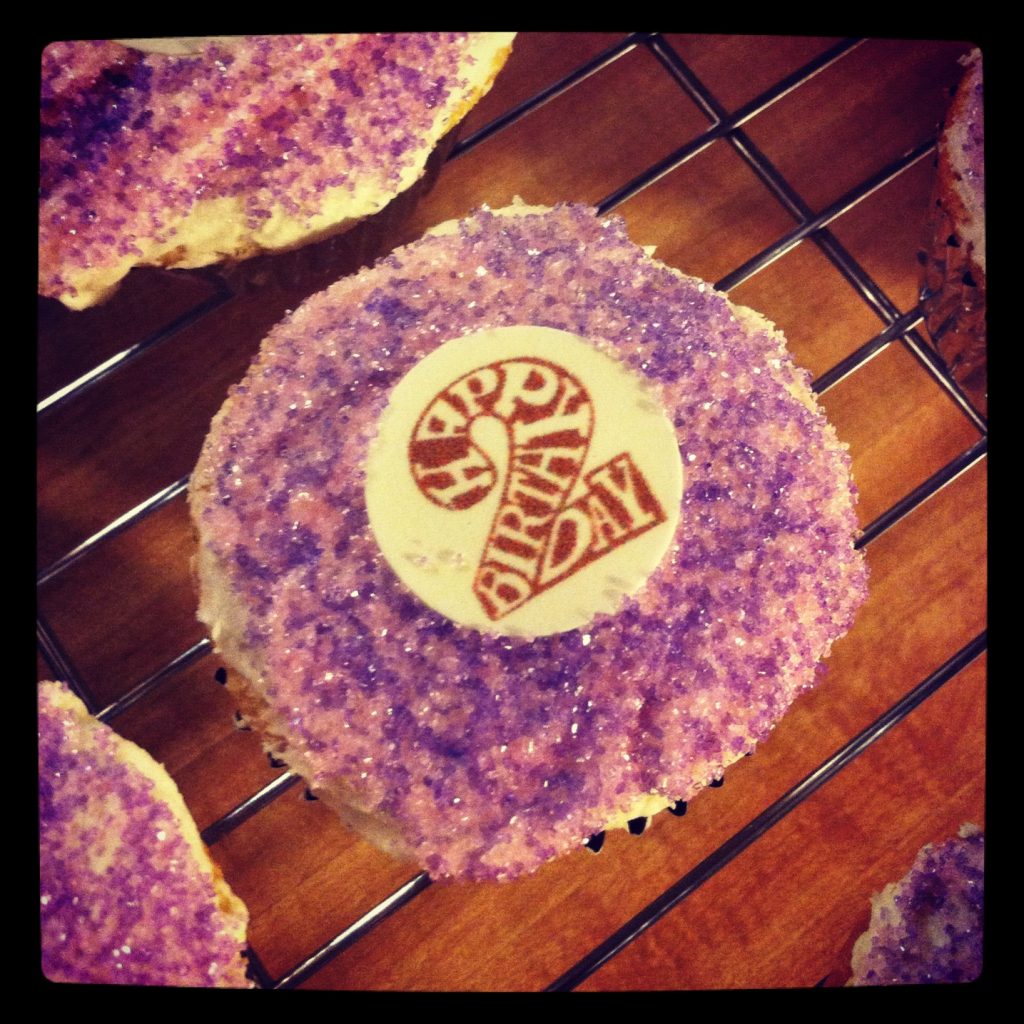 This is my husband's trademark, taking bites of things and leaving the rest behind.
Ada approved whole-heartedly and full-sprinkley!
These recipes are from Mary Engelbreit's Sweet Treats cookbook that was a gift from my sister years ago. The cake has a few extra steps, but really is SO worth it! The frosting is simple and I use it for everything from frosting cupcakes to cookies. Enjoy!
White Cake Recipe (adapted from Mary Engelbreit)
Ingredients:
2 1/2 cups flour
1 Tablespoon baking powder
1/2 teaspoon salt
3/4 cup (1 1/2 sticks) unsalted butter, at room temperature
1 3/4 cups granulated sugar
1 1/2 teaspoons vanilla extract
1 cup milk
6 large egg whites, at room temperature
Directions:
Preheat oven to 350 degrees. Grease or line cupcake pans with paper or foil liners (I made 24 cupcakes with this recipe).
Sift together the flour, baking powder, and salt into a large bowl and set aside.
In another large bowl, beat the butter and granulated sugar with an electric mixer until light and fluffy. Beat in the vanilla. On low speed, beat in the flour mixture in 3 additions, alternating with the milk in 2 additions.
In another large bowl, using clean beaters, beat the egg whites on low speed just until frothy. Increase the speed to high and beat just until stiff peaks form.
Using a large rubber spatula, fold about one quarter of the whites into the batter. Fold in the remaining whites in 2 or 3 additions, until just combined. Pour the batter into the pre-prepared pans and smooth the tops.
Bake the cupcakes for 15-20 minutes, until a toothpick inserted into the center comes out clean. Let cool on wire racks and wait until completely cooled to frost.
Easy Buttercream Frosting Recipe
Ingredients:
1/2 cup (1 stick) unsalted butter, room temperature
3 cups confectioners' sugar
2 Tablespoons milk
1 teaspoon vanilla extract
Pinch of salt
Directions:
In a large bowl, cream the butter with an electric mixer until very soft and light, about 3 minutes. Add the remaining ingredients and beat until smooth and fluffy. Use immediately, or cover and refrigerate until needed.
As an added bonus, Ticings is offering my readers a 10% discount on any order $10 or more! Head over and check them out, they have so many options for making your desserts pop! Use promo code take10 at checkout.