Leek and Potato Soup Recipe from the Williams Sonoma Paris cookbook (Potage Parmentier) is an easy soup that tastes like a French baked potato!
This soup comes together very quickly. It will definitely be making it into the regular rotation here!
It's like a deconstructed baked potato, French-style. I had never cooked with leeks before, so I read in the back of my Paris cookbook (where this recipe is from) how to wash and prepare them.
From the glossary: Leeks need careful rinsing to remove the grit that lodges between the leaves. To rinse, trim off the roots but leave the root end intact.
Cut away the dark green tops of the leaves, then peel any discolored outer leaves from the stalk. Halve the stalk lengthwise, then rinse well under cold water, gently spreading apart the layers to wash out any dirt.
Toddler approved!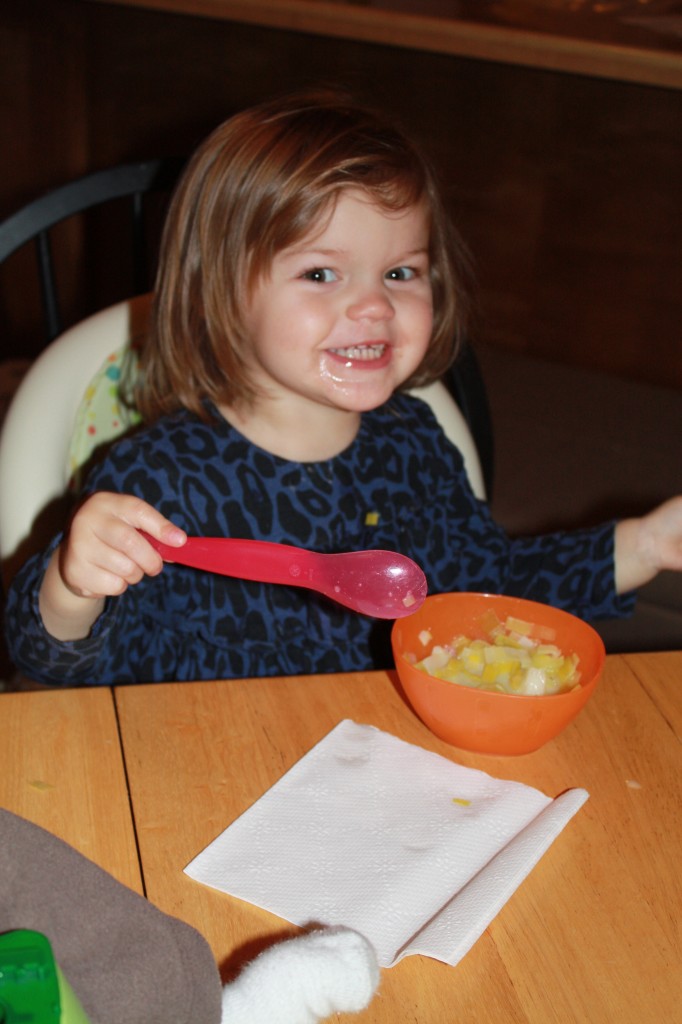 What dinner usually looks like at our house. Lola on the table and got to love Ada trying to do a thumbs up like her Papa!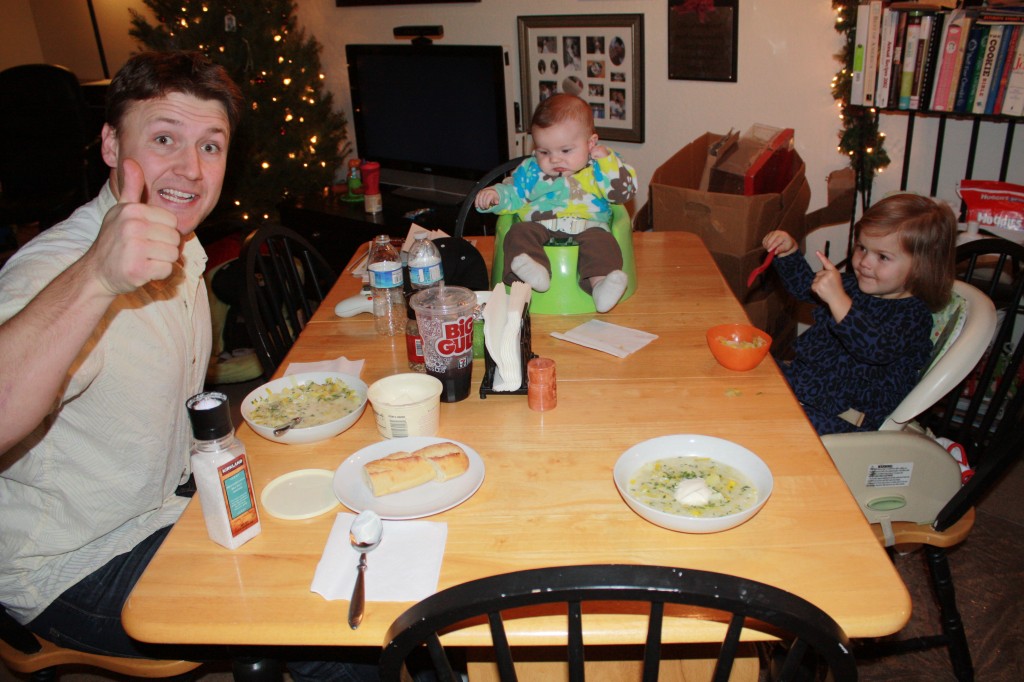 I have made this Leek and Potato soup many times over the years. I made it for my sister-in-law's bridal shower along with other soups. It was a crowd favorite and many of the women in attendance asked for the recipe.
I am sure your family and friends will love it too!
If you enjoyed this recipe, give it a five star rating and share!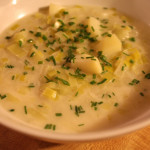 Leek and Potato Soup (Potage Parmentier) Recipe
Ingredients
3

medium to large leeks

white and pale green parts only, rinsed and sliced crosswise

3/4

lb.

white-fleshed potatoes

preferably russets, peeled and diced

6

cups

chicken or vegetable stock

Salt and freshly ground pepper

6-8

Tablespoons

creme fraiche

2

Tablespoons

chopped fresh chives
Instructions
In a saucepan over high heat, combine the leeks, potatoes, and stock. Bring to a boil, reduce the heat to medium-low, cover, and simmer, until the vegetables are falling apart, about 15 minutes.

Season to taste with salt and pepper, then swirl in the creme fraiche and heat until warmed through. Ladle the soup into bowls and garnish with the chives and a dollop of more creme fraiche if you like, and enjoy!