This post contains affiliate links for your convenience at no extra cost to you. If you shop through them, I may receive a small commission.
I have joined up with a bunch of blogger friends for a Friendsgiving Virtual Potluck! Be sure to check the recipes below out for wonderful Friendsgiving and Thanksgiving recipe and craft ideas! I decided to share my favorite Thanksgiving veggie side dish with you: Bacon Brussels Sprouts. I honestly thought I didn't like Brussels sprouts until I made this recipe! I realized that cooking them properly is key. As with most vegetables, you want to just cook them enough to soften them, but not lose their color or bite.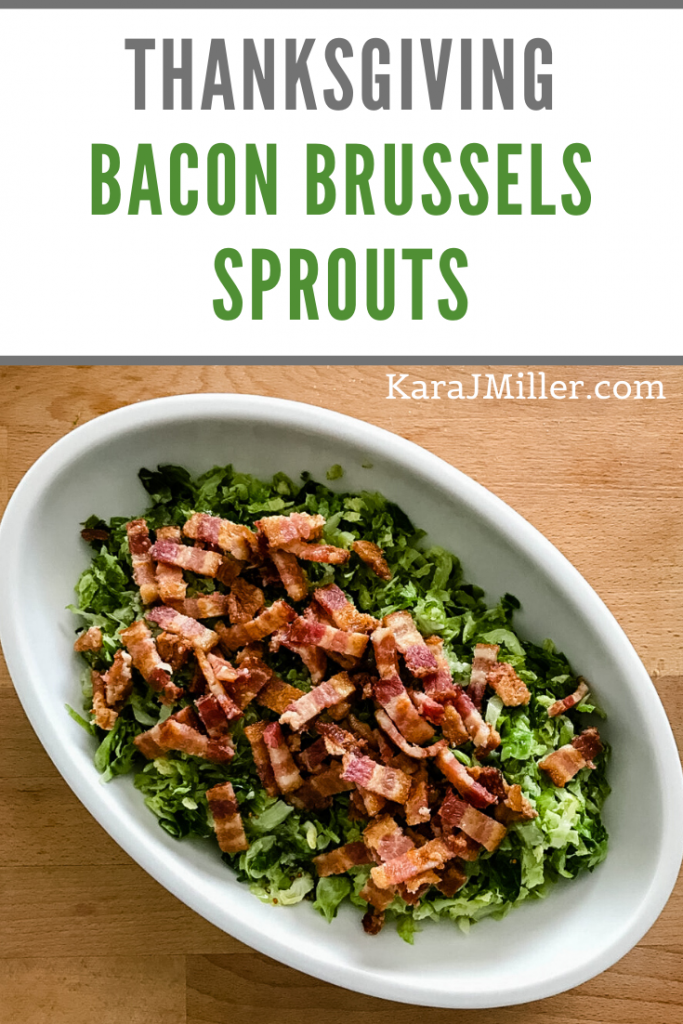 This recipe was found in a Williams-Sonoma cookbook from my mom titled: Cooking from the Farmers' Market. The vinaigrette sets the Brussels sprouts off and marries well with the bacon. I changed the recipe to make use of my trusty food processor for slicing the Brussels sprouts into smaller pieces. It speeds up the work and leaves you with a perfect Thanksgiving vegetable that your family and friends will love. I hope you enjoy it as much as I do, please leave a review if you do and check out all of the fabulous recipes of my friends below. A huge thank you to Julie Deily for putting this Friendsgiving together, I wish we were all eating our scrumptious food together now!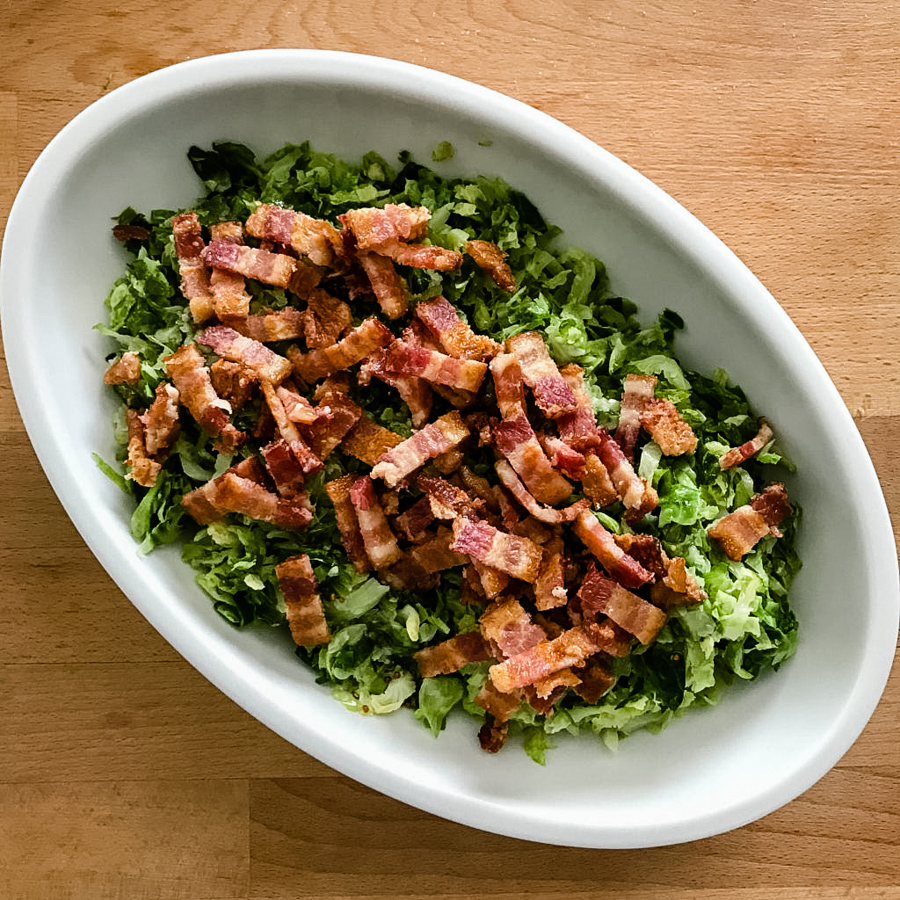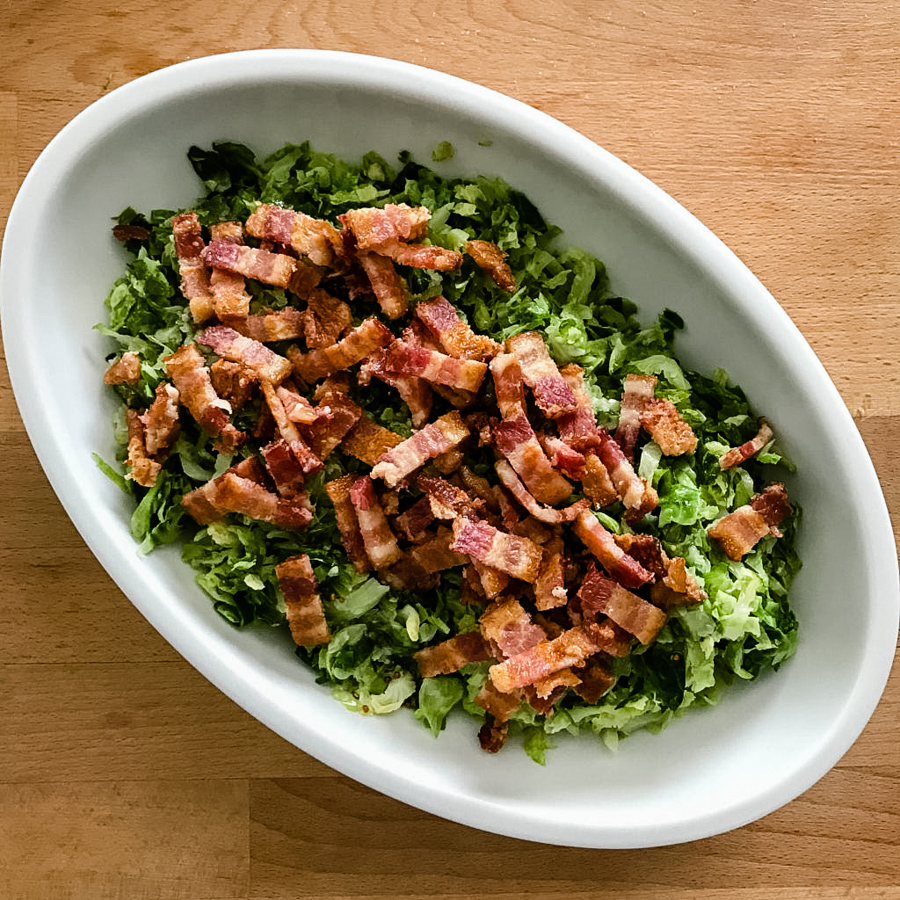 Bacon Brussels Sprouts
Ingredients
2

Tbsp

red wine vinegar

1/2

tsp

grainy mustard

1

clove

garlic

minced

1/4

cup

olive oil

extra virgin

salt

Freshly ground black pepper

1 1/2

lb

brussels sprouts

2

Tbsp

unsalted butter

6

slices

bacon, cooked until crisp

cut into 1/4-in. pieces
Instructions
In a small bowl, whisk together the vinegar, mustard, and garlic. Whisking constantly, pour in the olive oil in a slow, steady stream until well blended. Season with salt and pepper and set aside.

Remove the outer leaves from the brussels sprouts and discard any that are blemished. Using a small, sharp knife, remove the cores. Using the slicing attachment on a food processor, pulse the brussels sprouts through until they are all chopped. Remove them from the bowl as necessary until they are done. Alternately, you may chop them by hand.

In a large saucepan over medium heat, melt the butter. Add the chopped brussels sprouts and 1/2 cup water. Cover the pan and raise the heat to high, bringing to a boil. Reduce the heat to medium-low and cook the leaves until bright green and tender, about seven minutes. Add more water if needed. Drain and transfer to a large serving bowl.

Add the bacon to the olive oil dressing mixture. Drizzle it over the brussels sprouts and toss to coat. Season with salt and pepper and serve immediately.
Appetizers Baked Brie with Honey & Walnuts from Kelley of Mountain Mama Cooks Reindeer Bacon Cheddar Cheese Ball from Julie of Julie Blanner Salads Sauteed Kale and Brussels Sprout Salad with Cranberries and Walnuts from Shashi of Savory Spin Creamy Brussels Sprouts Salad from Faith of An Edible Mosaic Main Dishes Savory Vegetable Crisp from Bree of Baked Bree Rosemary Lamb Steaks from Danyelle of The Cubicle Chick Turkey Pot Pie from Kelly of Eat Picks Side Dishes Fried Brussels Sprouts from Erin of The Almond Eater Cheesy Horseradish Mashed Potato Casserole from Renee of Kudos Kitchen by Renee Cranberry Cream Cheese Dip from April of April Golightly Sauteed Garlic-Butter Mushrooms from Linda of Simply Healthyish Recipes Easy Cheesy Hash Brown Casserole Recipe from Mel of Adventures of Mel Cornbread Stuffing with Chorizo from Isabel of Isabel Eats Bacon Brussels Sprouts from Kara of Kara J. Miller Crockpot Sweet Potato Casserole from Jennifer of Show Me the Yummy Amazing Gluten Free Thanksgiving Stuffing from Sommer of A Spicy Perspective Pumpkin Caramelized Onion Gratin from Denise of Chez Us Crockpot Mac & Cheese from Leanette Fernandez of Funtastic Life Cheesy Brussels Sprouts au Gratin from Rachel Gurk of Rachel Cooks Drinks Spiced Pumpkin Margarita from Sharon of Cupcakes and Cutlery Breads Sourdough Pull Apart Rolls from Erica of Buttered Side Up How to Make Homemade Butterhorn Rolls from Mel of Flour on My Fingers Sweet Dinner Rolls from Jocelyn of Grandbaby Cakes Parker House Rolls from Irvin of Eat the Love Desserts Sugar Pie from Julie of The Little Kitchen Oatmeal Apple Crisp from Julie of Peanut Butter Fingers Pumpkin Pie Milkshake from Eden of Sugar and Charm Strudel Pastry from Justine of The Typical Mom Tahini Hawaij Pumpkin Pie from Amy of What Jew Wanna Eat Turkey Cookies from Meaghan of The Decorated Cookie Mini Apple Pie Bites from Lynsey of MoscatoMom Kabocha squash pie from Hilah of hilahcooking Pecan Pie Cupcakes from Courtney of Pizzazzerie Coconut Cream Pie from Schnelle of Brooklyn Active Mama Chocolate chip cheesecake from Jeannette of Hispana Global Chocolate Pecan Pie from Kate of I Heart Eating Mini Pumpkin Cheesecakes from Chelsea of Someday I'll Learn Turkey Donut Race Cars For Thanksgiving Treats from Theresa of Chewable Structures Crafts and Centerpieces Cinnamon Stick Holiday Candle Place Setting from Alli of Made with HAPPY Metallic Pumpkin Luminaries from Amy of As The Bunny Hops Easy centerpiece that will stun + party favor from Noelle of Oh Happy Play