I saw this recipe over on the Tasty Kitchen Blog. Just by reading the title, I knew I would be making it soon! This quiche is simply divine. The melted brie against the salty, crispy bacon is eggy perfection in a pie crust! The three of us ate half of it for dinner, then for breakfast & lunch the next day.
1 package deep dish pie crust, pre-baked if instructed
4 ounces, weight brie cheese (rind removed if preferred – I left some on)
4 ounces, weight swiss cheese, diced
10 slices bacon, cooked crisp, drained, & crumbled (I like cooking bacon in the oven on a cooling rack over a pan or jelly roll pan, it makes it nice and crispy without a bubbly mess. I do 350 degrees for about 30 min.)
6 whole large eggs
½ cup whipping cream
½ cup sour cream
1 teaspoon worcestershire sauce
1 dash each nutmeg, salt, pepper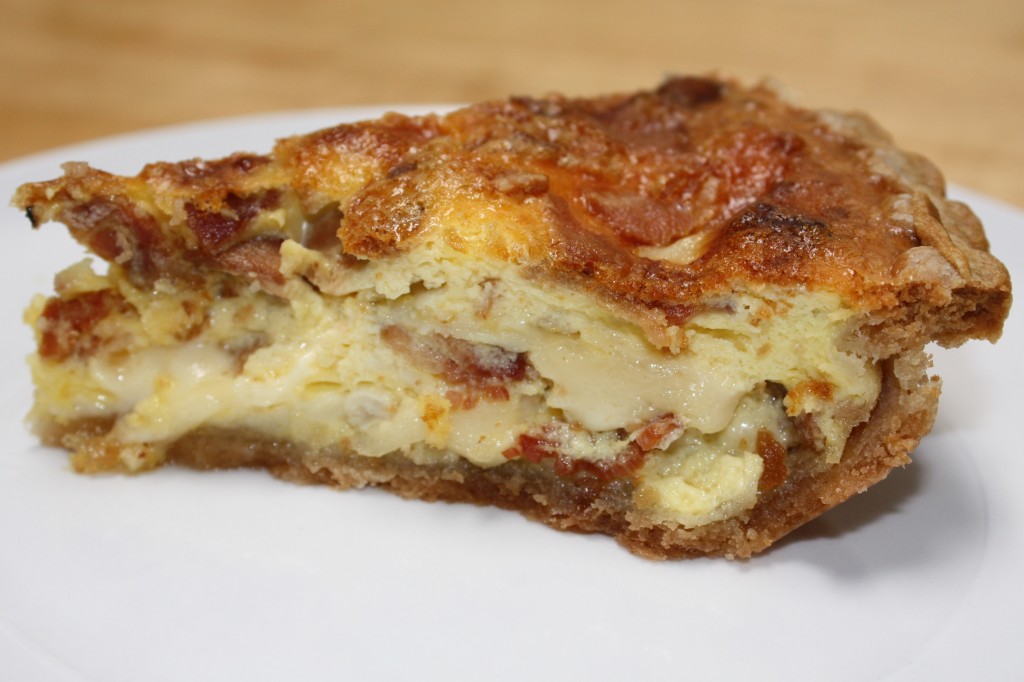 Lay out the sliced brie in the bottom of the pie crust, then sprinkle the swiss over it. Spread crumbled bacon on top. Mix all remaining ingredients thoroughly and pour into the pie pan.
Bake in a preheated 375 degree F oven for about 45 minutes, until a pick inserted in the center comes out clean. Cool slightly before serving.
Just look at that melted brie! Mmm…enjoy!