Last weekend, I attended the 3rd Annual Foodbuzz Food Bloggers Conference in San Francisco. It was SO much fun! I was hesitant to go at first because Lola is only 3 months old, but decided to go. It was hard to be away from my sweet baby girls, but it was definitely worth it. I learned and ate a lot!
The first night, I felt like a freshman going to her first day of high school. Except that I had NO friends to meet up with once I got there! What would everyone be wearing? Here I am with my post-baby body (thank goodness for Spanx), will all of the girls be cuter than me? Will I make friends? Will all of their blogs be better/cuter/nicer/fancier than mine? Will everyone be nice? The answer to all of those questions is YES. But I learned that none of it mattered. And that the food blogging community is a really nice one!
When I finally got up to SF on Friday, registration had ended. So I asked a group of girls sitting nearby, including sweet Caitlin, if I could hang out with them until dinner. They said yes, and it turned out that they were all Foodbuzz employees. They asked where I blog, and I told them here at Kara in the Kitchen. They all said my name sounded familiar, and one girl said she'd used a screenshot of my blog for something. I was in shock, my tiny little blog that I started to organize and share recipes had been noticed?! Ah!
We got on the shuttle and went to the Terra Gallery for dinner. At this point, I had a babysitting crisis. Matt was at work, and my mom wasn't getting into Santa Cruz until 9 PM. Our babysitter had to leave at 7:30 PM. So I was in the bathroom in panic mode trying to get someone to cover for two hours until my mom got there! As I'm in the bathroom staring at my phone, Joy the Baker walks in. I look up and say, "Hi, are you Joy?" She says, "Hi! Yes." And then I say, "The Baker?" She smiled and said, "Yes. Is this your first blogging thing?" (Probably thinking I was hiding out in the bathroom out of fear!) I said yes and she told me I was so pretty. And that we should hang out. Because she's awesome like that. She then hosted the blogger awards and was so funny, just like in her writing. It was so surreal to meet someone in person that I admire and have read. It made it that much better and made me like her that much more that she was so sweet to me! (In case you're wondering, my friend Melissa came to the rescue and watched Ada & Lola for me. She was even on a date with her hubby. She's amazing & I owe her big time!)
I didn't take any pictures at the dinner because I was just trying to soak it all in! We were served appetizers by Sabra and I walked over to a table with two pretty girls standing by it. They were Kelli & Heather. I had so much fun talking with and getting to know them! After eating lots of hummus creations, we were led upstairs for dinner. Everything was so good! Kathleen sat down next to me at the dinner table, and we immediately hit it off. When served a hummus chocolate dessert, I sniffed it and said it smelled like cat food. We both decided to give it a try, and it was terrible. Hummus should never taste like chocolate. Lesson learned: if it smells like cat food, it can only go downhill from there!
The next day were workshops and I got totally lost. My phone was telling me to go to a bus stop that didn't exist, so I asked an old guy on the street how to get where I needed to go. He gave me directions and told me to get on a certain bus, then asked me if I'd marry him. I held up my hand and said I was already married, but thanks for the offer. And the directions. As I'm on the bus, I'm watching the GPS on my phone. I panicked because the little blue dot was going the wrong way! So I got off the bus and had to walk six blocks. On that walk, a man passes me and says, "Heeeeey girl! How you doin? Loo-kin' GOOD!" I just had to walk briskly past and smile the remaining 4 blocks. If you ever need an ego boost, go to the city. The crazies will make you feel A-OK!
Once I got to the classes, I had missed the one I was looking most forward to, taught by Ashley at The Edible Perspective. It was a photography class about getting out of auto mode in your DSLR. She won Best Photography for her blog the night before, so it was only fitting that she teach this class. I ran into her later in the elevator and she said to email her and she'd send me her slides from the class. See what I mean about everyone being so nice? And guess what – she totally followed through! I have learned so much from what she sent me & her tutorials. Thanks Ashley!
After classes, Kathleen, Ali & I shopped in Union Square before the tasting pavilion. When we got to the tasting pavilion, I was amazed by how many vendors there were! Sodas, creme brûlée, cheese, ice cream, seafood, chocolate, fudge, cupcakes, bread, guacamole, lamb, BBQ sauce, steak…the list could go on! I loved these little guys from Ticings. They are like tattoos for your food! 
After eating way too much food, I was walking along and who do I see to my left? The one and only Tyler Florence! And his hair. Pretty sure his hair has magical powers. (I'm trying to convince Matt to style his hair like Ty Flo's, they have similar thick hair. He thinks he'll look skeezy but I disagree)
I hopped in line to meet him but was too late to get one of his cookbooks :( I did score a lovely picture with him though!
He was so sweet and talked about his kids and wife. Thanked me genuinely for being a fan and telling him how much my mom & I love him. And he squeezed my arm. My day was made!
Saturday night we had a gala dinner hosted by Alexia. I was wandering around and saw a table of pretty ladies and walked over and said, "Hi! I'm Kara." They turned out to be some of the sweetest, most hilarious people! I'm so glad I stopped at that table. I was especially excited to meet Elise who is from Santa Cruz too!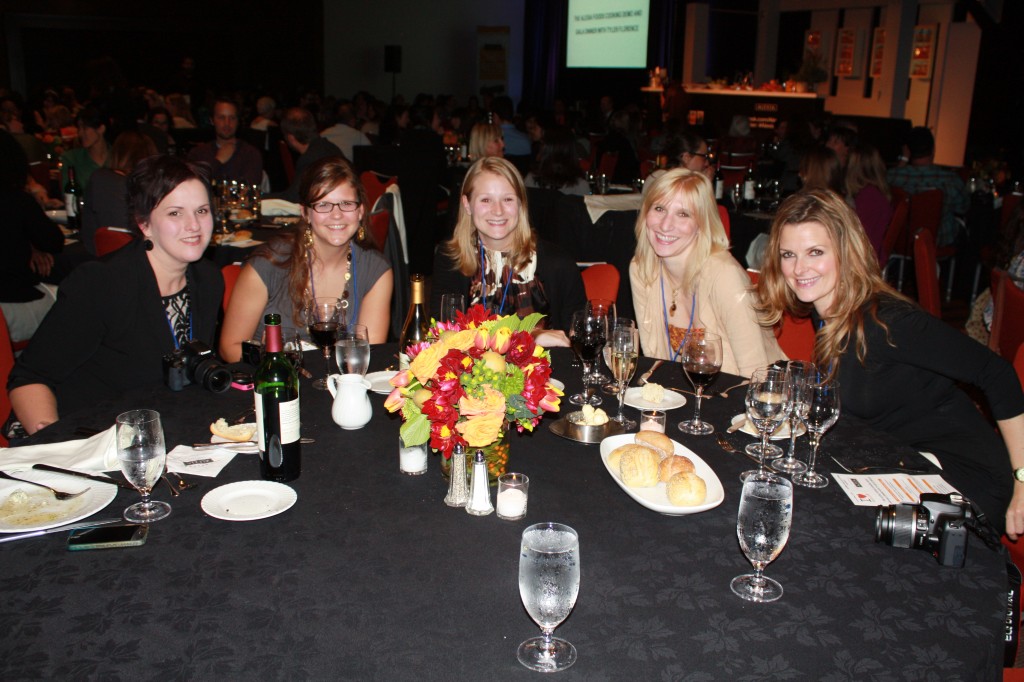 There's Kathleen, Elise, Julia, Melissa, & Melissa.
And me in a shot with them. We laughed so hard about the rock-hard bread pudding, here's a pic of it!
It was a nice dinner, but the best part was Tyler Florence's cooking demo. He is so good at engaging people, even a group of chatty bloggers. As much a food bloggers love to cook, take pictures, and blog…they love to TALK! :)
By the end of dinner I was missing my girls like crazy, so I headed back home. I came upstairs and scooped up my chubby Lola girl and just pushed her squishy cheek against mine. I am so grateful that my mom watched them while I was gone. I learned so much and made some wonderful friends! I'm already planning next year's trip…