This legendary apple cake recipe comes from the fabulous kitchen of Robin Leishman. Seriously, her kitchen is fabulous. Her Kitchen-Aid pops up from under the counter! She is well-known in my hometown for the delicious food that comes out of her kitchen. She's been quoted as saying, "When I open up my heart, food comes out." I feel the same way, if I love you, I cook and bake for you.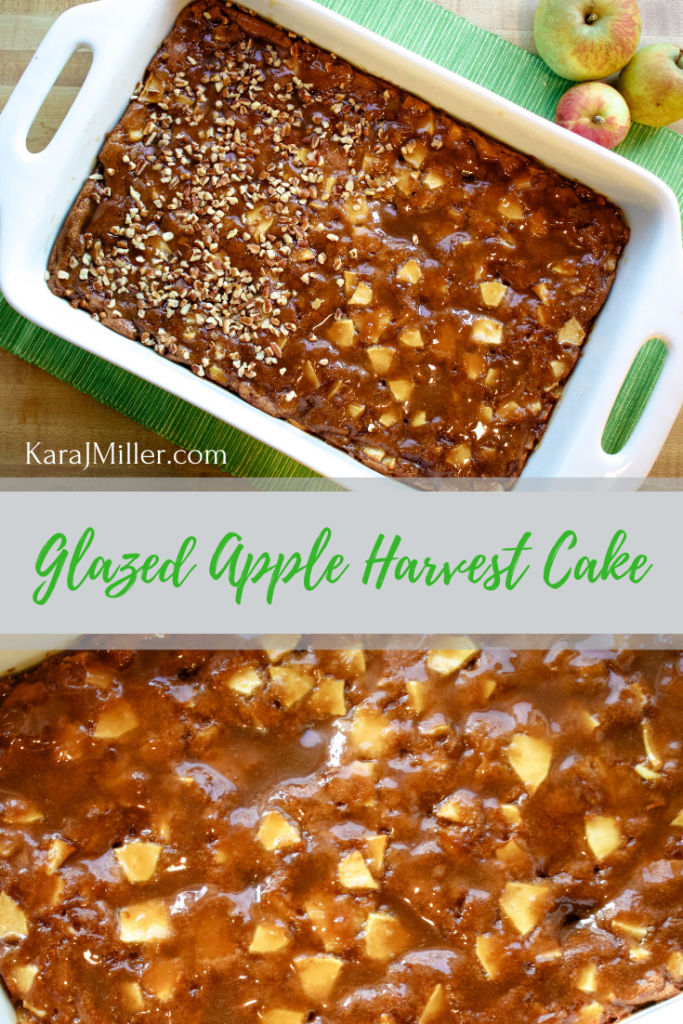 This recipe is like eating a caramel apple in cake form & will make your home smell like heaven! The first time I posted this recipe, we had recently gone to Clearview Orchards in Northern California. I used the fresh Fuji apples we had so much fun picking to make this decadent apple cake. I can't believe how little Ada and Lola were!
Glazed Apple Harvest Cake is made in a 9×13 pan, so it makes it easier on the baker. You don't have to worry about layers or turning a cake out of a pan! I make half with nuts and half without, as you can see above. If you are doing the same, just make sure that you pour the glaze on before sprinkling the nuts on.
Glazed Apple Harvest Cake
Total Time
1
hour
15
minutes
Ingredients
1 1/2

c.

sugar

1/2

c.

unsalted butter

room temperature

1

teaspoon

vanilla

1/2

teaspoon

salt

2

eggs

room temperature

1 1/2

c.

flour

1

teaspoon

cinnamon

1

teaspoon

baking soda

1

teaspoon

baking powder

4

c.

finely chopped sweet-tart apples

For the glaze:

1/3

c.

unsalted butter

3/4

c.

brown sugar

1/4

teaspoon

salt

3

Tablespoons

milk

1

teaspoon

vanilla
Instructions
Cream first 5 ingredients in large bowl with electric mixer or stand-up mixer. In a separate bowl, combine flour, cinnamon, baking soda, and baking powder. At low speed, add dry ingredients to creamed mixture. Fold in chopped apples.

Spray a 9x13 baking pan. Spread mixture in pan and bake 350 degrees for 45 minutes (my oven tends to cook things very quickly and only took 35 minutes). Remove from oven and put on a cooling rack. Immediately top with 1/2 c. finely chopped walnuts or pecans (optional).

To make the glaze, bring to boil all ingredients except for vanilla. Once everything comes to a boil, turn down heat so it doesn't boil over. Cook for one minute then stir in vanilla.

Kara's note: if you only want nuts on half of the cake - put the glaze on first and then sprinkle the nuts on top. Otherwise, the glaze will carry them to the other side and non-nut eating people will be sad. Trust me on this one, I learned from experience once before!

Then add glaze & let cool.
Try to keep little fingers out of it, Ada wanted to dive right in!
I hope you love this cake as much as we do, it's a staple in our family every fall! I'd love to hear if you make it. Please share and enjoy!
Need ideas about what to do with your kids this fall? Check out my post here: Things to do with Kids on the Central Coast this Fall