This Lemon Butter Salmon recipe is the easiest way to cook salmon! You can use thawed frozen filets or a full fresh fish. Layer sliced lemons, salmon, butter, salt and pepper on a baking sheet lined with aluminum foil. Wrap up and bake in the oven. That's it! You are done and you've made a delicious meal the entire family will love.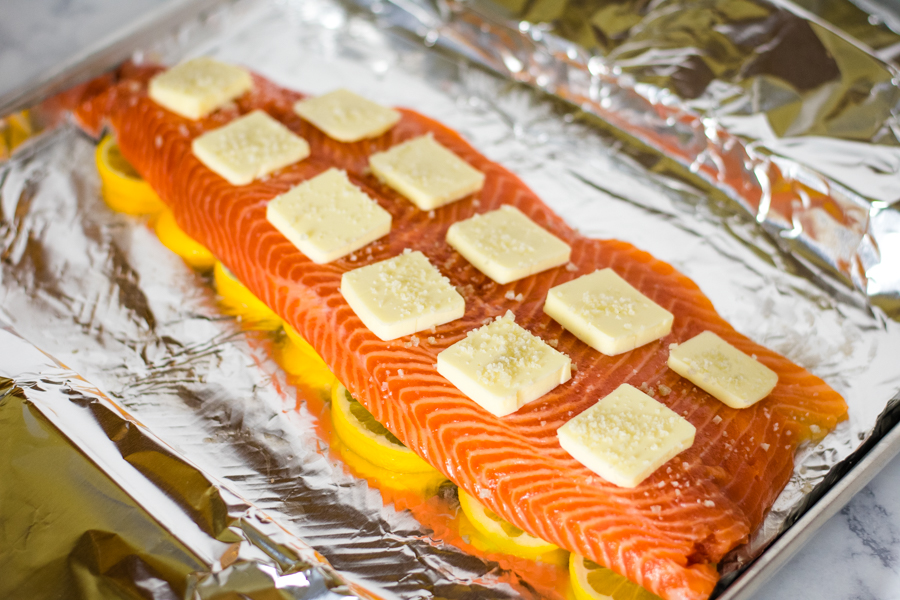 If you really want to take this Lemon Butter Salmon to the next level, use sea salt! It gives such a great flavor and texture with a slight crunch that is incredible. I bought bags of this brand of sea salt (pictured) when Matt and I went to Paris in 2012 and it brings the best flavor to every dish.
I found this recipe on Pinterest years ago and thought it looked so easy that I decided to make it for our friends. They had children ages four through eight and they all gobbled it up. My girls did too, and they were three and one at the time! They continue to love this Lemon Butter Salmon recipe and I make it regularly.
You can serve the salmon over brown rice, with a green salad, and rolls. I made these dinner rolls with it and they are perfect. I have since made this Lemon Butter Salmon many times over the years. It is such an easy, crowd-pleasing dinner!
Just for old time's sake and to see how far I've come in my photography, look at the old original photos below! Hooray for progress, right?
Lemon Butter Salmon
Ingredients
3

lemons

sliced

1/2

cup

butter

sliced into half Tablespoon pats

6

fillets of salmon

Salt

Freshly ground pepper
Instructions
Preheat oven to 350 degrees. On a rimmed baking sheet, line heavy duty tin foil with enough overlapping to make a pouch. Lay lemon slices down, then top with salmon. Place pats of butter on top, then season with salt and pepper. Lift foil up and fold tightly to make a nice little cooking bag. Bake for 25 minutes, or until cooked to your liking. Enjoy!