This post is sponsored by P&G. Save on NEW Gain Flings and Tide Pods at Target. Text CLEAN to Target (827438) for mobile coupons*.
When I was growing up, Saturday was our day for chores. We would usually have a soccer game in the morning, then we'd have to come home and clean our bathroom, change our sheets, and take care of our responsibilities before we could go play with our friends. Now that I have my own household, Saturdays are a day that I want to spend with my family because Matt is off work. And I'd prefer to not spend it doing housework, although sometimes it has to happen that way.
I know that on most days, I feel like it is 4 against 1. I am the one trying to keep the house clean, and there's a husband, a 4-year-old, a 2 1/2-year-old, and a puppy that are all trying to do the exact opposite! Through trial and error, I have found that a little bit of work every day goes a long way for my sanity and my home. I have put into my phone calendar recurring events that need to happen each day of the week in order for my house to stay clean. It looks like this, but you can adjust it to your needs:
Monday: Bathrooms (I figure Monday is blah anyway, so why not get the worst one done and over with)
Tuesday: Dust
Wednesday: Sweep
Thursday: Mop
Friday: Catch up day (because nobody is perfect and I usually end up skipping a day for whatever reason)
Saturday: Wash sheets & towels
These chores are in addition to everything else that comes with life. Just because Wednesday is sweep day doesn't mean that I don't have to sweep any other day of the week. I just know that if I stay on top of these things, my house looks better and that I don't have to clean as much each week. I try (emphasis on try here) to do a load of laundry each day from start to finish. For me, washing and drying is easy. It's the folding and putting away that kill me! Clean clothes sit in baskets way longer than I care to admit. P&G, when are you going to send me a cute little pod that folds my clothes? ;)
Tide Pods have been around for a while, and I love them. Now, there are Gain Flings too! I guess Gain laundry detergent has a huge following called Gainiacs! Ha! I never understood it until I used a Gain Fling on my Ada & Lola's blankets and they both snuggled up with them and said they smelled like grape lollipops. (They're both looking at Maverick in this pic) :)
Husbands love them too:
They are so small and fun! I love that there's no mess, and that they are so easy to toss in the washer. You can find them at Target.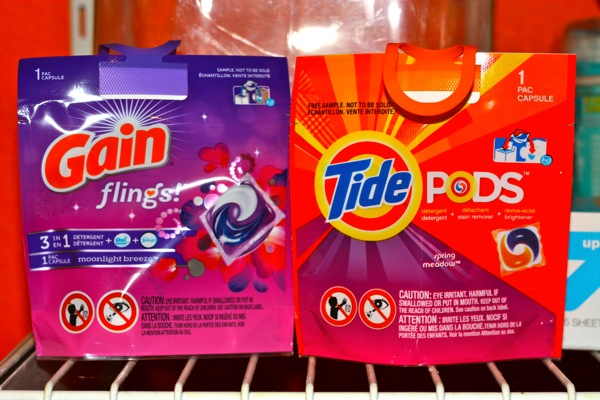 For me, doing little things every day goes a long way. Not just with my laundry, but in all areas of my life!
What little things do you do to help life go smoothly?
*Message and data rates may apply. 1 message per request. http://m.target.com/spot/sms/coupon-alrts-terms for Terms, Conditions, and Privacy Policy. By texting the key word to us, you agree to receive an autodialed text message from Target at the mobile number from which you sent your request. Consent to receive messages is not a condition of purchase.