In light of Valentine's Day, I thought I would share the story of how Matt & I became Mr. & Mrs. Miller!
Matt and I grew up 30 minutes away from each other but didn't officially meet until we were 19. A Singles Ward was started in our area, and after it was announced, all of us went to go mingle on the front lawn of the Chapel. My group of friends saw two handsome young men that we'd never met before, so they said, "Kara, go say hi to them!" I walked up to he and his friend and introduced myself and all of my friends. They were both named Matt! My Matt said he had his cool thrift store shoes on that he could moonwalk really well in and then proceeded to demonstrate on the front lawn! I died laughing and knew that I had to be friends with this hilarious kid. He went home that day and told his parents that he met the girl he was going to marry! This is a picture Sister Niedens took of that day: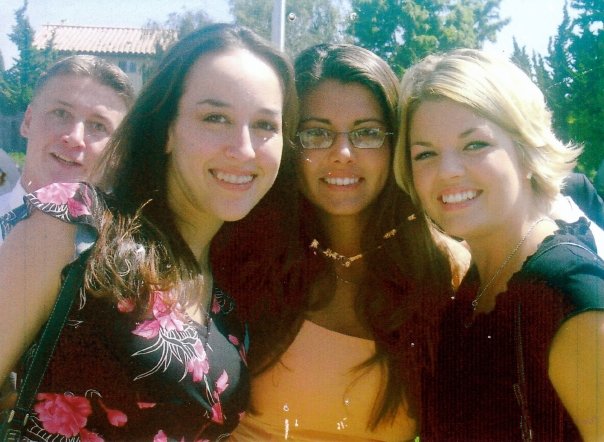 Matt, Julia, Tiana, and I
We met up again at a bonfire activity on the beach (Port San Luis) where he was playing Sweet Home Alabama on his guitar and I was singing and dancing around with him. The next day, my sister and friends were all saying how similar we were and what a cute couple we would be. It hadn't really occurred to me to like him as more than a friend because he was going on a mission soon!
Matt called me one night after the bonfire to see what I was doing, and I had just given blood. The technician poked through my vein and my whole arm was purple. I told him through tears that I was in pain and traumatized and he said, "Oh, you just need a hug! I'm going to come give you a big hug." My mom and I were very impressed that this sweet boy would drive half an hour to come comfort me and give me a hug :) He showed up, hugged me, and took me to 7-11 for hot chocolate. We count this as our first date; such a classy, romantic one! We snuggled on the couch and watched a movie, and he just held me in his arms. It was perfect. I looked up to ask him if he wanted something to drink, and he planted one on me! It was the BEST kiss I had ever had!
We had lots of mutual friends, and he remembers saying hi to me and me being really nice at Youth Conference when we were younger. At a church dance when we were 16, his band played. My sister said, "I call the lead singer!" And I said, "I call the drummer, he's hot!" Turns out, that hot drummer was my husband! We realized this when we finally met and were dating. I dug up an old picture (below) and sure enough, there he was on drums!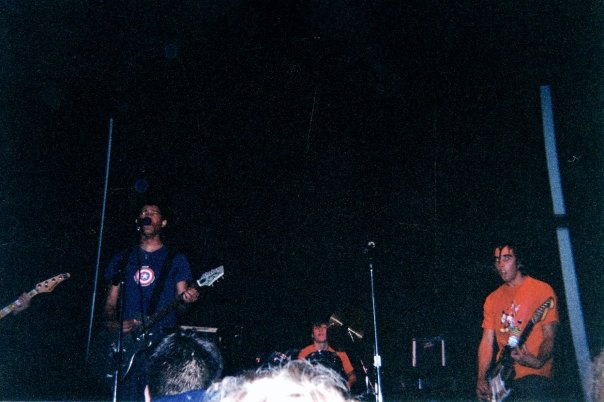 We dated for three months, fell in love, and then he went to France for two years to serve a mission for our church. He said that he didn't want me to wait for him for fear of me resenting him later, and to have fun and date around. And date around I did :) At one point, I was almost engaged to another guy. I Dear Johned my husband and the letter he wrote back to me made me fall in love with him even more. I still can't read that letter without crying! He was not bitter or hateful at all. He said that he was happy that he had met me so that he knew what kind of woman he wanted to be with forever. He said that he hoped we could pass each other on the street later on and smile, being genuinely happy for one another and knowing that it was meant to be. The relationship with the other guy fell apart, and I thought I had ruined everything with Matt. I wrote him back, apologizing, begging him to take me back. He did :)
Side note: My mom saw a picture of Matt & I in my room when I was away at college and he was on his mission. She had the strongest feeling that we would end up together. So when all of this was going down she was so confused! Turns out her mothers' intuition was right on.
We continued to write letters back and forth for the rest of his mission. We have boxes of letters!
Finally two years had passed and it was time for him to come home! I was so nervous to go and see him for the first time. I had the air conditioning pointed at my armpits the whole drive because I was sweating like crazy!! The second we saw each other our hearts leapt out of our chests and we knew we were meant to be together. I kept touching him to make sure he was real. He kept saying how good I looked. He proposed one month later and we were married 5 months after that in the Los Angeles Temple. One of the best decisions of my life :)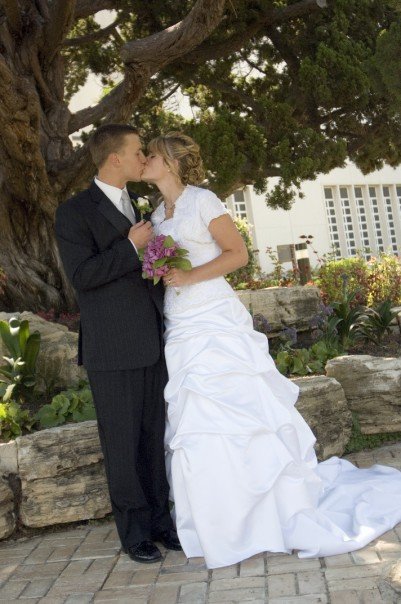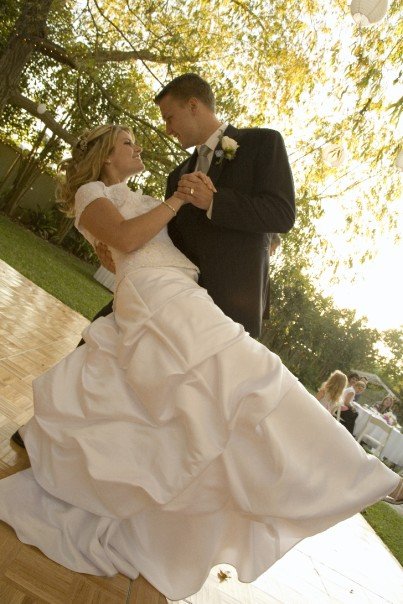 Matt proposed 9 years ago on the 16th of this month and we have been married for 8 1/2 years now. Multiple jobs, two degrees, four moves, and two daughters later – I fall deeper in love with him every day!
ETA: I had the years wrong! 9 instead of 8 and 8 1/2 instead of 7 1/2 :)
How did you meet your husband or wife?