Matt signed me up to make a treat for a church meeting (he knows I love this stuff) :) When he told me, I said, "Would cinnamon rolls be good?" He said, "That's what I thought and someone else said at the meeting!" So, cinnamon rolls were meant to be.
This was actually my first time making them! Crazy, right? I've made my Nana's Christmas Bread which is like a cinnamon bread braid loaf, but never rolls before. Ever since I saw these in my Pioneer Woman Cooks Cookbook, I've wanted to make them. My friends the Hammetts have raved about them and now I know why!
Start with a floured surface and your basic dough…
Roll it out nice and evenly (I always have trouble making it a perfect square or circle).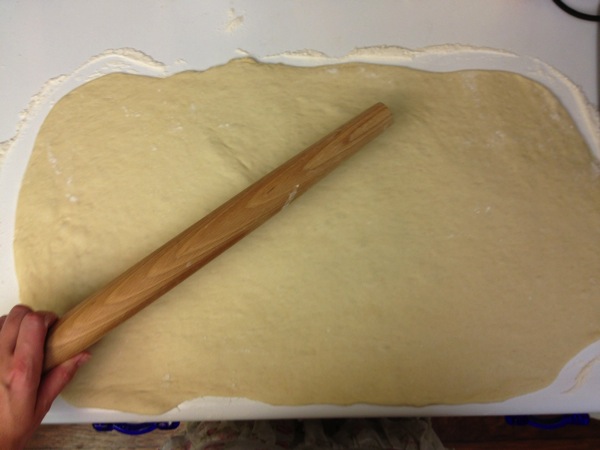 Spread that melted butter on…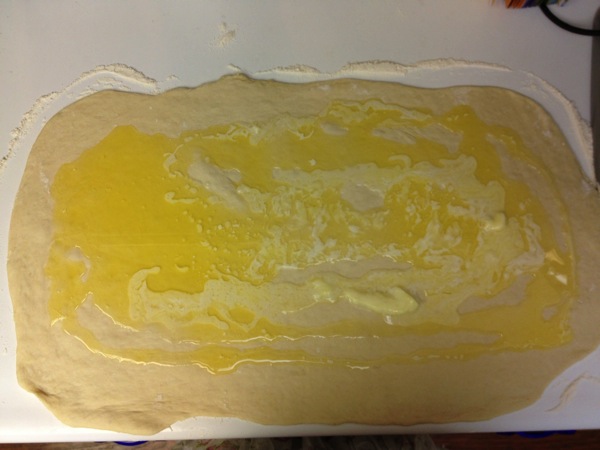 Sprinkle on your cinnamon sugar…PW doesn't say to spread it, but I just had to. There's nothing worse than biting into a huge chunk of cinnamon that has no sugar accompanying it. Mix it up!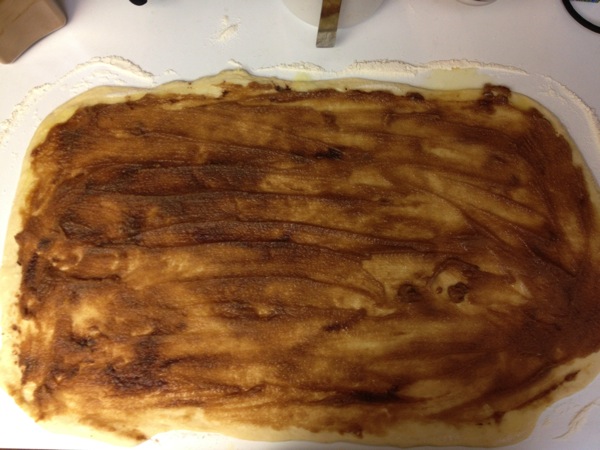 Roll it up as tightly as possible…my first attempt was much better than my second.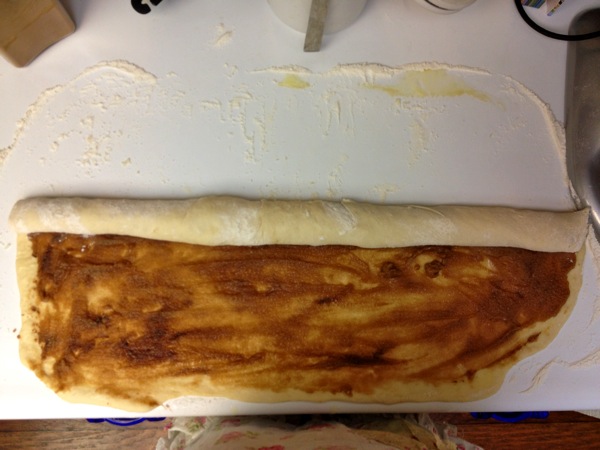 Check out your log…then slice it! I used unwaxed & unflavored dental floss. Worked like a charm. Who says that?!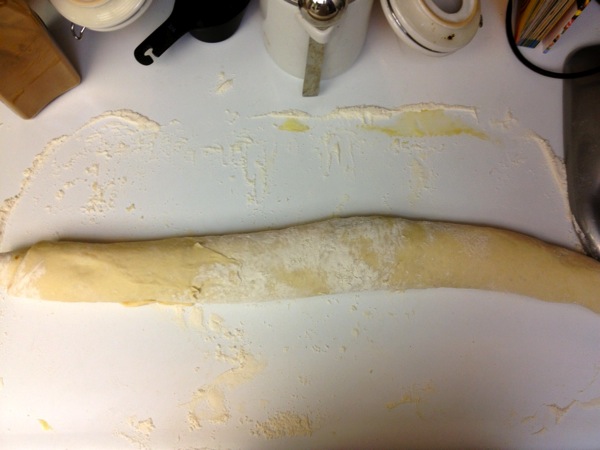 Look how pretty they are! Let 'em rise…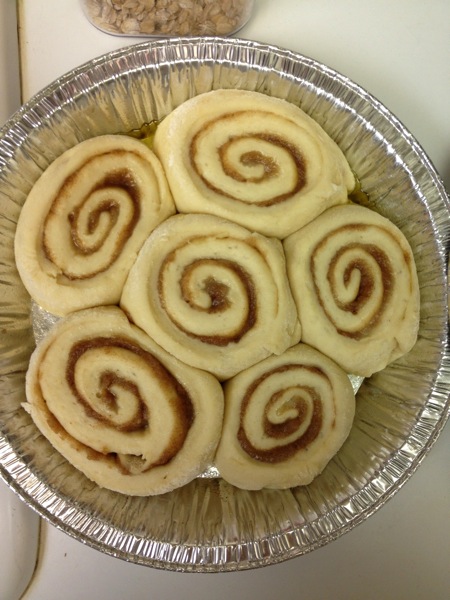 Bake and make your icing. My whisk was dirty so I used the girls' giraffe whisk :)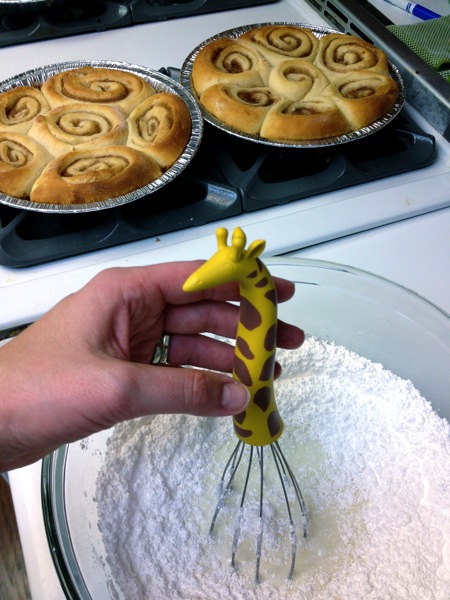 Add some maple flavoring…mmm!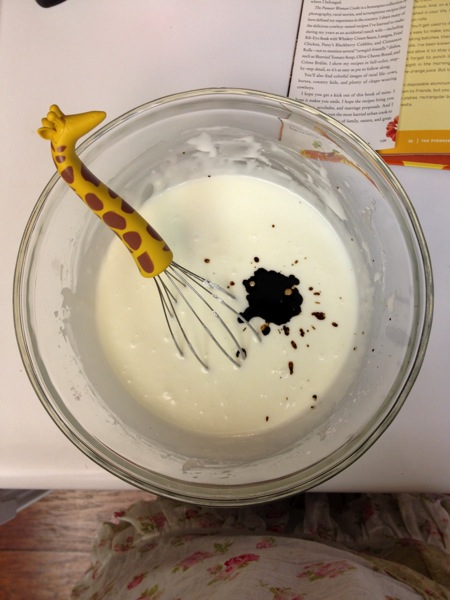 Pour it on top! Oops, I got a little crazy with the icing…got some on the tea kettle!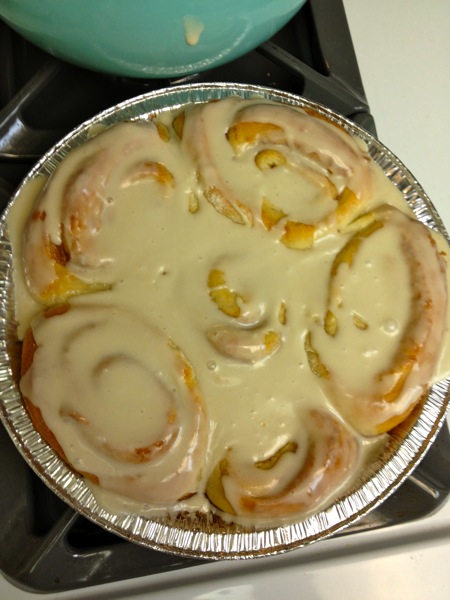 ENJOY!! :)
Pioneer Woman's Cinnamon Rolls
Ingredients
Dough:

1

quart

milk

1

cup

vegetable oil

1

cup

sugar

2

packages

4 1/2 teaspoons active dry yeast

9

cups

all-purpose flour

1

heaping teaspoon baking powder

1

scant teaspoon baking soda

1

Tablespoon

salt

Filling:

2

cups

melted butter

1/4

cup

ground cinnamon

2

cups

granulated sugar

Maple Icing:

2

pounds

powdered sugar

3/4

cup

whole milk

6

Tablespoons

butter

melted

Dash of salt

1

Tablespoon

maple flavoring
Instructions
In a medium saucepan, heat the milk, vegetable oil, and sugar over medium heat. Stir until warm but don't let boil. Set aside to cool to lukewarm.

Sprinkle the yeast on top of the milk mixture, letting sit for 1 minute.

Add 8 cups of the flour, stirring just until combined. Cover with a towel and let rise in a warm place for 1 hour.

Take the towel off, adding the baking powder, baking soda, salt, and 1 cup flour. Mix thoroughly.

Split the dough in half. Flour your work surface and turn out one half of the dough, rolling into a rectangle about 30 x 10 inches.

Pour one cup of the melted butter on the rectangle of dough, spreading liberally to cover.

Sprinkle half of the cinnamon and one cup of the sugar over the buttered dough. Spread and mix with a spatula.

Beginning at the edge farthest from you, start rolling the dough towards you. Work slowly, keeping it as tight as possible.

When it is completely rolled, pinch the dough together, forming a seam.

Slide unwaxed, unflavored floss underneath the dough log to slice. You will get about 20-25 rolls from each log.

Spray pans with cooking spray and place sliced rolls inside, making sure not to overcrowd.

Repeat the process with the second half of dough.

Preheat the oven to 375 degrees.

Cover all of the pans with kitchen towels and let rise for about 20 minutes before baking them.

Remove towels and bake for 13-17 minutes, until golden brown. I cooked mine a little longer to ensure all of the dough was cooked through.

While the rolls are baking, make the icing.

In a large bowl, whisk the powdered sugar, milk, butter, and salt. Add the maple flavoring and whisk until the icing is smooth.

Once the rolls come out of the oven, drizzle with icing while they are still warm.