I was SO excited to run the Santa Barbara Wine Country Half Marathon for the second time this year! Find my first recap here, and 6 reasons you should run it here.
The best part was that it was Matt's very first half marathon! It was so fun to run it with him. I told him he would be hooked after running it and he is. He said, "We have to run this every year!"
The only problem was that I hurt my back. We moved on May 1st and all of the packing, bending, lifting, and cleaning, led to me throwing out my lower back when I picked up Lola on Tuesday. Went to my chiropractor and told him, "So, I'm running a half marathon this Saturday…" and he's like, "You mean you hope you're running! As long as you don't lift a box or a daughter the wrong way again!" So needless to say, I was in pain the whole race but still ran it. Much slower than I'd hoped to (2:50), but we finished together!
Packet pickup was in Solvang at the Expo on Friday. We saw the finish line all set up and couldn't wait to cross it the next morning!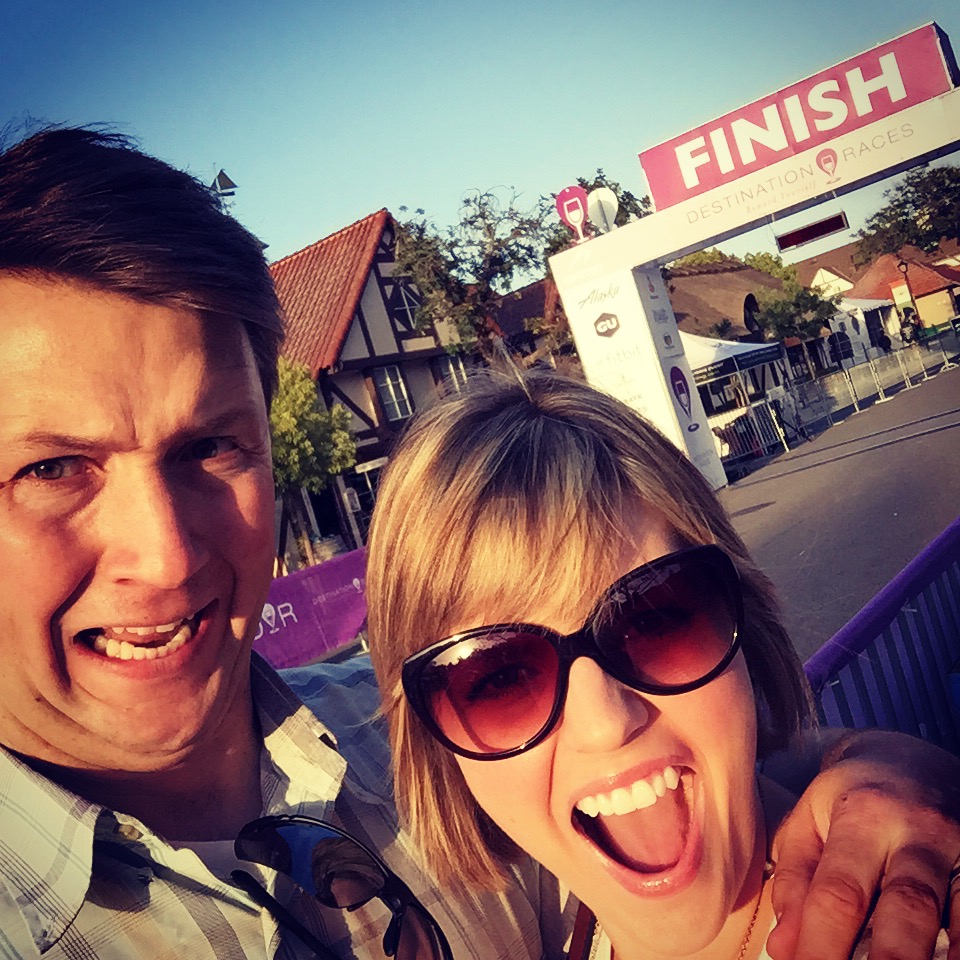 I tried on the most comfortable shoes: Newtons. They were so bouncy and maybe when my current shoes wear out I'll get a pair of them :)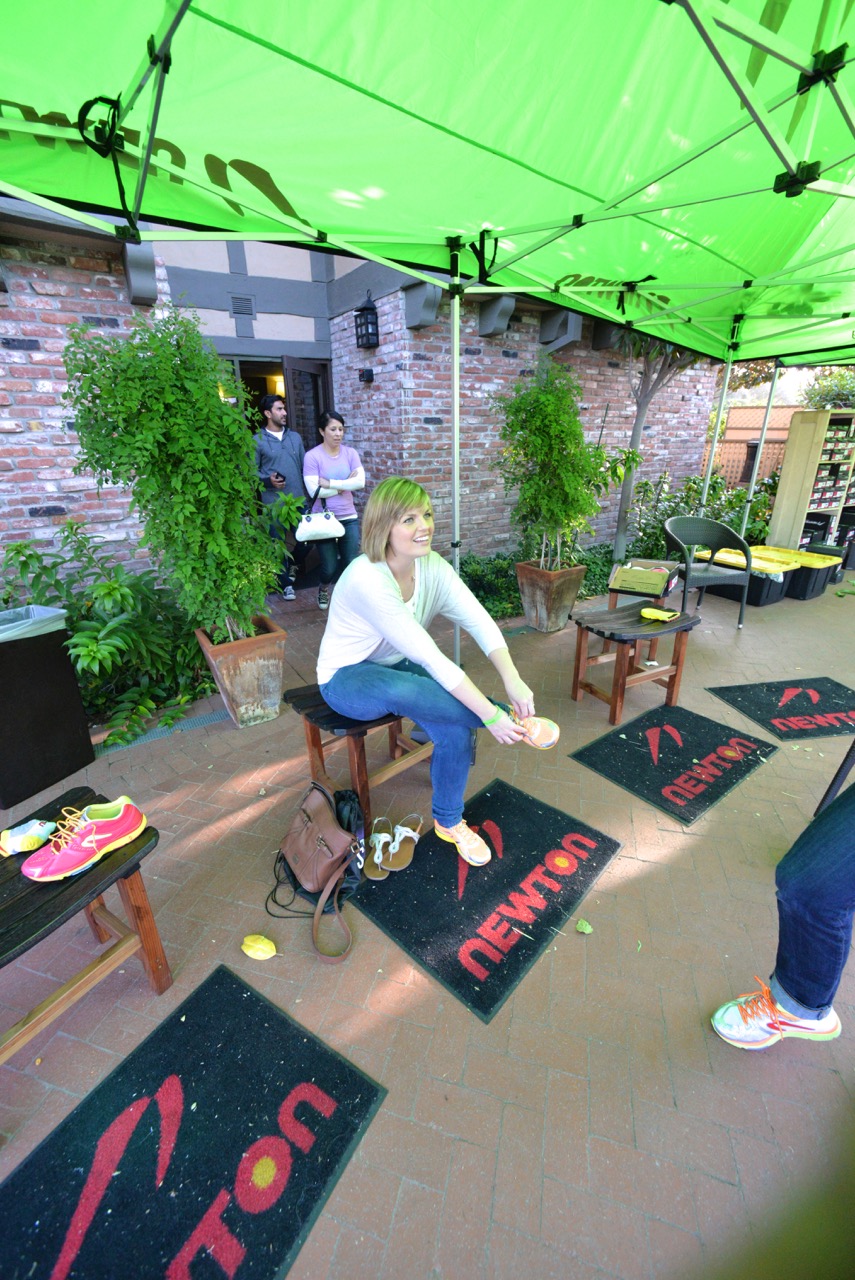 Alaska Airlines was a sponsor and did free name engraving on luggage tags for everyone. We also entered to win a trip…still crossing my fingers!
I LOVE the shirts this year! Super soft and light. And how cute is the race bib? They took one of my grapes in exchange for my shirt. The timing chip was built into the back of it; read: no clunky chip to tie to your shoe! Technology is awesome.
Race morning! Kandie drove us (THANK YOU!!) and we were there bright and early, ready to run! Check out Destination Races' sweet new start structure:
The overcast weather could not have been more perfect for running! Matt was mad that he even bothered bringing his sunglasses. Mine were so light that I didn't mind them on my head the whole time.
The course did not disappoint! The gorgeous vineyards, lavender fields, beautiful homes, rolling hills…
Then ending with the finish line in Solvang. Look at the windmill in our finish pic that Kandie took!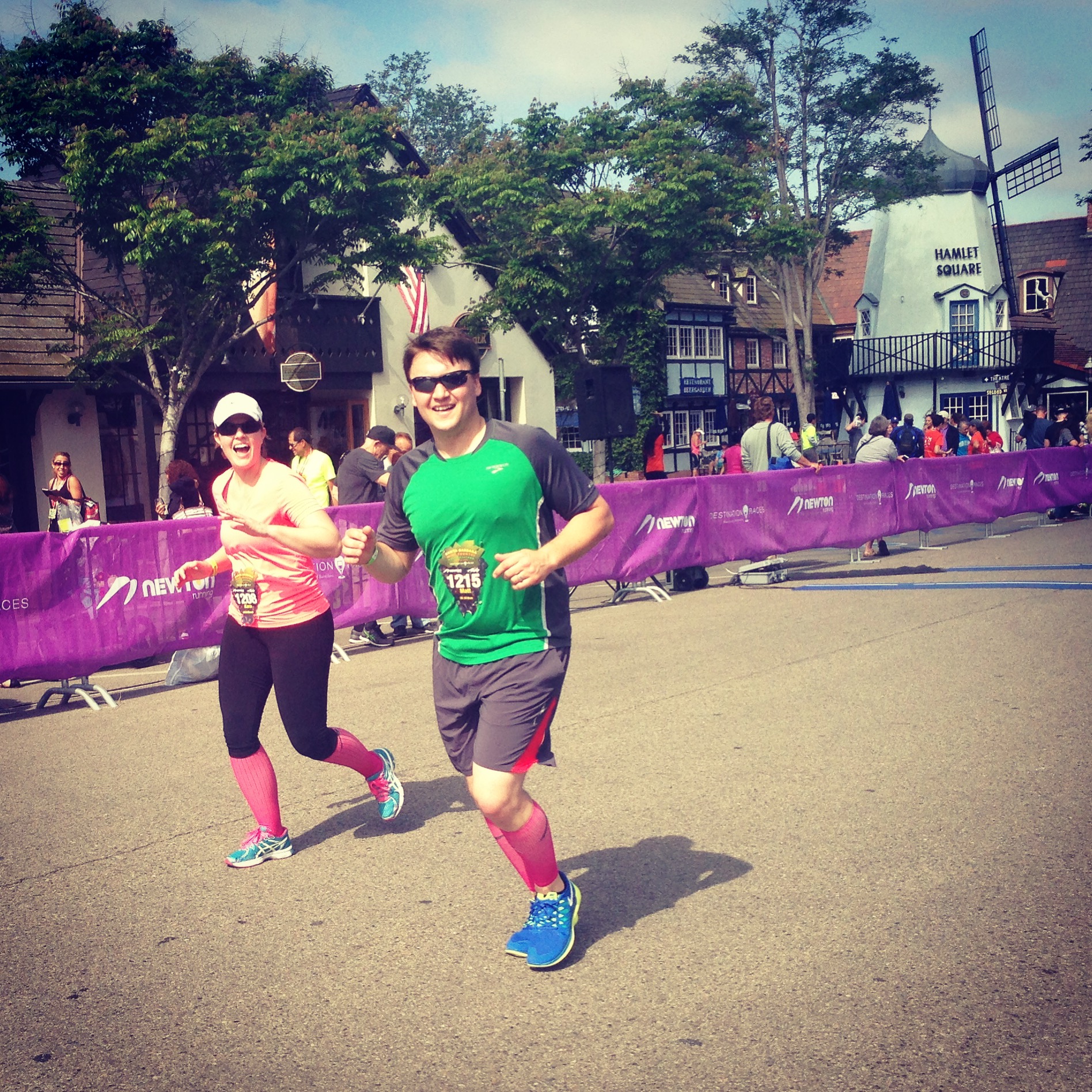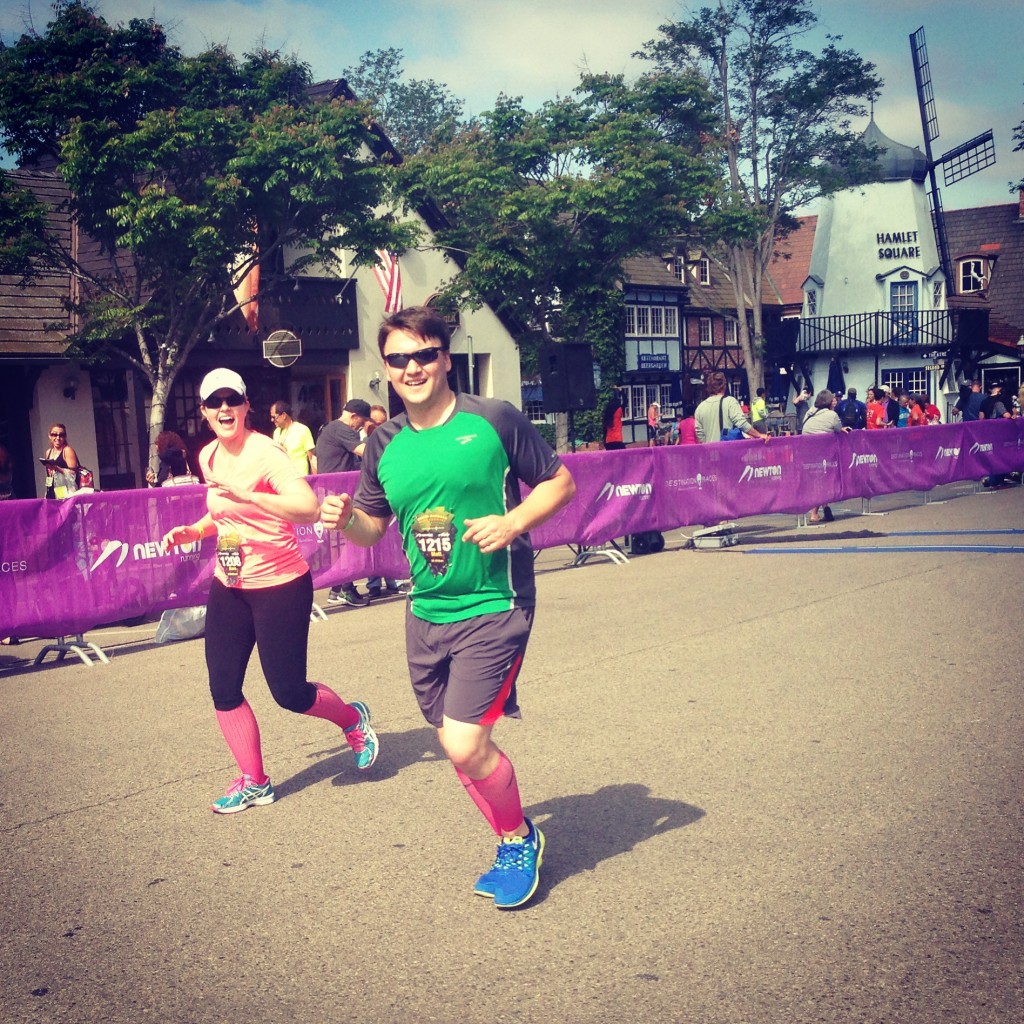 At the finish line where my mom met us with the girls! They were happy to wear our medals until they got too heavy…a good problem to have ;)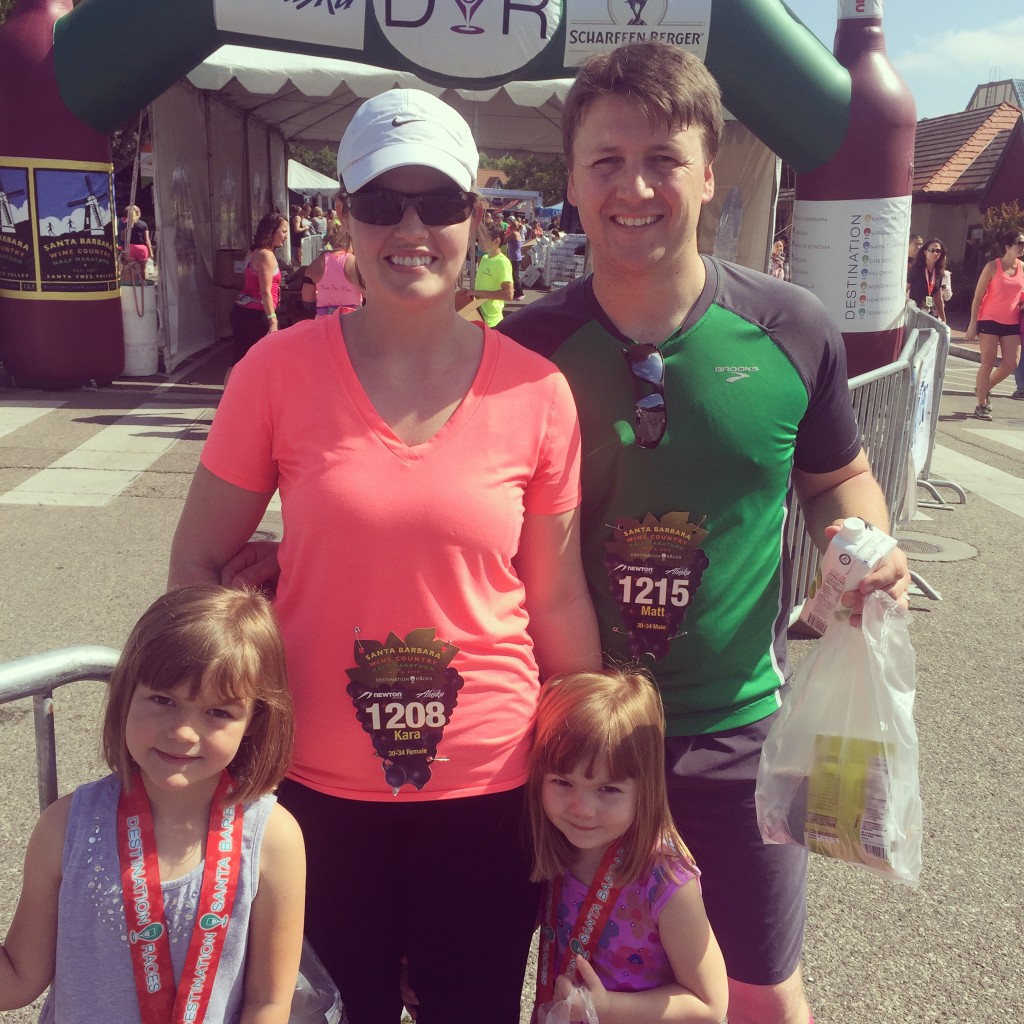 We got to the VIP area after being measured for our SOLS (more on those later!), and the food tasted incredible! The sun came out just as we finished the race, it was perfect.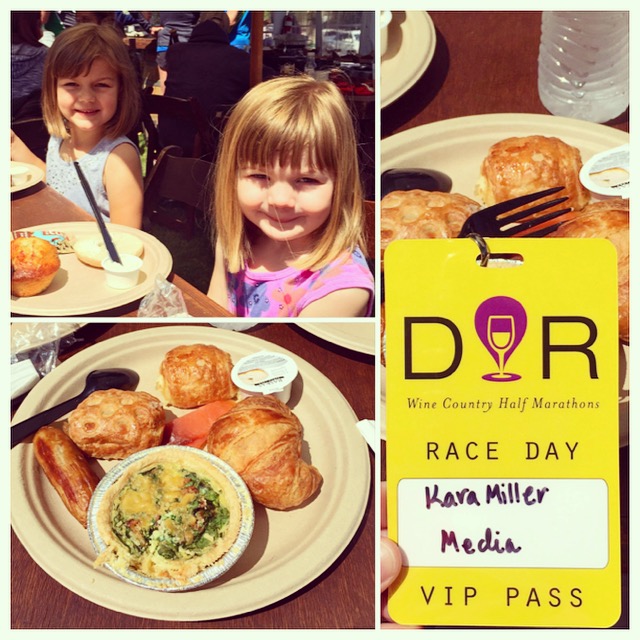 Bottom line: I'd do it again in a heartbeat. Hopefully on a weekend where I haven't moved the week before :) Thank you, Destination Races, for putting on such a great event right in my back yard!
I was provided with two discounted race entries. As always, all opinions are 100% mine!