My mom and I went up to Gilroy & San Jose for a little getaway & shopping trip last month. It was awesome! Look at us in our new stripes & skinny jeans :) We definitely have the same taste when it comes to style!
It's weird being away from the children that you are accustomed to being with 24/7. I yearn for quiet when I'm with them. Then when I have it – it feels awkward. But nice! When we ate out at Cheesecake Factory, my mom & I both said how quiet it was compared to when we've been there before with both girls!
Marc texted me this pic of Ada putting on her shades after he and Matt had gone surfing :) 
And Matt sent me this picture of the girls visiting Nana & Bobba :) 
The second night I was gone, Ada called in tears saying that she wanted me. It broke my heart! I welled up in Macy's and just wanted to be there to hold her. I told her to go sleep with Mommy's pillow and that I'd come snuggle her when I got home in a couple of hours. That made her happy :)
I got these adorable flats at Nordstrom Rack – the best! I also found a pair of Brooks PureConnects that felt like clouds on my feet…but they were too big :(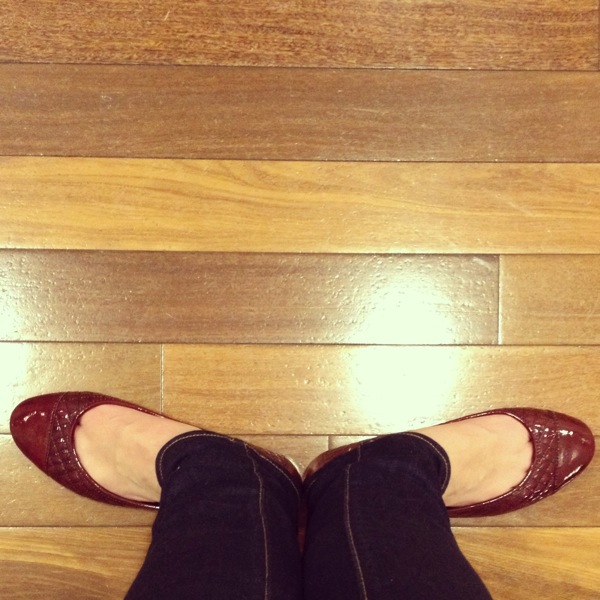 I came home to my babies and was a much better mother. I need to remember to schedule away time because I come back refreshed and recharged. It's about time for another break. Girls' night anyone?? :)
I'll leave you with this: Ada as a fairy. My mom got the girls these dress up clothes for Christmas and they've been loving them! Ada's poses crack me up. She loves all things girly!