This post contains affiliate links which give me a small commission at no extra cost to you. Thank you for supporting Kara in the Kitchen!
I consider myself a travel pro. Growing up the daughter of an airline pilot, I know the travel drill. I have been blessed to see many places on this beautiful earth and am so grateful for the opportunities I've had. It's not all glamorous though; I've slept on airport floors and brushed my teeth in airport bathrooms many times! Flying standby means you never know if you're going to make your flight or not. Over the years of traveling, I have trained myself to fall asleep anywhere – especially on airplanes. In my opinion, these are the three items you need to fall asleep on an airplane. You might feel and look ridiculous, but who cares if you get some shut-eye in?
I have tried many travel pillows over the years, and this one is my favorite! It supports your neck and head so that you don't wake up with your mouth open or with your head bobbing forward. It wraps around your neck like a scarf and attaches with light velcro. It feels a bit silly putting on, but it's worth it for the sake of sleep. You can put it on either side of your face too!
You can use any old ear plugs you have. But I am highly sensitive to sound and these are my favorite. I wear them at conferences, concerts, parties, air shows, and anywhere I know there are bound to be high levels of sound. Sound is a migraine trigger for me and these have helped tremendously! They are clear and hardly noticeable especially if you have long hair. You can still hear voices and carry conversations, but they block out the piercing, booming sounds. I love the little silver carrying case and keep it in my purse all of the time.
These eye masks are great for blocking out all of the light. I have one just like this and I think it's the best sleep mask for travel. It's great if you have mascara on because it doesn't smash your eye lashes down. A must in case the guy in the window seat decides he wants the window shade up!
Me, after two hours of sleep and a three hour drive to LAX. No makeup and ready to sleep all the way to Florida!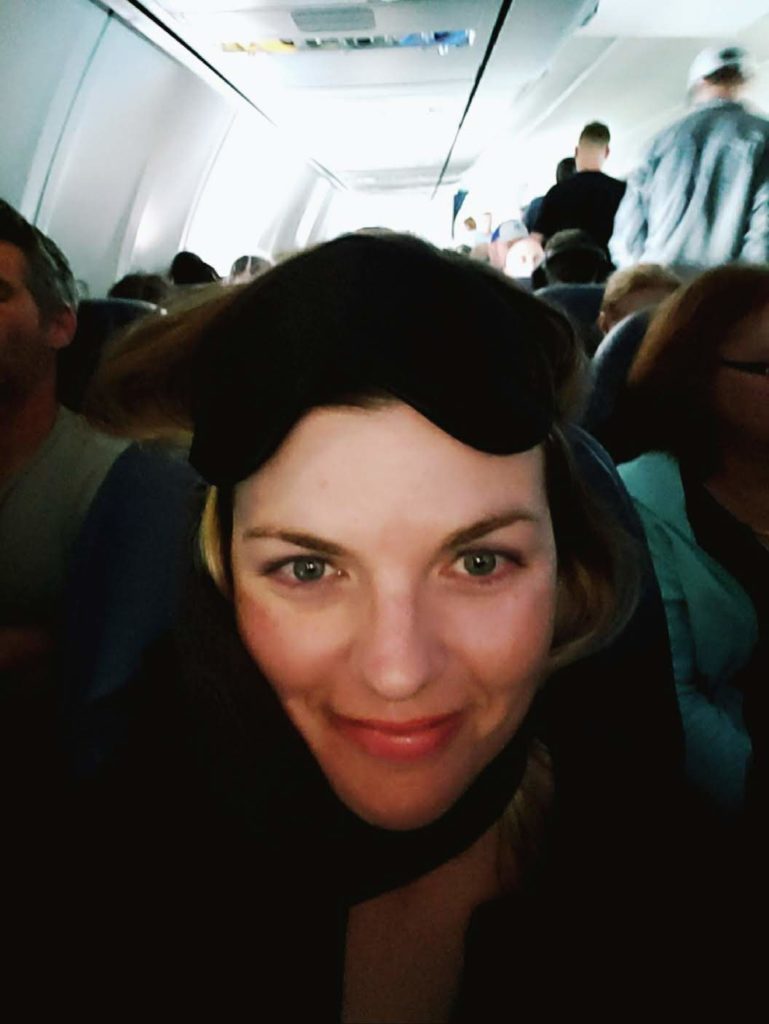 I hope these three standbys of mine will help you on your next adventure! Please let me know if they do, or which items you use to help you sleep on an airplane.