Letter Board Quotes
In early December, I was trying to think of a quote to put on my letter board for the Christmas season. My mind kept going to, "Ho Ho Ho and a bottle of rum!" What?! That isn't even how the song goes! And I don't drink alcohol! Moving on.
I'd seen cute letter board quotes around like "Deck Yourself Before you Wreck Yourself" but didn't want to copy my cousin.
Christmas Music
Where better to turn than to the church Hymn book? Music speaks to my soul, especially Christmas music! One of my favorite Christmas songs is hymn number 214, "I Heard the Bells on Christmas Day." I settled on the chorus of the final verse, "A voice, a chime, a chant sublime of peace on Earth, good will to men!"
Here's what it looks like on the wall, with my beautiful watercolor print of the Los Angeles Temple. My sister gave it to me, her friend Dionne painted it for her wedding invitations.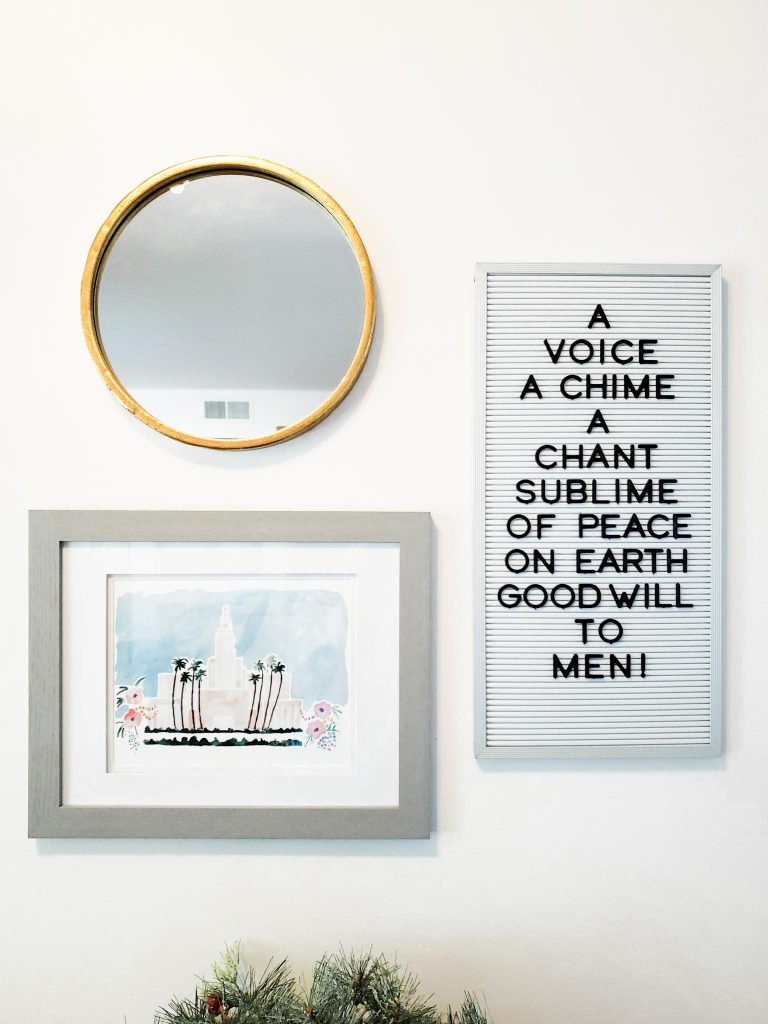 I Heard the Bells on Christmas Day
While putting the lights on the Christmas tree, I asked Google to play, "I Heard the Bells on Christmas Day". The video below is what played over the speakers. Give it a watch if you want to hear the story of Henry Wadsworth Longfellow's life and what inspired him to write the song, narrated perfectly by Edward K. Herrmann:
I couldn't hold back the tears as I heard the story behind the man who penned such moving words! Once it was over, I called Matt into the room and had him listen to it too. We were both in tears. Henry had such a hard life and found hope through our Savior!
I hope this message resonates with you as well. I'm so grateful for the Christmas season and the hope, love, and warmth it brings to our hearts because of Jesus Christ's birth. I want to try and keep that feeling all year long!
Looking for some Christmas sweets to make? Try some of my favorites!