This post is brought to you by OXO! I was given product to use for my Thanksgiving feast from a brand I adore. Thank you, OXO!
The past three times we have cooked a turkey, we have used Alton Brown's recipe. It calls for brining the bird and then roasting it. Every time, we have been blown away by how juicy and delicious it is! A necessary tool for cooking a turkey to perfection is a meat thermometer. This came in handy since he-who-shall-not-be-named left our other digital thermometer outside on the barbecue pit ;)
OXO's Instant Read Thermometer provides quick and accurate temperature readings for cooked meat. The rotating and pivoting head allows you to read the temperature from any angle. A turkey should be cooked to 165 degrees Fahrenheit, so this bird was not quite ready yet.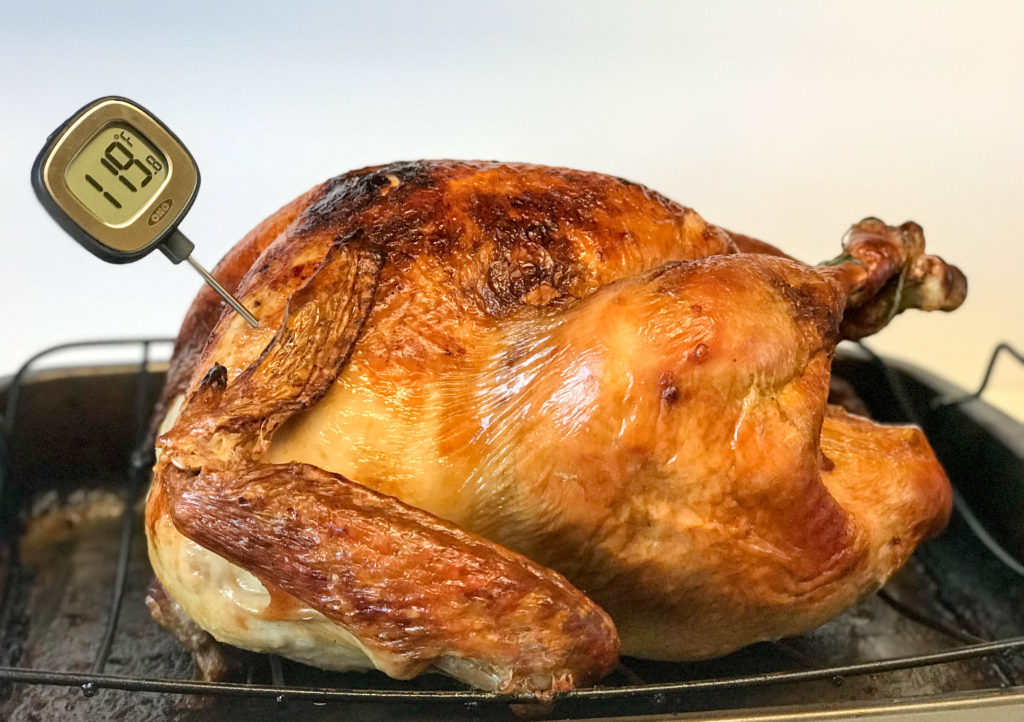 I love how easy it is to use and how nice it looks!
Okay, this next tool is one that I totally geeked out over! The OXO Good Grips Good Gravy Fat Separator is magical. The top has a strainer that catches any little bits before they fall into the cup.
Then, as the fat separates and rises to the top, the good stuff (aka drippings) are pulled to the bottom. See that little red spout on the bottom? It is kept closed by the handle. When you squeeze the handle, the valve is opened and the drippings pour out to make your gravy without all of the fat! Magic I tell you! It's also heat-proof and dishwasher safe. Everything you could ever want in a gravy-making tool!
Watch this video I made with my little gravy helper, Ada. I love her commentary!
Good gravy indeed! I hope you all had a wonderful Thanksgiving with your loved ones and comfort food all around you. Find out more about OXO and their ingenious products here :)