I finally got my hair done! Amazing what a good mood it gave me just booking the appointment.
Here's what it looks like now! Thanks for the endives, California Endive! I'm making these with them.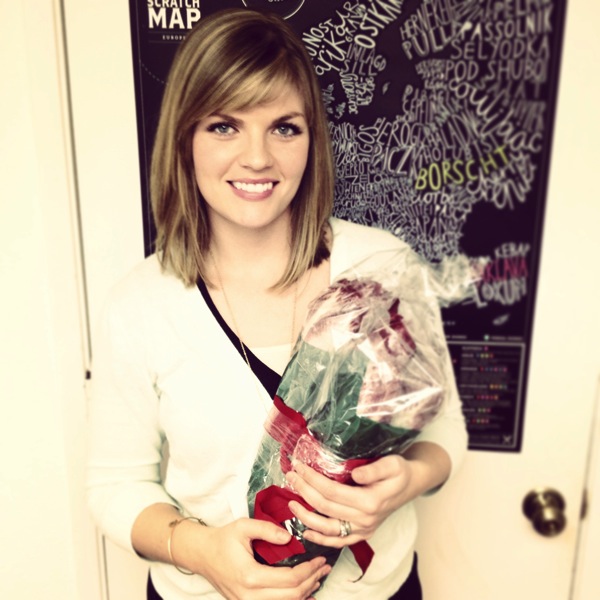 Valentine's Day breakfast was Pink Heart-Shaped Whole Wheat Pancakes! I used our family's recipe and just mixed everything in a freezer-size Ziploc bag and added pink food coloring. Snipped the end off the corner and made hearts! The girls were in heaven.
The doorbell rang and it was a motorcycle tire. : / Talk about anti-climatic! Plus it was the wrong size, so we had to send it back and get a new one.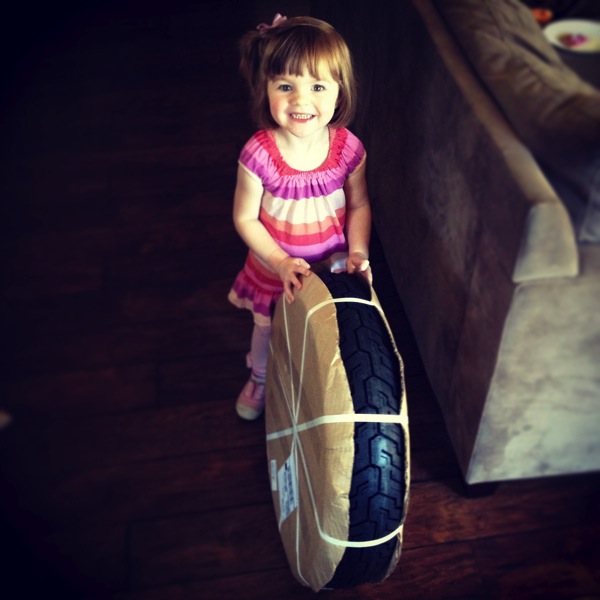 Maverick was happy with it:
I was happy with my box of See's candy! All Milk Chocolate Butters. The BEST! Mmm :) I sent Matt to work with a See's Bordeaux egg, Cadbury eggs (I don't get the hype but the boy LOVES them), and a card.  
My grandpa picked Ada up to go to an adorable Valentine's party with her friends! They decorated cookies, made Valentines, and played. She wore ALL pink in honor of the holiday :)
Matt & I dropped the girls with my mom for a slumber party! They made the most adorable Valentines and had a blast with their Nonnie! Then we went to SLO for a run. We planned on going to the shooting range, but got up there too late. Then we went to Firestone to get tri-tip sandwiches and they were all OUT of tri-tip!!!! We were so sad! We ended up trying out the new Splash Cafe Grill downtown and were pleasantly surprised! It took us forever to decide since we were set on Firestone, but I got the Crab Melt and it was insanely delicious.
It's funny, when we were first married – this probably would've been classified as a "bad" Valentine's day. But since having children and being busy busy busy…we were just so happy to have time together! Amazing how your perspective changes. We didn't care that most of our plans fell through. We were just glad to be able to talk without being interrupted and eat without having to take someone potty or prevent a meltdown. :)
When we came home – the Valentine's Fairy had left a gift for us! In Matt's family, their parents do this every year and the girls loved their balloons & we're loving the gourmet food inside!  
Matt had been crazy busy with something every night that week. The girls went to bed before he got home, so they were missing him big time. Ada woke up crying and I went in, took her potty, gave her a drink of water, and she was still crying. I put her in bed next to Matt and she grabbed a hold of his arm and went right to sleep. She just needed her Papa :)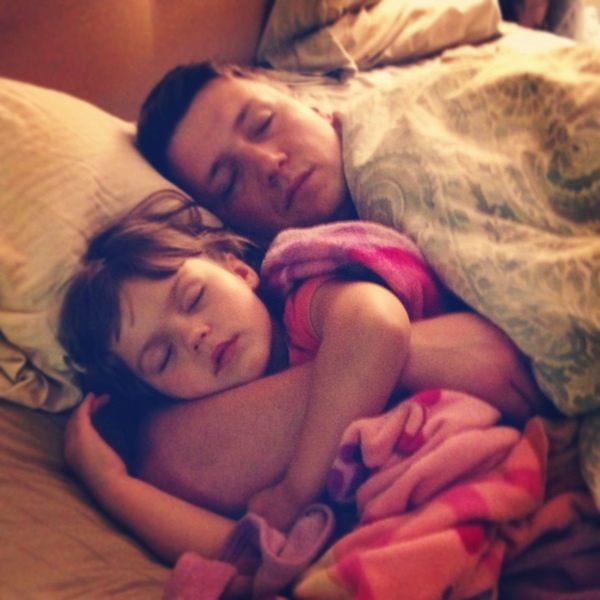 Hope you all had a great Valentine's Day! xoxo